By Lauren McDonald / NM News Port
Many normal activities have changed in light of the coronavirus pandemic, including grocery shopping.
Under government orders, all grocery stores in New Mexico have had to limit the number of customers allowed in the store to maintain social distancing guidelines. 
The U.S. Food and Drug Administration (FDA) has issued guidance to shoppers to protect them as well as store workers:
Prepare a shopping list in advance. Buy just one to two weeks-worth of groceries at a time. Buying more than you need can create unnecessary demand and temporary shortages.

Wear a face covering or mask while you are in the store. Some stores and localities may require it. 

Carry your own wipes, or use one provided by the store to wipe down the handles of the shopping cart or basket. If you use reusable shopping bags, ensure they are cleaned or washed before each use.

Practice social distancing while shopping – keeping at least six feet between you, other shoppers, and store employees. Keep your hands away from your face.

Wash your hands with warm water and soap for at least 20 seconds when you return home and again after you put away your groceries.
The FDA said it is important to note that there is no evidence of human or animal food or food packaging being associated with transmission of the coronavirus.
In Albuquerque, Walmart is allowing five customers for every 1,000 square feet, cutting normal capacity by 20%. 
Given the concerns over the virus, they are offering online ordering with no contact pick-up. 
"We get a lot of orders online through our website," Pamela Garcia, a Walmart customer service representative, said.  "So what happens is the customer will order their items online, then we gather them and set up a delivery date. Then when they arrive, we fill the grocery items in their truck without contact with the customer."
With Walmart's online delivery system, there is a chance some items will be out of stock, in which case the customer can choose to either replace the items or remove them from their order and wait for them to be restocked. 
Online orders are paid online, so there are no cash register transactions during the pick-up. 
Garcia said the adjustment has gone well.
"There hasn't really been any lines, I don't think," Garcia said. "There are many people who come in, but it doesn't tend to exceed capacity or anything. We have a big space in the store here."
Even the smaller grocery stores in Albuquerque are making accommodations. 
"I find shopping at La Montañita Co-op to be very clean, to the smell and to the eye," New Mexico resident Betsy Dooner said. "I find it's better to go to the smaller shops. Yes, there is still a line sometimes, but I find that they don't have a long wait."
She doesn't exclusively choose the co-op, though. She sometimes opts to shop at the Smith's on Yale. 
"They both tend to be a lot less crowded, making it easier for me to buy the things I'm looking for," she said.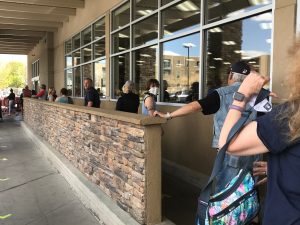 Other stores in town, like Trader Joe's at ABQ Uptown, remain popular and attract lines of people waiting to get in. 
"It usually isn't too long of a wait, but yes, the line is here everyday," Albuquerque resident Patrick Riley, who frequents Trader Joe's, said. 
Riley said that in his experience, the line at Trader Joe's is anywhere from five to 20 or more people.
"I'm happy that they're only letting a small amount of people in at a time," Riley said. "I'm grateful to not be in a big crowd while shopping."  
While grocery stores were deemed essential and were therefore allowed to remain open through the stay at home order, so-called non-essential retailers are now set to reopen on May 15. They will have to operate at limited capacity, according to new rules announced by Gov. Michelle Lujan Grisham during a press conference on April 30. 
"We're relaxing restrictions, and trying to move safely…and quickly which must be tied to evidence-based work modeling, but if consumers do their part…then we can really do this," Grisham said. 
The governor said New Mexicans will still need to wear a mask, preferably double layered, in public, as well as socially distancing themselves from other people by six feet. 
Lauren McDonald is a reporter for the New Mexico News Port. She can be reached on Twitter @laurmcdonald24 or at nmnewsport@gmail.com.