By Solana Cummings and Dannelle Kirven / NM News Port

Black fraternities and sororities showcased their campus unity and touted their history at a Welcome Back Week barbeque at the beginning of the semester.
The event featured a group performance from members of the UNM Divine Nine, the nickname for a University of New Mexico group representing the nine historically black greek organizations founded between 1906 and 1963.
Eight of the nine organizations were represented for the first time in the event's history; They were: Alpha Phi Alpha Fraternity, Alpha Kappa Alpha Sorority, Kappa Alpha Psi Fraternity, Omega Psi Phi Fraternity, Delta Sigma Theta Sorority, Phi Beta Sigma Fraternity, Zeta Phi Beta Sorority, and Sigma Gamma Rho Sorority. Iota Phi Theta Fraternity was not represented at the event.
http://https://youtu.be/Dgo5GN80rfU
"The Divine Nine brings a unique level of diversity to UNM and a different perspective on Greek life than what is normally seen on campus," said Lauryn Gallimore, a junior at UNM. "It was amazing, and so cool to see the different organizations perform."
The performance included a "step" dance that was done by all the present fraternity and sorority members. 
The dance uses the body to create a beat with stomps, claps, and words. According to Essence, its roots stem from Africa and has been a long standing tradition in the black community. The Divine Nine uses step performances to show pride and personify the unity of the organizations. 
Miles Blakemore, Arlen Nelson, Stacey Blakemore, and Kermit Pearman preparing to step at the Welcome Back BBQ.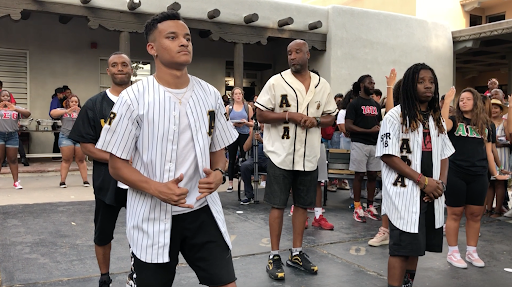 "You will not find a performance like this on any other campus in New Mexico and even anywhere else in the state," said Interim Director of African American Student Services Brandi Stone.
She said the event showed the value and tradition of black greek life on campus and in the greater Albuquerque community. 
"The legacy is apparent," Stone said."You have [a 1989 initiate of Alpha Phi Alpha fraternity] performing with [his son],  who was initiated in 2019." 
The nine organizations—known as the National Pan-Hellenic Council— focus on scholarships, services, sisterhood and brotherhood, and host a variety of events open to the community. 
Most of the Divine Nine organizations were founded at Historically Black Colleges and Universities. 
"Our organizations host events that would not take place if we didn't plan and execute them," said Nieajua Gonzalez, president of the Tau Phi Chapter of Alpha Kappa Alpha Sorority.  "For example, my organization promotes HBCU awareness and fundraises to give back to HBCUs, the Zetas host a workshop on black hair, and the Alphas and Kappas host a Barbershop Talk."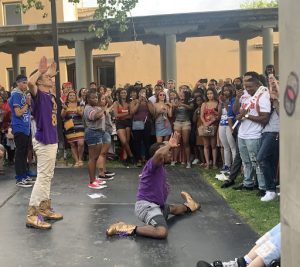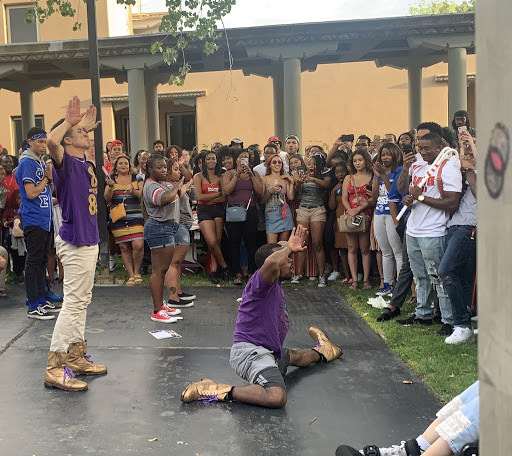 A large crowd swayed, smiled, and cheered during the performance.
"The feeling of performing with people who not only look like you, but have joined an organization to uplift and empower the black community is amazing," Gonzalez said.  
Solana Cummings is a reporter for the New Mexico News Port. She can be reached on Twitter  at CummingsSolana and nmnewsport@gmail.com
Dannelle Kirven is a reporter for the New Mexico News Port. She can be reached on Twitter at KirvenDannelle and nmnewsport@gmail.com