Nearly 900 people rallied at Albuquerque Civic Plaza, Tuesday evening, to support immigrant youth after news broke that the Deferred Action for Childhood Arrivals program was rescinded Tuesday by order of President Trump.
The Civic Plaza demonstration was preceded by a 'Statewide Student Walkout' organized by the NM Dream Team –a statewide immigrant youth-led organization that advocates for immigrants' rights. The statewide mobilization was carried as a way of "denouncing" the end to the Obama era administrative relief.
Tuesday's rally mirrored nationwide protests that erupted in the wake of the Trump administration's order to end the program that shields undocumented immigrant children from deportation.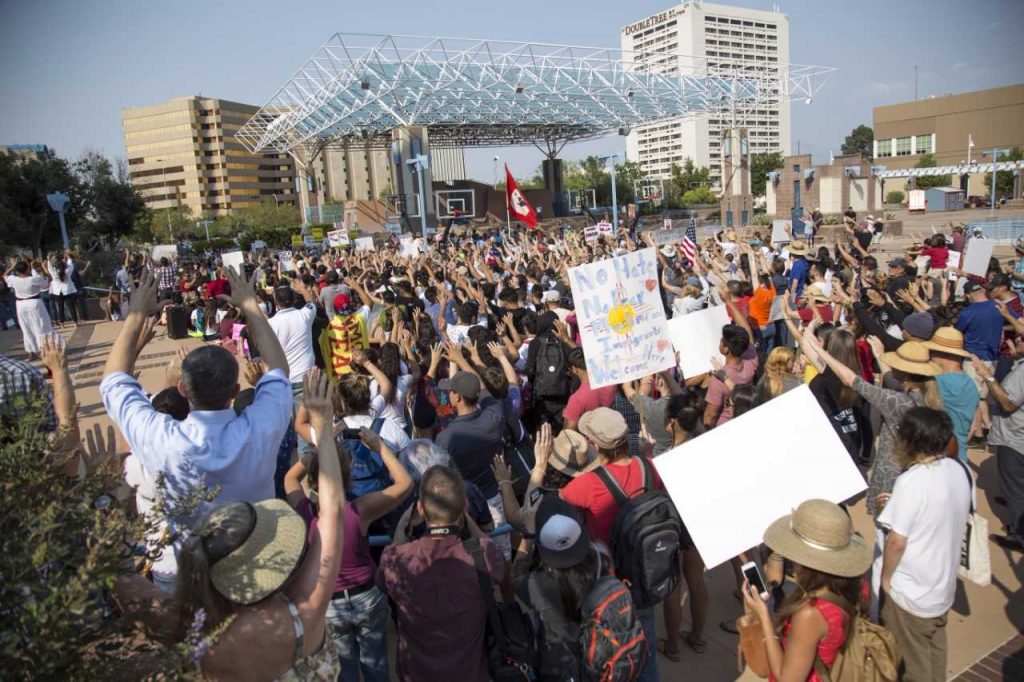 U.S. Attorney General Jeff Sessions made an announcement Tuesday morning, indicating the administrative relief program that protected over 800,000 people from deportation nationwide –known as DACA– would be phased-out by March of 2018.
"Sessions' announcement sparked "outrage and fear among immigrant youth and families in New Mexico" said Yazmin Irazoqui-Ruiz, third year medical student at UNM, DACA recipient and field organizer with the NM Dream Team.
According to Irazoqui, Tuesday's decision does not surprise her because "the Trump administration has blatantly been attacking the immigrant community and other marginalized communities" since January.
Since the taking of power by Trump, many immigrants' rights organizations have also claimed an uptick in senseless deportations and family separations. According to the latest statistics presented in a New York Times article there was an exponential increase of 38 percent of deportations as of March 2017, compared to the first three months of 2016.
There had been numerous rumors the president was set to announce the end to the DACA program. This possibility was not entirely expected given Trump's record of wanting to uphold the program that protected DREAMers.
"During [Pres. Donald Trump] his election campaign he indicated that he would get rid of Deferred Action for Childhood Arrivals, questioning its constitutionality," said Adriel Orozco, immigration attorney with New Mexico Immigrant Law Center. "Once he came into his presidency, it seems like he changed his mind."
Over 20 schools in five different cities across New Mexico–including Las Vegas, Santa Fe, Albuquerque, Las Cruces and Anthony– took part in Tuesday's 'Statewide Student Walkout'.
In Albuquerque, hundreds of UNM students rallied outside of the university's Zimmerman Library. Gabriela Hernandez, Executive Director of the NM Dream Team and a DACA recipient said the main purpose of the walkout was to send a clear message to the Trump administration that there are "millions [of immigrants] in the country and we are here to stay!"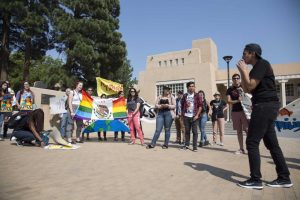 "Despite today's announcement, we will continue fighting for not only immigrant youth but also for our parents –the original DREAMers– who did not qualify for the deferred action [program]," she said.
High school students in the metro area did not stay behind. Over 100 hundred Rio Grande HS students took part in the 'Statewide Walkout' ending with a rally at the Westside Community Center off Arenalhigh  Road.
Among the participants were high school students Reyna Cazares and Dalia Campa, both DACA beneficiaries –brought by their parents from Mexico at the age of three for "a better life and more economic opportunities".
For them, taking part in the student walkout was about "fighting to keep" what they deem theirs.
"DACA has allowed me to live without fear of being separated from my family and knowing that I have a better chance of becoming a doctor," Cazares said. "Now with this decision, I am living in fear and uncertainty, not knowing what could happen to me or my family."
Campa, who plans on going to college once she graduates high school to become a designer, said she simply wants to "provide a better life and opportunities" for her parents. Regardless of the new situation DACA faces, she said she is "ready to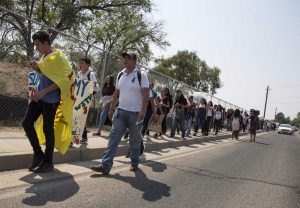 continue fighting for my family and I."
DACA's rescission announcement comes after Texas Attorney General Ken Paxton, along with 9 other Republican attorneys general and the governor of Idaho, threatened the Trump administration with a lawsuit unless the DACA program was phased-out by Sept. 5th, 2017.
"…in light of imminent litigation… we reviewed the Obama Administration's DACA policy," Sessions wrote on a press release Tuesday. "Our collective wisdom is that the policy is vulnerable to the same legal and constitutional challenges that the courts recognized with respect to the DAPA program [Deferred Action for Parents of Americans], which was enjoined on a nationwide basis in a decision affirmed by the Fifth Circuit."
Following the administration's directive on DACA, Congress now has six months to come up with a legislative solution that will once again grant protection to DREAMers nationwide.
Follow Isaac and Victor on Twitter!