By Angelica Clayton / NM News port
Michelle Lujan Grisham has not wasted any time jumping into the issues since being elected to serve a third term in Congress.
On November 15, a week after trouncing her Republican challenger in the race for New Mexico's First Congressional District, Grisham, along with 120 other colleagues in the House, sent a letter to President-elect Donald Trump urging him to reconsider his choice for White House chief strategist. Trump had announced the appointment of Steve Bannon, an ex Breitbart.com executive and who was the chief executive officer of Trump's campaign.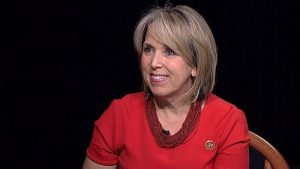 "No one with ties to White Nationalism like Steve Bannon should be working in the White House," Grisham said on Twitter.
When she is sworn into office again on January 3rd, Democrat Michelle Lujan Grisham will resume representing the New Mexico First Congressional district that includes all of Torrance County and parts of Santa Fe, Valencia, and Bernalillo County.
Congresswoman Lujan Grisham was first elected to Congress in 2013, focusing her work fighting for better care of senior citizens and veterans. According to Grisham's website, during her first term she fought to protect jobs at Kirtland Air Force Base and passed legislation to get police officers properly trained. Her campaign touted her four year effort at getting New Mexicans out of poverty by creating more opportunities for families.
"Americans expect their elected leaders to focus on issues, like creating jobs that are more important to them," Grisham said in a press release.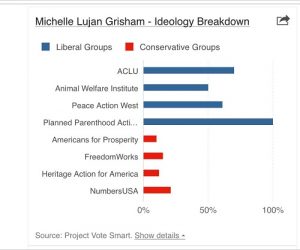 Before her run as a U.S. Representative, Lujan Grisham served as a Bernalillo County Commissioner, the state Secretary of Health, and was a small business owner.
On December 1st, Grisham was appointed Chairwoman of the Hispanic Caucus in the U.S. House. She will be serving a two year term, which, she says, brings prominence to New Mexico and Latinas in leadership roles. According to Grisham, Hispanics represent $1.9 trillion dollars in purchasing power.
"As the next chairwoman, I intend to continue building on the many accomplishments we have achieved this congress and ensure that the caucus is leading the fight to support Hispanic communities and protect families across this country," Grisham stated in a release..
While the nation saw a sweep of red on election night, New Mexico went blue, giving Hillary Clinton its five electoral votes, and returning two Democrats to congress. Lujan Grisham won against Richard Priem (R ) with 65 percent of the vote. In Northern New Mexico, Ben Lujan was reelected to the Third Congressional District. Meanwhile, in Southern New Mexico, voters re-elected Republican Steve Pearce to continue representing the Second Congressional District.
Lujan Grisham told KUNM that she will continue to focus on the economy, and wants to focus on a plan to make college affordable. The University of New Mexico, along with many smaller colleges are located in the First Congressional District. Many young voters attend these colleges and voted for Grisham in the hopes that she will make some changes when it comes to college tuition.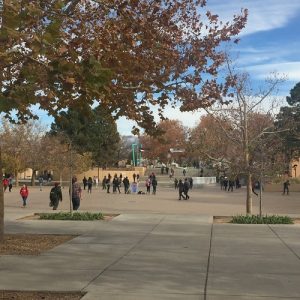 "I know she [Lujan Grisham] is concerned with helping families who live in poverty, and that is important to me," said Sam Duran, a UNM student. "I hope she will be able to do something to help people who can't afford to go to college but want to pursue higher education."
While Lujan Grisham has her focus set on the next two years in congress, she is also reported to be considering a return to New Mexico in 2018 — as a potential candidate for the governor's office.