By Ludella Awad / NM News Port /
The City of Albuquerque is working with state authorities to tighten enforcement against nonessential businesses that should remain closed during the coronavirus emergency. At the same time, the University of New Mexico now is restricting public access to its main campus.
The New Mexico State Police and the Albuquerque Police Department are cracking down on all businesses that are not listed by the government as essential. The state's list of almost 100 types of essential businesses include health providers, emergency services, childcare and indigent services, grocery stores and food providers, energy and utilities, the media, transportation and infrastructure, and certain professional and financial services.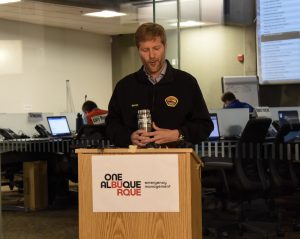 Albuquerque Mayor Tim Keller said some of the businesses he warned include local  massage parlors, smoke shops, barbershops, and gun shops. 
New Mexico State Police say they have taken numerous complaints referring to some 70 businesses not complying with the governor's public health order.  
Albuquerque Fire and Rescue Deputy Chief Gene Gallegos used a public briefing to warn violators of the governor's order. 
"The one main concern that we have are the nonessential businesses that are still remaining open," Gallegos said. "The order states that they are hereby directed to reduce their in person workforce by 100 percent, so again, that's closing their doors."  
Criminal penalties include a $100 fine or up to six months imprisonment. Civil penalties can be a fine up to $5000 for each citation. 
The Albuquerque Police Department is passing out formal warnings to those nonessential businesses that are disobeying the public health order. 
Albuquerque Police spokesman Gilbert Gallegos said in a statement that APD has worked with 140 business owners and managers to help them follow the new guidelines since the order was issued March 22 . 
"APD ramped up enforcement and issued 10 formal warnings to businesses that refused to shut down," Gallegos said.  "Businesses have three hours from the formal warning to shut down, or they will be cited." 
Keller said that for a business to be considered a grocery store, it requires 50% of food and groceries to be on the store's floor. 
"A store that sells a few candy bars is not a grocery store," Keller said. "I think we all know the spirit of this, but right now we are aware of a few businesses that are trying to get around this closure order."
The deputy director for the city's Environmental Health Dept., Dr. Mark DiMenna, also highlighted the importance of social distancing while shopping. 
"The stores have to manage the number of people that are coming in and the spacing that they have,"  DiMenna said. 
Meanwhile,  The University of New Mexico is announcing tightened restrictions on the Albuquerque campus.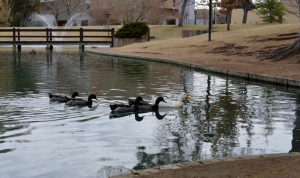 In addition to moving all staff, faculty and students to working remotely, UNM is prohibiting the general public, anyone without UNM business, from being on campus. The exception is if they are just passing through or using medical facilities. Under no circumstances are they allowing anyone to congregate in groups of five or more, according to an announcement on April 9.
"Authorized persons on campus, including student residents, should carry UNM identification in case they are contacted by law enforcement personnel during their patrol activities to ensure campus safety," said Teresa Costantinidis, Senior Vice President for Finance and Administration, in a published statement.