Anne Holton, wife of Democratic vice presidential nominee Tim Kaine, discussed school reforms with Albuquerque educators and parents Thursday, Oct. 27, at the Thomas Bell Community Center.
On the campaign trail, Holton says, her job is to listen to teachers, parents and students from around the country and take ideas back to Kaine's running mate, Hillary Clinton.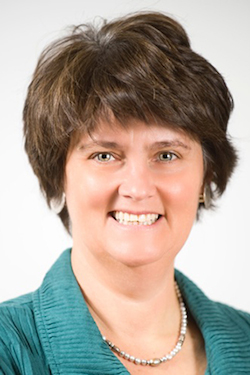 "I am a huge advocate for pre-K — as is my husband, as is Hillary," Holton said. "I am interested to hear what's working, what's not, and what we can do to help at the federal level to partner effectively with you here in New Mexico… to help advance the interests of all our children."
Until recently, Holton was the Secretary of Education in Virginia, her home state. She is an accomplished lawyer and judge and has had a hand in foster care reform in Virginia, and nationally. She has also helped foster children in Virginia gain access to higher education.
In speaking with the local group, a dominant concern raised was the effect of the high poverty rate in New Mexico.
"We are a rural state," said Virginia Trujillo, a member of the governing board at Central New Mexico Community College. "New Mexico is not Albuquerque, Santa Fe and Las Cruces — we have a lot of small communities here."
Poverty and economic challenges are something we can't ignore," Holton answered, "We can't use it as an excuse for failure, but we absolutely have to recognize it if we are going to help our schools in every zip code — our children in every zip code — be successful."
Updating schools around the country — technologically and structurally — is on Clinton's education plan and was another concern addressed by Holton.
"We've got to help support educators in the classroom but we've also got to strengthen communities and connections between communities and schools," Holton said.
Holton pointed to broadband access, as an example. It can help rural states, such as New Mexico, as it helped in rural Virginia schools, she said.
Marisol Atkins, a former deputy secretary for Children, Youth and Families brought up the need to update the New Mexico educational system, given latest research on learning and childhood development.
"We've learned so much in recent years about brain development and the way children grow," said Atkins, "and the way we educate our children needs to be updated as well."
Trujillo added to that, saying not all children learn the same way.
"Our students in New Mexico, many of them are left brained and I have a theory that that's why they're failing because they are not being taught the way they learn," Trujillo said.
Atkins also told Holton that schools should foster young children's creativity while nurturing their emotional and social skills before teaching them math and science.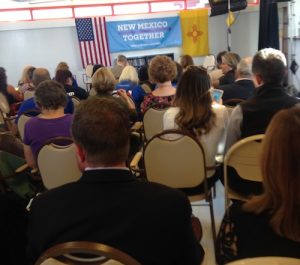 Another key concern that was discussed was standardized testing.
"Eight year olds should not be taking standardized tests where the average child takes three hours," Holton said. "Oh my gosh, it's clearly not developmentally appropriate."
Ellen Bernstein, an elementary school teacher and head of the Albuquerque Teachers Federation emphasized making teaching a true profession.
"Hillary's focus on teachers as professionals… we have a horrible time in New Mexico attracting and retaining really good confident and caring and qualified teachers because they leave to other states where the working conditions and the pay are all better," said Bernstein, "So that idea of making teaching a true profession, I applaud that and hope we can do that in New Mexico."
Another panelist, Erica Gallegos, a former early educator and now working for American Federation of Teachers, discussed having the right teachers in early education positions.
"We know that a child's brain develops, 85 percent of their brain develops, by the time they are three years old," Gallegos said, "And for that reason we need to make sure we've got highly qualified and highly compensated early educators in the classrooms."
Gallegos also discussed paying teachers more than minimum wage. Gallegos says New Mexico has been working on increasing the funding level locally, but it will also take help federally because New Mexico revenue alone will not do the trick.
To raise pay and improve the teaching profession, Holton urged her audience to vote for Democrats and build coalitions.
Follow Monique on Twitter