By: Sevia Gonzales and Joe Rull / New Mexico News Port
Above the door at the downtown headquarters of Three Sisters Kitchen hangs a new sign sporting their name. Delivered just last week, the emblem arrived at a fitting moment as the Kitchen celebrated its one-year anniversary.
Started in August 2018, TSK is a nonprofit organization dedicated to providing an "incubator kitchen" for prospective food businesses and entrepreneurs. The facility hosts educational programs which allow clients to develop and test the viability of their business plans and product ideas.
Executive director Anzia Bennett said the kitchen is "a community food space," and uses "the power and love of local food to create economic opportunity, improve community health, and bring our diverse communities together."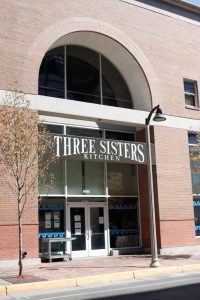 The food business training program is TSK's flagship. Participants learn the technical skills needed to operate a commercial kitchen, experiment with business plans, and test product ideas. Keeping affordable tuition prices in mind, the program aims to provide participants with a lower-risk investment. The estimated cost of access to TSK facilities and continued technical support is valued at about $10,000, but the course is offered with a one-time fee of just $200.
The food business training program recently welcomed its second class. Bennett said the program is building on the momentum from the success of its first class.
"In the next two months, we should have at least four of our program graduates' products ready to go [to market]," Bennett said. A number of graduates from the first cohort are finding success in the marketplace — and they continue to collaborate with TSK to improve their products.
One graduate is developing a formula for a dehydrated calabacitas dip. Another has begun selling his fresh-baked bread at the Rail Yards Market as a regular vendor. Another, baker Bree Peralta, is expanding her business, selling her vegan pastries at the Downtown Growers' Market.
"I was searching for a while for a sort of opportunity of shared kitchen space where I could grow, evolve a little bit and get the guidance that I needed to become a legal business," Peralta said.
Peralta operates Palm Trees Confections, a craft bakery service providing vegan adaptations of traditional Italian pastries that she recalls from her childhood. She credits her experience with TSK as an integral part of her ongoing success.
"I'm really happy that the kitchen I found was Three Sisters because they go above and beyond to help me succeed," Peralta said.
The 15-week training program enabled her to learn from the knowledge and experience of her peers while building business relationships in the greater Albuquerque community, she said.
"Once I got into Three Sisters Kitchen, everyone in the class had amazing feedback and helped me refine my products," Peralta said. "They definitely showed me to go that little bit of extra mile to get my business to the next level." She said she hopes to open her own bakery in the near future.
"Now that I've graduated, I definitely see [my] business developing closely alongside Three Sisters," Peralta said.
Bennett said that TSK's goal is not to compete with existing programs, but to partner with them and use community input to identify areas of need.
"We only exist because of our partners," Bennett said. "Partnership is what has made Three Sisters successful in our first year and what fills us with hope for our future."
TSK also has a community space that serves partner organizations, like the Street Food Institute, which helped design the business training curriculum, and Kids Cook!, which offers family cooking classes.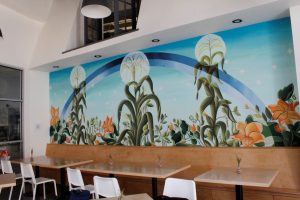 TSK is looking at expanding this year, and the owners are installing new equipment. This month, they plan to open a local food shop and café on-site to promote foods made in-house which will help generate revenue for the training program.
Sevía Gonzales is a reporter for the New Mexico News Port. She can be reached on Twitter @GonzalesSevia or at nmnewsport@gmail.com.
Joe Rull is a reporter for the New Mexico News Port. He can be reached on Twitter at @rulljoe or at nmnewsport@gmail.com.