With University of New Mexico students back for fall classes, the Republican Party of New Mexico is looking to them to support Donald Trump for president.
Todd Johnson, Donald Trump's state campaign director, said he is looking for events at churches or schools where he can talk to young people. Johnson said the Republican campaign's team does not have a set schedule of events planned. He said the team is calling, emailing, using social media, and searching for more opportunities from the community.
"We're trying to keep it more positive on a lot of the things that we're trying to search after," said Johnson, referring to volunteers.
Johnson said the campaign has attracted volunteers who are young Republicans and conservatives from UNM. He says students can get involved with the Republican party on campus by meeting with groups like The UNM College Republicans and The UNM Young Americans for Freedom, formally known as the UNM Conservative Republicans.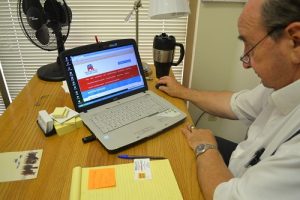 According to their Facebook page, The UNM College Republicans' mission is to help elect Republican candidates, support the Republican agenda and ideals, and give back to the Albuquerque/UNM community. The group meets on campus weekly on Wednesdays at noon in the UNM Student Union Building (SUB).
Johnson said he plans to reach out to these groups and possibly set up a Trump booth on campus. He said he hopes a booth would draw in young people engaging in an open dialogue about Trump's campaign.
Bernalillo County Republican Party Chairman Frank Ruvolo said a lot of voters visited their annual booth at the New Mexico State Fair. Ruvolo says the Bernalillo County Republican Party booth workers registered first time voters and answered questions. Before the fair Ruvolo said his goal was to register about 50 people or more per day.
"My job as county chair for Republicans is to get as many Republicans that are registered in this county to go vote," Ruvolo said.
Ruvolo also welcomes young people to attend  Friday breakfast events about five miles from campus every week. These events host Republican speakers from the legislature and state government, including candidates for office. The breakfast events take place at the Golden Corral on Central Avenue on Fridays at 7:30 a.m.. Information about other Albuquerque events the Republican party hosts are online at the Bernalillo County Republican Party's website.
"Our purpose is to get people to vote with knowledge, which is what the founding fathers had in mind," Ruvolo said.