By Amanda Britt and Bianca Hoops / NM News Port

Two Albuquerque restaurant owners are going beyond serving food to serve-up what they say are vital lessons on protecting the environment.  
Wanderlust Vegan Eatery organized their first "Save Our Future" event outside their restaurant earlier this month to raise money for the Bosque Ecosystem Monitoring Program. Owners Stephanie Herera and Francisco Chavez hoped the event would teach community members about sustainability and conservation of natural resources.
They said they see a vital connection between the global environment and New Mexico's bosque. 
"It's really important for us to realize that climate change is real, and we need to start appreciating and conserving water because water is life to us," Herera said.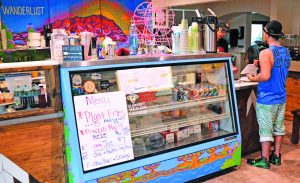 BEMP's mission is to use their research to educate the community on maintaining the Rio Grande bosque. Liz Gallegher, a biologist and volunteer coordinator of BEMP, helps deliver that message to local children.
"We do a lot about conservation in general—like conservation of water resources  and taking care of the environment, engaging with it and being a part of it," she said.
Inside the restaurant people lined up to order different homemade vegan foods ranging from cupcakes to macaroni and 'cheese'- which is made with a non dairy substitute. 
Outside there were several vendors including Vegan Outreach, The Bees Knees, Root 66 Food Truck, and more.
Victor Flores, manager of Vegan Outreach, said he knew wanted to collaborate with Wanderlust to bring light to the connection between food and the environment. 
"Using so many precious resources to produce a small amount of food is a very inefficient way of sustaining ourselves," he said. "When it takes a thousand gallons of water to produce one gallon of milk and twenty-four-thousand gallons of water to produce one pound of beef, there is obviously something we need to seriously fix."
Wasteless Life New Mexico is a community driven group focused on teaching people how to live a waste-free lifestyle.
The group's founder, Rachel Zulevi, stood at a booth talking to locals about both the urgency and easiness of cutting down on waste. She said it comes down to people thinking and being mindful of trash, where it comes from and how you can avoid it.
"One idea that people are excited about is that we can bring our own containers to restaurants for leftovers," Zulevi said. "It's kind of thinking about that like, getting home looking in your trash can and realizing 'hey I got a lot of leftovers in here' and saying 'how do I avoid that'."
She listed some ways others can practice a sustainable lifestyle, from bringing your own cutlery to fast food restaurants and food trucks to using a wooden pencil instead of a pen for writing unofficial documents—since they do not produce waste.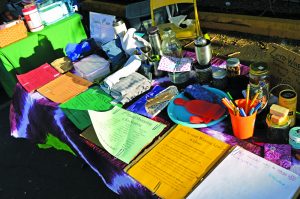 Wanderlust has only been open for three months,but  the restaurant has established a pattern of partnering with other local companies to raise money for organizations that have a positive impact on the community. Previously they worked with Plant Powered Events to raise money for Vegan Outreach.
Amanda Britt is a reporter for the New Mexico News Port. She can be reached on Twitter @AmandaBritt_ or at nmnewsport@gmail.com.
Bianca Hoops is a reporter for the New Mexico News Port. She can be reached on Twitter @bianca_hoops or at nmnewsport@gmail.com.