By Bella Davis / New Mexico News Port
As part of our Curious UNM project, our reporters are seeking questions from the UNM community about the university. These questions can look at any aspect of life on campus, from historical moments to current events. This story by Bella Davis looks at the question of "How do new campus buildings fit into the Spanish Pueblo Revival architectural style that UNM is known for?" In the reporting process, the question of cultural appropriation came up, and is explored here. 
With its harsh lines and white exterior, the new Physics and Astronomy and Interdisciplinary Science building stands in stark contrast to most UNM campus buildings. The university is known for its distinctive architectural style, often dubbed Spanish Pueblo Revival. 
The third president of the university, William Tight, introduced the style on campus in the early 1900s.  The first Spanish Pueblo Revival style building, the Estufa, was built during his term, along with a redesign of the Victorian-style Hodgin Hall.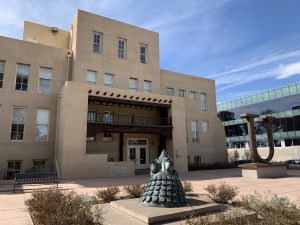 The style was further popularized by John Gaw Meem, who was the university architect from 1933 to 1959. Meem designed dozens of well-known campus buildings including Zimmerman Library, Mesa Vista Hall, and Scholes Hall. 
The 2009 campus master plan recognizes that this style contributes to the unique regional character of UNM and advises that any new additions to the campus reinforce this character. It does leave room for interpretation of the style, and proposes that it be used as a point of departure for new buildings. 
However, it's unclear where the line is between interpreting the style and respecting its historic legacy. 
"There should be room for contemporary interpretations of the campus style that nevertheless reinforce the stylistic identity of the campus," Chris Wilson, professor of landscape architecture, said. 
The new PAÍS building is one of several modernist campus additions, including the Centennial Engineering Center, that have been built in the last decade.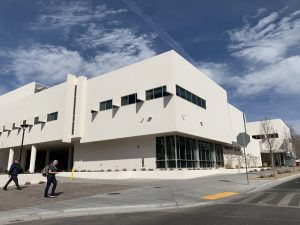 "The white modernist buildings constructed on campus violate the over-century-long regional campus tradition and the 2009 campus master plan, and have done serious damage to the unified regional campus identity," Wilson said. 
For some, though, these new buildings are a welcomed addition. Jennifer Marley, an American studies graduate student and activist, prefers the newer campus buildings to those built in the Spanish Pueblo Revival style. 
"I've always been critical of the way people take up the aesthetic of Pueblo people while perpetuating their mistreatment," Marley said. 
As an example of this mistreatment, Marley cites the steel sculpture in Yale Park named "Cultural Crossroads of the Americas," created by Apache artist Bob Haozous in 1996. 
In its original form, the sculpture had barbed wire affixed to the top of it, which "refers to the separation of cultures, races, genders, and from the natural world," Haozous said.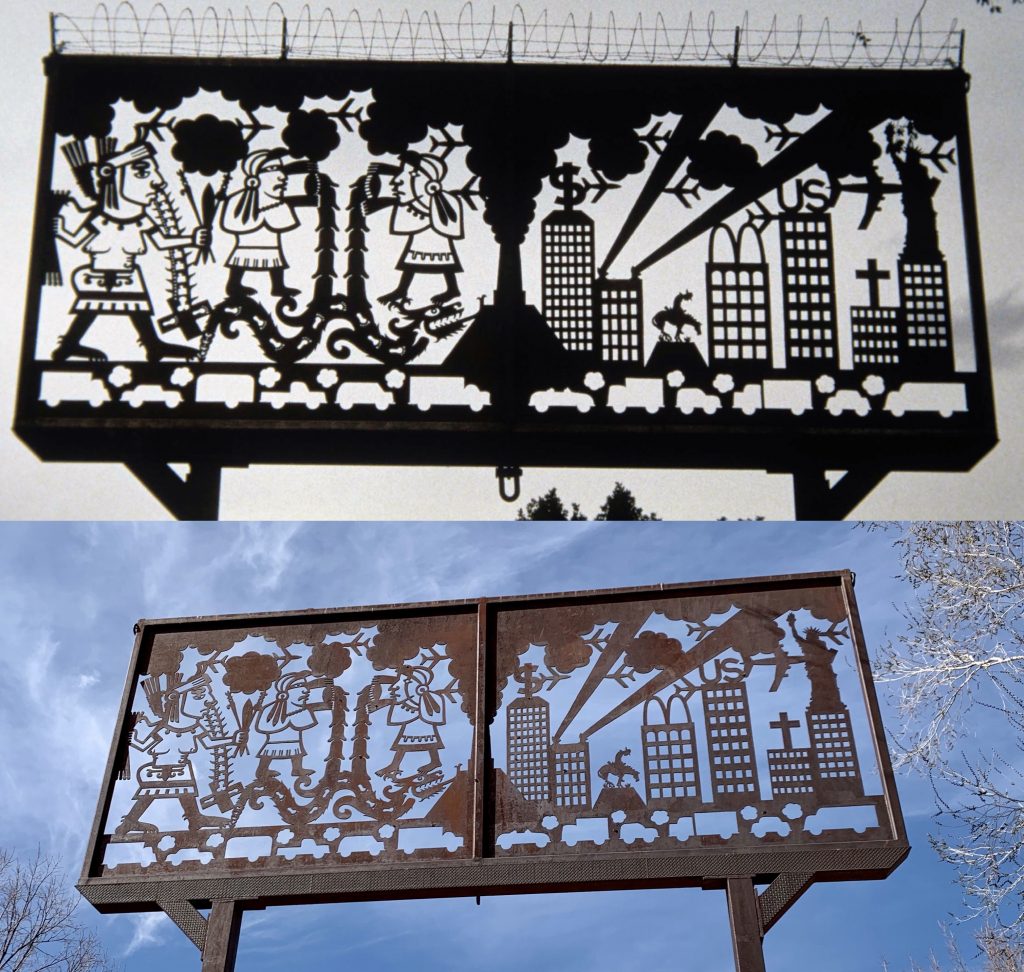 After a lengthy legal battle, Haozous agreed to let the university censor his artwork and remove the wire. It was only at that point that he was paid for his work and, according to Haozous, that money was used to pay legal fees. 
"I always wonder, is labor the extent to which native people are included in these conversations? That reinforces the way that native people are only celebrated when they're artisans and laborers," Marley said. 
Marley also points out that many of the university's dorms are named after pueblos and conquistadors. The university's traditional dorms include Santa Clara, which is a pueblo north of Santa Fe, and Coronado, named after Spanish conquistador Francisco Vázquez de Coronado.
In this way, UNM fits into an ongoing national conversation about appropriation and symbolic racism that has affected colleges across the country. In 2016, Harvard Law School retired its seal after it was revealed that it had ties to slavery. 
That same year, UNM's seal, which featured a conquistador and frontiersman, came under scrutiny after Native American student activists said it was offensive in glorifying colonization. The university suspended the seal in 2017 and put out a call for submissions for a new design in late 2019. 
"I think New Mexico for a long time has been reproducing these aesthetics, whether it's appropriative or just blatantly celebrating colonization," Marley said. "I think it's especially going to heat up here as people become more aware of the impact architecture itself can have." 
Bella Davis is the engagement editor for the New Mexico News Port. She can be reached on Twitter @bladvs or at nmnewsport@gmail.com.