A new motion-detection device pitched at a recent technology showcase would notify runners, law enforcement officials and college students when someone is coming from behind them. The wearable device called the Six-Shield is being developed in Albuquerque by Derek Doyle and Breanna Cleghorn.
Doyle and Cleghorn presented the idea late last month at the New Mexico Innovate Technology Showcase, held at the Anderson Abruzzo Albuquerque International Balloon Museum. About 150 people attended the event.
Doyle said he knows firsthand that the device would be valuable for outdoor enthusiasts.
"When I'm out walking my dogs, I have my headphones in and a bicyclist is coming up from behind me, and I take up all the space, so they can't get around me and I don't know because I have my headphones in," he said.
Doyle and Cleghorn presented the idea in front of "sharks" who asked questions about the idea, including how it attaches to the user.
Cleghorn said it would clip on to fitness belts with pockets that people use to carry their phones or keys.
TV news story hits home, prompts idea
"The initial idea was December 2014, and then when Air Force Research Laboratory offered the Entrepreneurial Opportunities Program," Doyle said. "That's when it kind of clicked into my head, 'oh maybe I can use this and start working on it', so that started in January of this year, as far as writing the patent and getting real serious on this idea."
"I was watching TV one day and I saw this story about this girl that was running, she was attacked, she was assaulted. This happened just right by my house. I thought to myself there has got to be something out there to warn women joggers, or any joggers approaching them" Cleghorn said. "She ran the same area that I ran."
The Six-Shield would be worn on the back and attached to an exercise belt. It will be able to send alerts through a Bluetooth headset when someone is approaching.
Potential help for law enforcement and students
During Doyle's and Cleghorn's presentation, they said this device would be very useful for law enforcement and students.
"I spoke to a Bernalillo County sheriff and he was explaining that it would be very useful if they were doing a home search. Instead of them having to send in a dog or another officer, they could just use the device to point it around the corner and it would let them know if someone was there," Cleghorn said.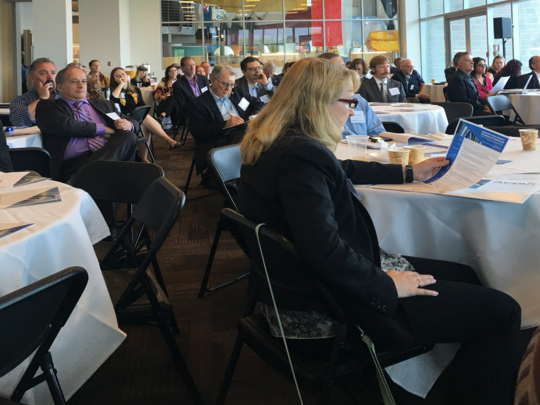 Officers need about 21 feet to turn around and be able to defend themselves if someone is coming from behind officers. This device aims to detect up to a minimum of 120 feet, Cleghorn explain during the presentation.
Doyle and Cleghorn also said they want students to feel safe as well. At UNM, there were 52 sexual assault reports and 72 sexual harassment reports filed in 2015, according to a recent article in the Albuquerque Journal.
"We want this device to be able to let you know when your proximity has been breached. With how many assaults there have been on campus, I think it is a good thing for students to be able to just attach something to their backpack." Doyle said.
"We're hoping this device will be able to alert you in your headphones since most students walk around with their headphones in, they aren't able to hear when someone is coming from behind them," Cleghorn said.
Prototypes could be available next spring
"I would hope to have a prototype before March of 2017 just because of the patent timelines," Doyle said. "You have 12 months from when you file a patent to file internationally, and then you have 18 months total before you have to file the real expensive things. So we need to have a prototype by March so we can have the opportunity to work with a bigger company to get the market running."