Shortly after Kerri Couillard gave birth to her second child, her husband wanted to park a second car in the family's garage. She said his car could not fit because the garage was "totally filled with baby stuff."
The situation prompted her to start a business that rents, delivers, sets up and picks up baby equipment. The company, Babierge, is more than five years old and has long and traveling families among its customers.
"I was looking out in the garage and as a mom there's this emotional connection you have to your baby's things… There was something about me that I wasn't ready to get rid of," Couillard said.
With 15 years of programming experience, Couillard said she created a one-page website to rent the equipment. Within three days, Couillard had her first $300 order, she said.
"This really showed me that the need was there," Couillard said.
Initially, Couillard says she didn't have a significant reason for running her business. She says it was just another source of income. But in 2012, after developing a serious infection, Couillard says the premise of Babierge changed.
"It became more than just renting baby equipment. It became creating a space where families felt comfortable and able to make memories that they can take with them for their whole life," Couillard said.
Couillard said 52 percent of her business comes from grandparents living in Santa Fe.
"So grandparents that may not want to go out… and try to figure out what to buy," Couillard said. "They call us… and we really help them through picking out [items].
Suzanne Beach is a regular customer and says she started using Babierge about a year and a half ago.
"Everything that's she's suggested is just right on and it's very helpful," Beach said.
Beach rents items from Babierge every few months. And with another grandchild on the way she said she plans to continue being a customer.
"There'll be two of them so I'll be doubling the products," Beach said. "I look real forward to it."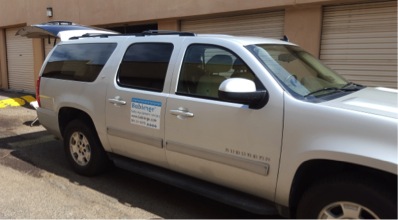 Customers can rent items from baby essentials, like car seats and full-size cribs to toys Couillard says.
"When somebody comes to us they really expect us to be experts in what we do. They want us to have a large inventory to provide for their needs," Couillard said.
Couillard says rental costs vary by city. She started the company in Santa Fe but has expanded business to service areas in Albuquerque, Minneapolis-St.Paul, Chicago, Memphis, and San Antonio, Los Angeles, and San Francisco.
"I'm holding onto one hundred percent of my equity which is very rare to be at the stage that I am with my company where I'm profitable and have been profitable," Couillard said.
Each location is serviced by a "trusted partner" who are independent providers. Couillard said trusted partners are moms, dads, or retirees "who are looking to make significant money doing simple whole hearted work."
"I really just wanted to grow. A lot of what I was doing, I was doing it on my own," Couillard said. "I wanted a bigger vision."
Couillard said she hopes to share the experience of helping customers with her trusted partners.
"I wanted to be able to have women feel the way that I felt, which is such gratitude that customers have," Couillard said.
She said she gives credit to the local accelerator program Hautepreneurs for encouraging her to think about expanding her business on a national level. Couillard said she attributes her success to being a lifelong learner and does not feel limited as a business owner for being a woman.
"It comes down to the fact that I believe I can do anything," Couillard said.
When it comes to expanding the business Couillard said she plans to "push the envelope" with new features, like a loyalty and referral program.
"I think I'm poised to kind of take over this industry and really kind of make it a household knowledge and name that you can really rent instead of buy," Couillard said.
Listen to the audio story and follow Alicia Padilla on Twitter.