At the start of his virtual reality cinema course this semester, Elan Colello asked his students to describe the key components of storytelling. No one answered correctly.
Despite there being many film students in the class, Colello says that nobody could tell him the basic storytelling concept where each piece has a beginning, middle, and end. He starts by teaching storytelling and then goes on to applying it to VR, which is a fully immersive experience.
"All of your senses are restricted to how the artist wants you to see [something]," Colello said. "Even though you know you're in the fake environment, your brain still thinks it's there." Augmented reality (AR), on the other head, overlays experiences onto the real world.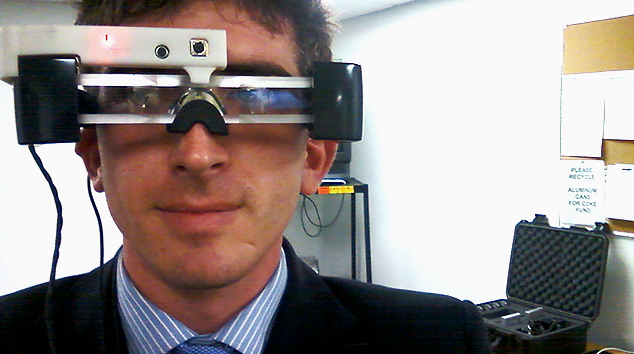 Spring 2016 was the first semester that the VR class was offered in the Interdisciplinary Film and Digital Media program (IFDM) at the University of New Mexico. Twenty-seven students are currently enrolled. The class was in such high demand that many students couldn't get in.
"We were expecting half enrollment… we couldn't provide enough equipment," Colello said.
VR has such a broad range of possibilities that not everything can be taught in one semester.
"I have discovered a new medium as an artist, and one of the really amazing things is there are no rules yet. This is a medium that is still in its infancy… experimentation [is] the rule," said Carrie Ratkevich, a senior in the IFDM program. "This class has been extremely eye-opening and useful."
Every student is at a different level. If a student has no experience, Colello tries to pair them with others. "I find that students want to work with those at their level or lower," he said.
Students don't have to be in the IFDM program to take the class, and Colello said having different majors brings new perspectives to the table.
Some of the projects students do include creating 3-D scans using photos, structured light, and texture overlays; re-creating an art gallery; and making 360 degree timelapses by taking a series of photos every eight seconds.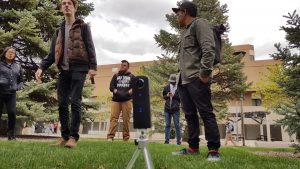 "I see VR creating jobs," Colello said. "It's important in engineering; it's important in industries like film. We need to educate and train people and get them into the workforce."
The VR cinema class started as an economic development idea. Colello realized there were job opportunities in the VR field, but there weren't enough local, qualified individuals to fill those spots. He said many places in New Mexico lack up-to-date technology education. The city's economic development office helped him find an outlet to start a VR class, and IFDM was a perfect fit.
"I am using the skills I [learned] in my internship. Knowing even a small amount of VR is opening doors in a professional sense," Ratkevich said.
Colello introduced VR into the curriculum, and now other teachers want to bring it to their fields and integrate it in their classes. For example, VR can be taught as a component of audio and visual curation classes because it's a new tool.
"Students need to pressure their departments to integrate VR because it can be used for everything," Colello said. "Once you create a 3-D model of the whole world you can go anywhere. VR exposes people to things and makes them want to have more experiences."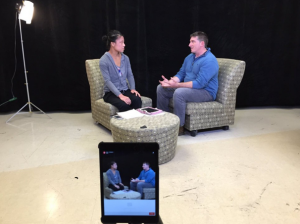 VR even has some medical uses, and in journalism,  it's a much more truthful way of storytelling since it captures everything.
Colello, who also is the CEO of the 360 video production company ARVRUS, thinks technology should be democratized in order to change humanity.
"We need to create a culture around this technology," he said.  Some people might be apprehensive, but Colello believes that VR should be further explored and that the benefits outweigh anything else.
Visit our Facebook page for Colello's full interview on Creative New Mexico Live.
Follow Angela on Twitter.