As the University of New Mexico Athletic Department's million dollar deficit grows, concern rises of sports being cut from the department. But fans can happily cheer for one high performing team that isn't costing athletics a dime: the Lobo Hockey club.
The team just concluded its season placing second in the American Collegiate Hockey Association, making a spectacular showing at the 2018 ACHA National Championships.
As a club sport, hockey is found and funded under UNM Student Activities, it's not part of the athletic department.
Started in the late 60's, UNM's Lobo Hockey has had its ups and downs through the years; though has been consistently strong over the past few. This season the team won 84.6 percent of their games and an automatic bid, meaning they went straight to the National Championship game.
Grant Harvey was a player and is now the coach for Lobo Hockey. Harvey is familiar with the comment he gets a lot around here, "I didn't know UNM had a hockey team."
"We are kind of Albuquerque's best-kept secret," Harvey said.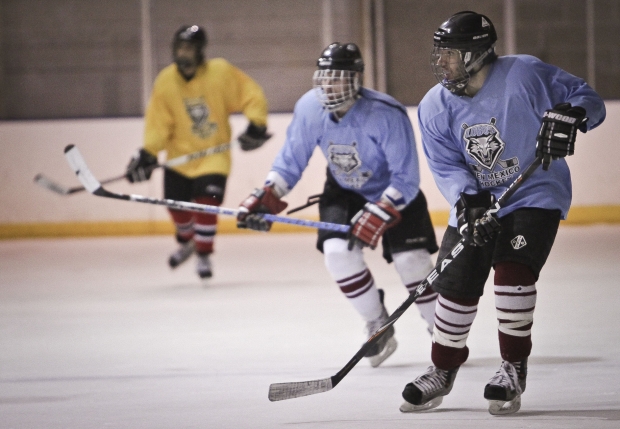 In their first-ever appearance on the national stage, New Mexico ended with a 2-1 record in pool play, where teams compete against each other that are from the same group. They turned heads with their 6-5 victory over Michigan State, who was the No.1 overall team in the nation for most of the season.
"I think we performed at a level that other people weren't aware we could of nationally," Harvey said. "So, I'm really pleased about what happened this year."
Harvey said he was not surprised by their success after a decade of work he put into making this season a good one.
"I knew (making national championships) was possible. We just needed more recruitment and stronger and stronger players," said Harvey about the current season.  
Harvey said there were no weak links in the line-up and he benefited from the return of a couple of players, a strong tactical formation, a new goaltender, a deeper roster and the accumulated experience from the years before. Those factors gave the team its edge in the close games and contributed to this year's successful season, said Harvey.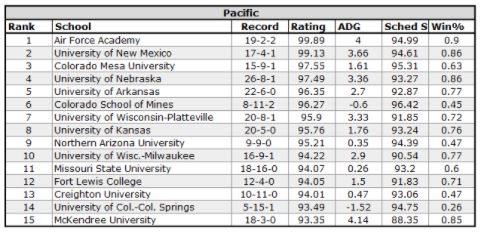 Harvey said being a club sport certainly spares UNM Athletics expense, but that doesn't make running the team easy. These challenges are not limited to obtaining funding but include paying for ice time, coordinating travel, getting recognition, recruiting new players, covering player injuries and providing a training facility.
"Being a club sport, we don't get a lot of recognition from the school itself," Harvey said. Student activity fees are the only UNM funds available to Lobo Hockey. According to Harvey, they received $15,000 from UNM for their current campaign and this money covered their cost of jerseys, some of the travel and their $250 per hour ice-time.
They have to rely on fundraising to find sources that will cover the remaining expenses.
"Hockey is such an expensive sport and we just went out to Columbus, Ohio to play in the national playoffs. And we had to get a private donor to fund it, otherwise, we wouldn't have been able to go."
When competing against top-tier programs in the country, attracting and recruiting players to the program is another obstacle Harvey has to overcome every season.
"It is tough for me to recruit new players," Harvey said. "I wish I had scholarships, because some of the other schools we are playing, they give out scholarships."
As most teams do, Lobo Hockey went through a losing patch and players wanted to leave for other schools. But now the day seems brighter and recruitment is going well. "80 percent of our roster is from New Mexico," he said.
Good players did not want to leave anymore, Harvey said.
"They didn't want to go to Colorado, they didn't want to leave to Arizona schools," he said. "They had a hockey program that they could be proud of and play for."Coach Harvey is proud to recruit players from New Mexico and knows the fans appreciate that. "You are not just following our team…You are cheering on your local kids, 505 kids."
Sports medicine comes out of pocket.
The flip-side of being a fast-paced, hard-hitting sport are the injuries that happen along the way. While some players are lucky to come off the ice unhurt, some have to tend to their own battle scars. Being a club sport means players have to find a way to cover costs for hospital visits by themselves.
"We, at this point aren't allowed to even use the facility (Athletics Department) or the resources. I would like that changed."
While Harvey hopes Lobo Hockey gets the recognition and help it deserves, he knows this is no time to ask for support from UNM Athletics  — given the $5-million accumulated debt the department has hanging over it. "There is definitely some favorites in the athletics department and we are not one of them," said Harvey. "The new athletic director did come and visit our games, and he was quite pleased with the production of the game, quality of the game and how many people attended it."
Taking steps towards securing better support, Coach Harvey is working towards getting some help with training, physical therapy or sports medicine from the school.
Harvey said, he only has praise for his players. He doesn't only want great athletes, he also wants difference-makers within the community. "I want my players to be good people on the ice and off the ice," he said.
His expectations follow players everywhere they go.
"They're performing really well, they make great grades, and are great citizens of their communities," Harvey said. "I'm a lucky guy to have such a good bunch of guys."
You can follow Ajinkya Patil on Twitter @ajinkyapatil_16