Editor's note: This article was first published on the Daily Lobo and has been republished with their permission. Minor style changes were made with permission.
Old Barrel Tea Company is expanding, introducing people beyond New Mexico to the business' teas and products.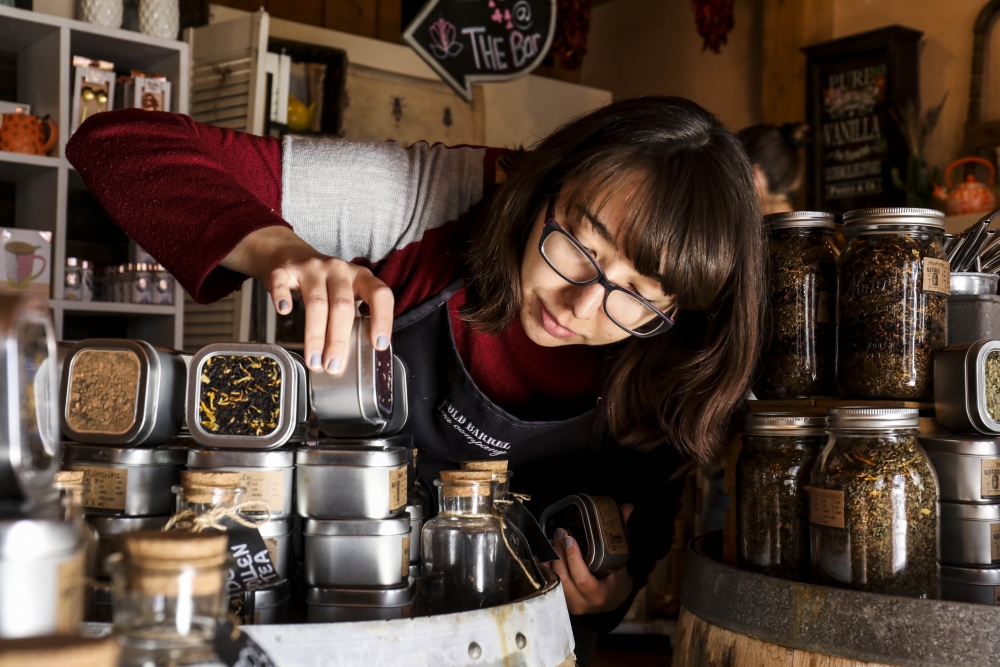 The company began in 2015 and has multiple locations in New Mexico including one in Old Town. Now it is pursuing its first location outside of the state, in Durango, Colorado.
The business was founded by Bailey Huffmon, her sister-in-law Paola Huffmon, Dana Huffmon and Nedada Huffmon.
"Even before we were technically business partners, everyone helped out," Bailey said. "Whenever we were opening in Ruidoso, and we didn't even know if we'd be successful, I remember Paola coming into the market and working behind the bar and helping us serve tea, sample tea and sample honey."
Paola, Bailey, Dana and Nedada primarily make executive decisions, Bailey said, adding that each of the women's significant others has contributed to the business as well. This includes Paola's husband, Cody Huffmon.
"It's interesting for sure. We always joke we must drive our vendors insane, because just four women from the same family were so loud and crazy and opinionated, but it's definitely a lot of fun," Bailey said.
Both Paola and Cody received their bachelor's degrees from the University of New Mexico's Anderson School of Management, and Paola returned to UNM to receive her master's degree in education.
Paola and Cody said they always knew they wanted to be entrepreneurs and even opened up businesses while in college. Post-college, the pair did not immediately open up businesses, but the work they pursued found its way into the Old Barrel Tea Company.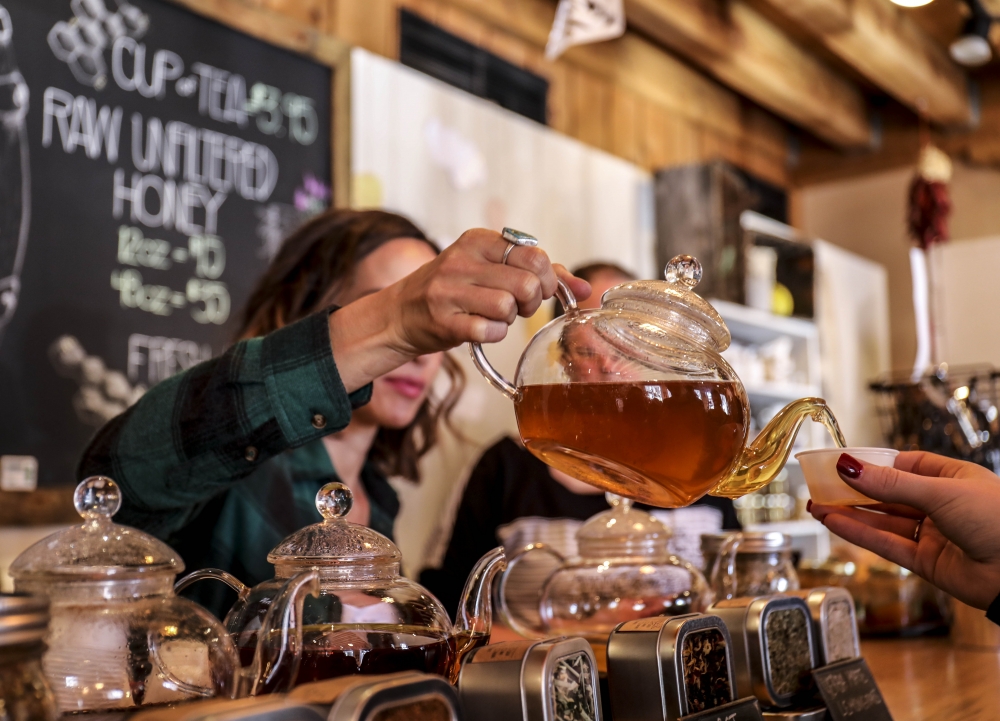 "The great thing about Anderson is that they brought in people who are local business owners," Cody said. "When you're sitting there in a room with someone that owns a business, and they're telling you, 'This is how I did it,' (it) motivates you as an entrepreneur to really push it."
For Paola, this, along with help from professors, allowed her to be where she is today.
"Douglas Thomas, he's awesome, he's my favorite professor," Paola said. "I really enjoyed his classes, because I remember he would always show us slideshows of the office and basically tell us, 'This is what you don't do in a business.' He would basically make us laugh and make it a casual environment which is what we brought into our environment."
Paola advises those who are looking to pursue business not to underestimate creativity, noting there is value in coming up with something fresh and new, she said.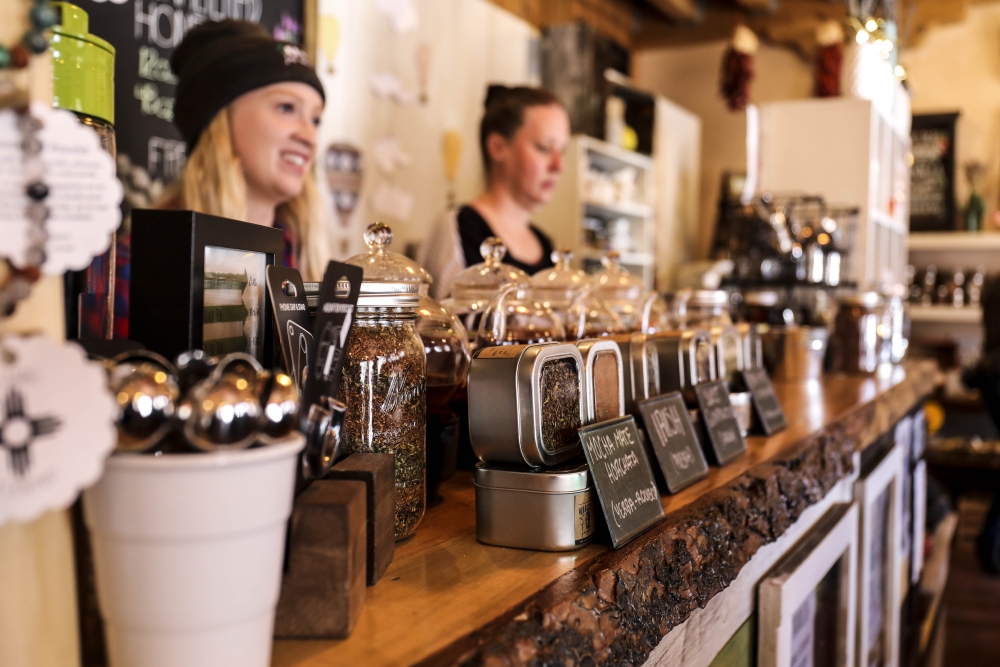 One of Paola's post-college work experiences was with nonprofits. Paola worked for a couple of nonprofit organizations including the American Cancer Society and Big Brothers Big Sisters, she said. The latter is what prompted her to return to UNM for her master's degree in education and pursue teaching for three years.
Paola is still very much involved in this work as a unique part of the Old Barrel Tea Company, titled CharaTea, involves donations to local charities.
"So every two months we choose a different charity, a local charity," Paola said. "At the end of (a client's) purchase we always ask people if they would like to donate any amount of money… and a hundred percent of proceeds go to that charity."
Old Barrel Tea Company also hosts events, such as one around Christmas which included live music and gifts brought in. 150 gifts were taken to an orphanage in Mexico, Paola said.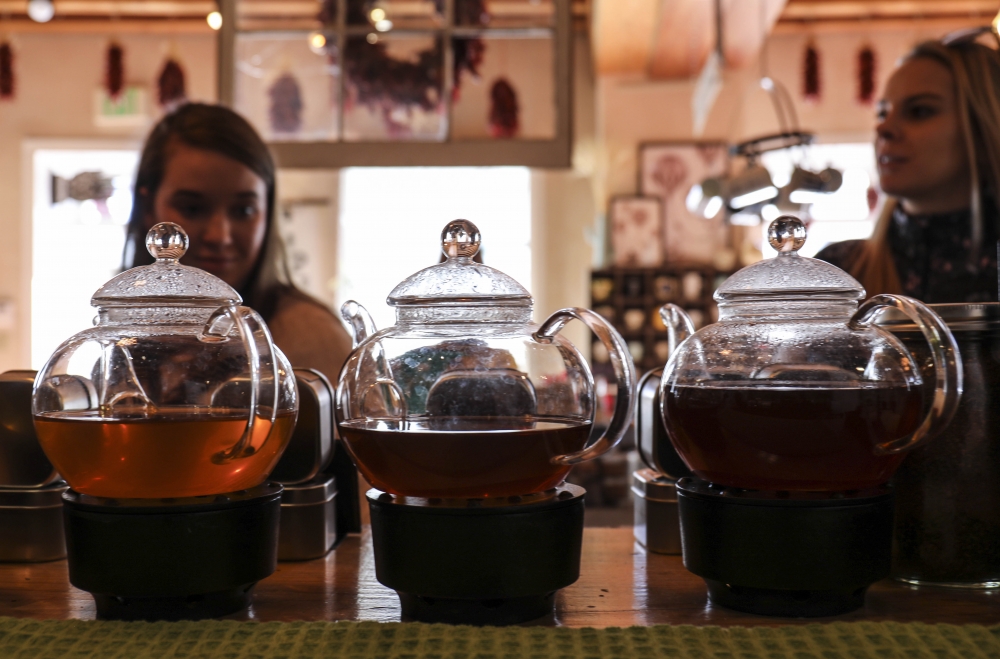 "We don't take the money to buy gas or anything," Cody said. "All of that is on the shops. We hand delivered all the gifts we got. One hundred percent."
Bailey took a different path, as she originally double majored in psychology and sign language interpreting; however she said her involvement in the tea business came strongly from family.
"My mom's a cancer survivor, so growing up we always drank loose leaf tea, and my family was very big on loose leaf tea before it was really popular," Bailey said.
While Bailey originally intended on interpreting after college, the path meant for her in life along with her family's love of tea lead to her family putting their heads together and opening up tea shops throughout the state.
Despite the shift in careers away from her degree, Bailey's time at UNM is one she treasures, filled with great professors that were inspiring and saw the best in their students, she said.
"The cool thing is whenever I started transitioning away from interpreting, I honestly was kind of worried what my professors would think," Bailey said. "The sign language interpreting program at UNM is wonderful, and there we have the professors, and I just always thought I would grow up and be this great interpreter so I was honestly kind of nervous to tell them I was stepping away from that community although I still interpret a little bit.
But they were so encouraging they actually came into the shop once we opened in Albuquerque and came to support us and see what it was like. I still keep in touch with some of my professors at UNM and keep them updated with what we're doing, and they are just so positive. It doesn't matter what you studied, they're happy to see you succeed."
Bailey advises students to acknowledge that while they're in school and think they know what their life is going to look like, when they do graduate they should wait and see what opportunities life gives them.
"It's really easy to just get stuck in your mind," Bailey said. "You spend four years or eight years in college trying to do one thing when really you should do what feels right."
As for the future of the company, both Paola and Cody look to branch out from New Mexico into surrounding states first.
"I think of all of our cultures," Paola said. "I'm from Mexico so of course I'm going to want to do horchata. And a lot of people have never heard of horchata. It's a Mexican drink, and it's made with rice, vanilla and cinnamon and the same with our spices. My sister-in-law, Nadada, is from Serbia, so we're creating a Serbian spice, so I'm thinking of not only our local culture, but the culture we all grew up with."
Anyone interested in learning more about Old Barrel Tea Company can go to oldbarreltea.com or find the company on social media.
Nichole Harwood is the culture editor at the Daily Lobo. She primarily covers alumni and art features. She can be contacted at culture@dailylobo.com or on Twitter @Nolidoli1.