The number of APD-involved crashes rose 46 percent from 2015 to 2016, according to a presentation by T.J. Wilham, manager of Albuquerque's Real Time Crime Center, during the Albuquerque's Police Oversight Board meeting on Sept. 21st.
APD's Real Time Crime Center is a part of APD's Investigative Bureau that focuses on providing officers in the field with real-time information.
According to the data presented, there were 208 APD-involved crashes in 2015, a number that increased to 304 crashes in 2016, Wilham said. The number of APD-involved crashes for the first six months of 2017 was 152 and it is projected that the total amount of crashes for all of 2017 will be 304, he said. Wilham's data looked at all APD employees for crashes, not just officers.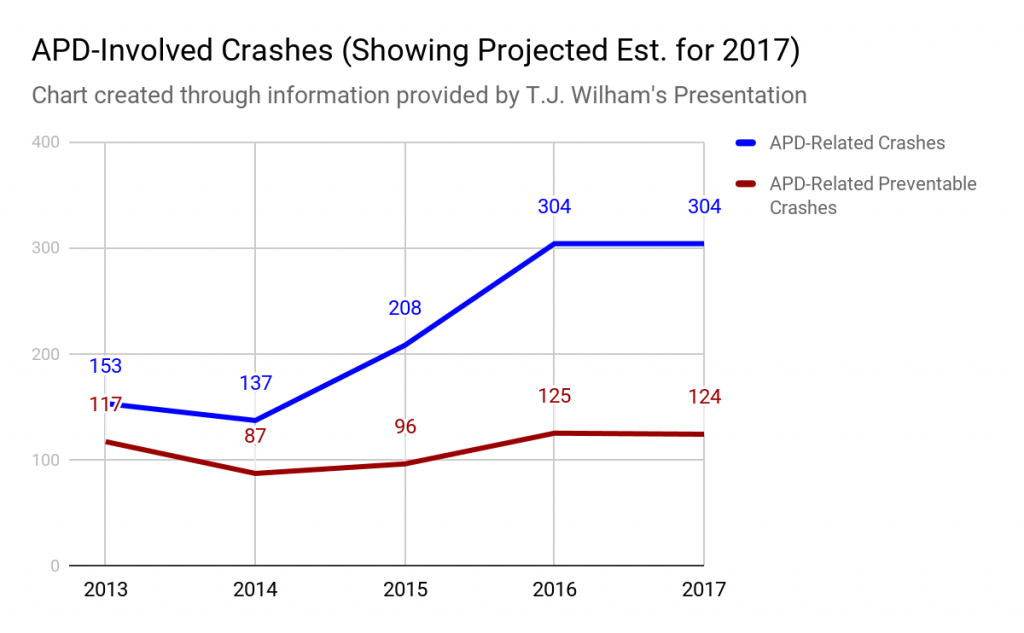 Among these crashes there has been an increase in the number of APD-involved crashes that were preventable, Wilham said. Preventable crashes are any crash that the Fleet Accident Review Board determined that an APD employee could have prevented. However, the presentation showed that the percentage of the crashes that were preventable have been decreasing. In 2016, 125 out of the 304 crashes were preventable, which was 41 percent of the crashes. In 2013, 117 out of 153 crashes were preventable, which was 76 percent of the crashes.
Wilham's data also showed the number of APD employees involved in multiple preventable crashes. Between the timeframe of 2013 to 2017, APD had 63 employees with two preventable crashes, 15 employees with three preventable crashes, and two employees with four preventable crashes.
The data also included if officers were off or on duty during the crash starting in 2016. In 2016, 207 of the accidents happened while on duty, 16 were off-duty, 26 were unknown, and 55 were left blank. In 2017, 106 of the accidents happened while on duty, zero accidents happened off-duty, 29 were left blank, and 17 are still being processed.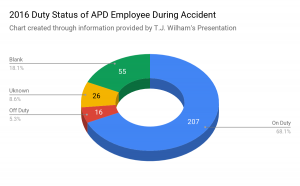 Officers are driving more than they used to, Wilham said. This is because the number of cops has been decreasing while the number of priority one calls, which are calls regarding immediate threat to life or property, have been increasing, Wilham said. The map of APD-involved crashes and a map of crimes in Albuquerque looks almost identical, Wilham said.
"So it appears that crashes are occurring—where crimes occur," he said.
There has been a trend of decreasing officers over the past few years, said Edward Harness, executive director of the Civilian Police Oversight Agency (CPOA).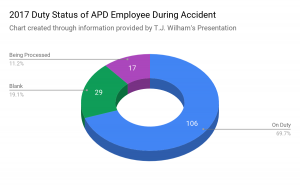 "It's not a matter of policy for them [APD] to be reducing the officers, it's simply a matter of attrition, due to retirements and the departments lack of recruiting officers in the previous years," Harness said.
However, the APD still has too little data to point to a cause for the increases in crashes, Wilham said.
"I would not feel comfortable with four and a half years of solid data," he said. " I would feel a lot more comfortable with 10."
Kristen Moore, a citizen who watched the meeting, said she agreed that the public shouldn't pull too much from the data. Moore thinks there may be a connection between the increase in priority one calls, the reduced numbers of officers, and APD-involved crashes, she said.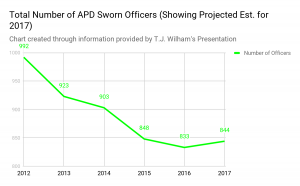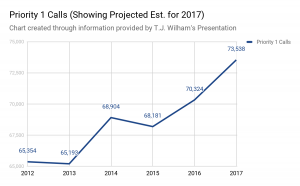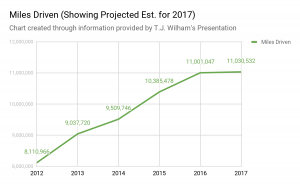 "If there is an increase in [priority one] calls and a decrease in the number of people who can respond to those calls, then it seems likely that those calls would be decreasingly safe," Moore said.
Some of the CPOA board members questioned Wilham as to what constitutes as a priority one call.
"It seems to me that a lot of priority one calls aren't really priority one," said CPOA board member Leonard Waites.
"If a robbery has occurred six hours ago and it is discovered, is that a priority one? It seems as though they're classified that way," Waites said.
The criteria for a priority one call has been fluctuating throughout the years, Wilham said.
APD looked into APD-involved crashes at the request of the CPOA. This was done after the CPOA noticed a large spike in APD-involved accidents last year, said the Chair of the CPOA Joanne Fine. Fine found that APD did not have a system to keep track of APD-related accidents, she said.
"We said 'tell us your system' and what they [APD] told us was that they didn't have a system," Fine said.
One issue that must be dealt with is that a lot of the data is collected but is not entered into an electronic database, Wilham said. During the presentation, Wilham compared Albuquerque's system to the Tucson, AZ, system for recording police department-related accidents. Officials there gather various details, such as whether or not the officer was wearing a seatbelt or the officer's rank, which is not done at APD.
Wilham ended his presentation by saying that APD should keep better track of accidents involving its employees. He made suggestions, such as keeping track of general cause of collision or whether or not the officer was in route to a call, and said that the data should be analyzed on a quarterly basis once a data collection system is in place. Wilham will keep the CPOA board updated on APD-related accidents, he said.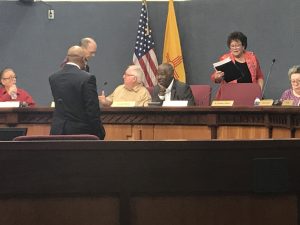 For more follow Marco Woods on Twitter