[vc_row][vc_column][vc_column_text]

UNM grad creates software for restaurants
Lavu, a local tech company that was started at the kitchen table of UNM student has gone global.
Andy Lim, CEO and Founder of Lavu, Inc., found sudden inspiration at home when trying to find a name for his company.
Lim credits a friend for bringing his attention the expensive and inefficient POS (point of sale) systems that filled the market, thus providing him the business opportunity that would help restaurant owners around the world.
"A friend of mine approached me — he is the chef at Sushi King — and said their restaurant POS system sucks, they cost a lot of money, and they are bulky, ugly and fail all the time," Lim said.
Lavu works on Apple operating systems, providing an affordable tool for taking orders and payments from guests.
Lim said Lavu is mobile friendly for employees and also functions as a tracker for sales, production and inventory.
"Lavu is an iCloud base POS which allows access of reports from anywhere in the world," said Nate Miller, a member of Lavu's consultant team.
"We work on iPhones, iPod touches, iPads and iPad minis."
Lavu is in the process of expanding. Lim says that the restaurant market is big and there are many niches such as bars, coffee shops and yogurt shops that can benefit from Lavu.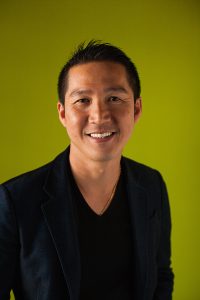 In 2000, Lim came to Albuquerque from Taiwan. He graduated in 2004 from the University of New Mexico with a degree in management information systems. Lavu is not Lim's first tech company; he started a web design platform in 2006.
Lim's hope is to be a beacon proving to people that Albuquerque can compete in technology startups.
"Hopefully they see that things can be done here, and attract investors here to look at companies, and we can be an example to lead them somehow in the future," Lim said. "We have the talent and people to do it here."
Lavu is used in more than 80 countries across six continents, it was featured on Fox's Kitchen Nightmares and is currently operating in numerous locations in Albuquerque including Il Vicino and Tractor Brewing Company.
Follow Jocelyn on Twitter at @Jocelyn_Moya15.[/vc_column_text][vc_tweetmeme][/vc_column][/vc_row]