Albuquerque Rapid Transit (ART) is coming to the 2016 ballot in Bernalillo County, but the vote will not affect its construction which has already begun.
Albuquerque City Councilor Diane Gibson and Bernalillo County Commissioner Debbie O'Malley sponsored the idea to have ART on the November ballot in a non-binding advisory question.
The question on the ballot will appear as this: "Are you in favor of giving voters residing in the city of Albuquerque municipal limits the chance to vote in support of or opposition to the proposed Albuquerque Rapid Transit Project?"
Even if the measure gains a majority of "yes" votes, no ensuing vote is likely. Albuquerque Mayor Richard Berry says the the project continues regardless of the results.
The city started construction of the ART on Aug. 29. According to ART's website, heavy construction will begin Oct. 17. It will be a 16 month project.
ART opponent and Nob Hill business owner Joe Annabi said he worries that Albuquerque residents don't have a voice in the decision-making.
"Putting new busses and making new lanes just so the mayor can stick a feather in his hat about another project he got done won't help this city," Annabi said.
see accompanying story: ART opposition still adamant despite construction and "advisory" election.
Council member Gibson said she hopes this push for the ART vote will give Albuquerque businesses and residents a chance to speak out in favor of better mass transit. Gibson said she believes the ballot measure is a way to educate the city on the ART since Mayor Berry has not put in the effort.
"As far as I'm concerned, the mayor hasn't done squat to inform the public about the benefits of the ART," said Gibson. "I'm hoping this can give the administration a chance to inform the community on how it will benefit them."
Since the ballot measure was approved close to the start of construction, several city council members said it might be too late to hold any significance at all. Gibson said she pushed for the vote months before, but did not receive enough people in favor.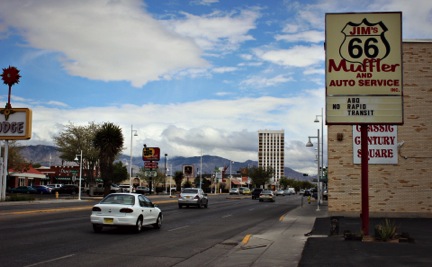 Commissioner O'Malley brought the measure to the county commission on Aug. 23, as a way to give the people of Albuquerque a voice. O'Malley said it was a worthwhile question to ask the public. Commissioners supporting it said it will give the public a voice but as a non-binding question. Commissioner Lonnie Talbert voted against it, saying ART is a city council issue.
Annabi dismisses the entire ballot measure as meaningless.
"They're just going to toss it out anyway," Annabi said. "We don't matter."
The measure will certainly attract some attention — appearing on the November ballot alongside the presidential candidates and other local and state measures.
"I'm just hoping my diligence to bring information to my community will be worth it," Gibson said.
Follow Maya on Twitter.