By Bella Davis / NM News Port
The backyard of a nondescript house across from Roosevelt Park doubles as Fly Honey Warehouse, a popular DIY music venue. Adam Smith, co-founder and director, is working on organizing more shows, but thus far, financial limitations and time constraints from a full-time job have stood in the way of this goal.
Albuquerque's DIY scene, which is made up of venues like Fly Honey Warehouse, is thriving, and providing an open space to performers, musicians and artists of all kinds.
But these venues are facing a range of challenges. They are generally non-profit, are usually run by people who hold other jobs in order to support themselves, and are commonly affected by zoning regulations and gentrification.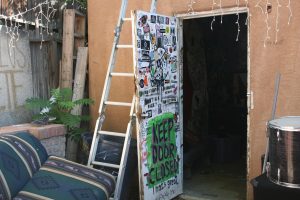 Last year, Fly Honey Warehouse was temporarily closed following a call to the city's 311 Community Contact Center, which citizens can use for all non-emergency inquiries and services. Smith said that although most of their neighbors haven't had any objections, a new resident decided to report them to the city.
"They called 311 with a complaint and then someone tipped off the news and the news investigated," Smith said. "After that, we weren't sure what would happen because this is where we live, you know, we would be homeless if something happened. Luckily, the city said it wasn't illegal."
The city prohibits these venues from making a profit, but as in this case with most DIY venues, Fly Honey Warehouse does not charge entry fees and the directors do not personally profit from any of the shows. Instead, they set a suggested donation. All of that money goes to the bands and venue maintenance.
"I understand that artists and creatives are naturally DIY-inclined and they build their own paths towards success," Dr. Shelle Sanchez, director of Albuquerque's Cultural Services Department, said.
Earlier this year, the City of Albuquerque launched Tipping Points for Creatives, a program that aims to connect local artists to resources and services that will help them "make a sustainable living doing what they love," Dr. Sanchez said. It's not clear how this program will impact DIY spaces.
"DIY for me is perseverance in places you wouldn't expect it."

– Adam Smith, co-founder and director, Fly Honey Warehouse.
Spaces that are not run out of houses, like the Tannex in Barelas, have unique obstacles, as well.
The Tannex has been a staple in the scene since 2013, as is evident in the way that directors of other spaces commend Jones and her work, but will be closing by the end of the year. The building is rented, and the land it sits on was sold in September without the curator Marya Jones' knowledge.
"This is one of the things that sucks about DIY spaces; you are beholden to landlords who don't have the same vision as you," Jones said. "So, the area that the Tannex is in is really fighting to hold onto its economy and its history."
Jones said the sale of the land is part of a wave of gentrification affecting many historic communities like Barelas. She hopes that the Tannex will continue on, albeit in another space and perhaps in another form. What exactly that will look like is unclear.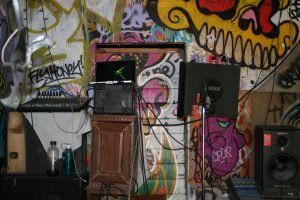 Rather than being limited to DIY spaces in Albuquerque, these challenges are largely part of national trends affecting the scene.
The Rhinoceropolis, a well-known DIY venue in Denver, was temporarily shut down in 2016 for zoning violations.
"There were massive structures built without permission of the fire marshal, many electrical dangers, and residents occupying the space without permits," said Rhinoceropolis director Luke Thinnes. "It took the fire department 11 years to act on the legality of the space, which is a massive achievement if you ask me, but nonetheless reshaped the course of our space."
Shea Stadium in Brooklyn was also temporarily closed around the same time, along with many other spaces.
"DIY spaces have always pushed the boundary of existence in a legal capacity," Thinnes said. "It is a miracle they can skate by to begin with, and barely a surprise when they shut down."
In December 2016, a fire at the DIY venue Ghost Ship in Oakland claimed the lives of 36 people and spurred police crackdowns on venues across the country.
Since that incident, those who operate DIY venues have placed renewed importance on the safety of both artists and the audience. Despite the numerous challenges that come with running these spaces, their founders and directors are fighting to keep them going because they see them as invaluable community resources.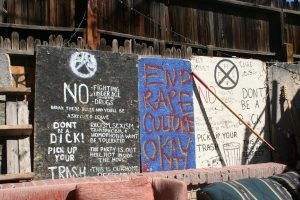 Smith got his start in the scene when he was about 14 by playing at DIY shows. He soon began working in and running venues, and later founded Fly Honey Warehouse with friends.
"DIY for me is perseverance in places you wouldn't expect it," Smith said. "You don't walk into a backyard and expect a little place with a stage and speakers and shit where you can see a show. It's an opportunity to help someone either get through their day and change someone's life and set them on the right path, and that's what it did for me."
Bella Davis is a reporter for the New Mexico News Port. She can be contacted on Twitter @bladvs or at nmnewsport@gmail.com.