By Ludella Awad / NM News Port
The city of Albuquerque has narrowed its national search for a new police chief to three candidates after three months gathering community input. 
Consultant Herb Crosby along with city leaders have conducted over 40 community input sessions and collected nearly 2,300 responses to an online survey. Since December, the city has received 39 applications in the search process. 
One of the finalists is current APD interim-chief Harold Medina, who stepped in after Mike Geier was forced out of the position in September of 2020. The other two are Commerce City Chief of Police Clinton Nichols and Joseph Sullivan, a retired deputy commissioner of the Philadelphia Police Department. 
In a community webinar on Saturday, January 23, the top three candidates addressed  key issues such as reducing violent crime, implementing the U.S. Department of Justice (DOJ) reforms, and increasing community policing. 
Clinton Nichols brings reform experience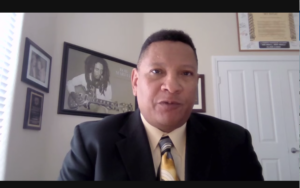 Nichols spent 24 years at the Las Vegas Police Department in Nevada. In 2015, he became a commander in Commerce City, a northern suburb of Denver, and worked his way up to chief of police.   
As for the reforms required under a 2014 legal agreement between the city and the DOJ, Nichols said the hard work of writing policies has already been done. He says the next step is obtaining compliance. 
"The rules have been set. I will assume that everyone understands what the expectations are," said Nichols. "The hard part is literally getting people to understand that this is good for the organization moving forward." 
 When asked about the top crime challenges in Albuquerque, Nichols said property crime, violent crimes against persons and particularly the city's homicide record "needs some work." 
Nichols  said he will take an analytical approach to problem solving.  He said he prefers to look closely at criminal patterns in specific neighborhoods to better address problem areas instead of reporting through the National Incident-Based Reporting System (NIBRS).
Joseph Sullivan managed a large division in Philadelphia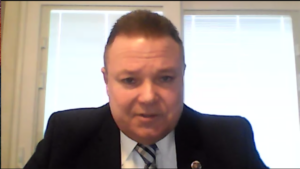 Sullivan spent 38 years with the Philadelphia Police Department before retiring as the deputy commissioner of patrol operations. He oversaw some 4700 sworn and civilian personnel, led data-driven crime strategies against both violent crime and property crime, and created community-based programs. 
When asked about the top crime challenges in Albuquerque, Sullivan said the leading issues are homicides, aggravated assault, and property crime. 
"Gun violence has been at the top of list," said Sullivan. "I place a heavy emphasis on arrests, getting people who are carrying guns illegally off the street." 
Harold Medina brings familiarity with APD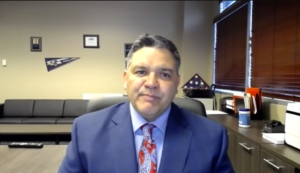 Medina joined the Albuquerque Police Department in 1994, where he started as a patrol officer, rose to commander, and then to deputy chief. 
"I am not applying to be the chief of just any community, I'm applying to be the chief of my community," Medina said. "The community where I raised my family, where the vast majority of my family and friends live, and where I want to someday make changes so that I can watch my grandchildren and their grandchildren grow up." 
Medina said to fight violent crime, additional resources are needed such as hiring officers, building capacity of investigative units, and working closely with the District Attorney's office and other federal partners to prosecute violent crimes.
Medina said the court-appointed reform monitor's last report clearly showed weakness in the department and the problem was "systemic" and the culture and lack of accountability has to change. 
"We want someone with extensive DOJ reform experience and community policing experience," said Mayor Tim Keller, who will make the final hiring decision, perhaps as early as March. "We want someone who can bring crime down, crime that has plagued our city for years."
Ludella Awad is a reporter for New Mexico News Port. She can be reached on Twitter @LudellaAwad or by email at nmnewsport@gmail.com