By Bella Davis and Eduardo Naranjo / News Port
For decades, the primary approach to confronting drug addiction in New Mexico has been criminalization. That's starting to change, reflecting a rehabilitation model spearheaded by state legislators and community organizations. 
Non-violent and largely low-level drug offenses account for the incarceration of almost a half-million people nationally, roughly 20% of the U.S. prison population, according to the Prison Policy Initiative. State legislators on both sides of the aisle have been working on criminal justice reforms to bring this rate down. 
But efforts to pass these reforms into law have been marked by disagreement.
In April 2019, a bill that would have changed how parole and probation work, was vetoed by Gov. Michelle Lujan Grisham after passing both chambers of the Legislature. District attorneys across the state, as well as Attorney General Hector Balderas, expressed public safety concerns and urged the governor to veto the bill. 
"The Attorney General believes that public officials should be concerned that there be justice and fairness for victims and their families, especially when dealing with the rehabilitation of the most violent and dangerous criminals in New Mexico," AG spokesperson Matt Baca said. 
Proponents of the bill argue that more offender resources are needed to make a positive transition back into society. 
"We absolutely need to hold people accountable, but the ravages of addiction go beyond what our criminal justice system inherits when it comes to the behavioral health needs that require a different approach," said Rep. Andrea Romero. 
Despite vetoing the bill, Lujan Grisham said she expects prosecutors to work with legislators towards a compromise over parole and probation reform.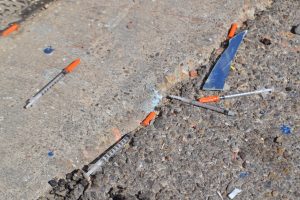 On a local level, community organizations are trying to head off criminalization of drug addicts by trying to intercede and help with the issues that underlay addiction. These include groups like Healing Addiction in Our Community which advocates for criminal justice reform. HAC also operates Serenity Mesa, a treatment center for people ages 14-21. 
"I've been clean for nine years," David Burke, who founded Serenity Mesa with his wife Jennifer Weiss-Burke, said. "There was a time where it was really difficult to have hope in my life because the drugs grip you so much. It's the only thing that you know in your life that will take away whatever is hurting you." 
Burke and his wife opened the treatment center in an effort to confront what they see as a lack of resources in New Mexico for people struggling with addiction. 
According to the New Mexico Legislative Finance Committee, the state has "considerable unmet need for substance use disorder services and treatment." Also, the impact of current programs remains unclear and there are major funding gaps. 
In early December, Bernalillo County's Behavioral Health Initiative opened the first 24-hour crisis triage and treatment center in the county. The center will serve people who don't meet the criteria for inpatient services but are in need of stabilization support. 
Centers like these are desperately needed, according to Burke. Serenity Mesa only has room for 14 people, and typically has an 8-12 person waiting list. 
"The thing about treatment is if they want help and want to get help they need it right then," Burke said. "If you can't give them a bed, they'll go back to what they're doing, which is using." 
Burke said minors and young adults who can't get the treatment they need often end up in the criminal justice system. Many of the kids in treatment at Serenity Mesa are on probation for drug offenses.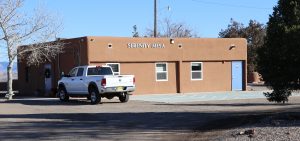 Under the Reagan administration, policies of the War on Drugs era resulted in dramatic growth in incarceration for drug offenses. The number of Americans incarcerated for drug offenses rose from 40,900 in 1980 to 452,900 in 2017, according to the Sentencing Project. 
"There's a stigma around addiction," Burke said. "They get people who are in recovery or are addicted to drugs and they put them in jails and prisons, but no one is ever actually dealing with the substance abuse issue."
Those incarceration rates were reversed during the Obama administration. According to a report by the nonprofit Vera Institute of Justice, the total prison incarceration rate in the United States is down by 15% since 2008 as a result of new policies implemented by Obama. In 2018, the number of people in U.S. prisons fell to a nine-year low of just under 1.5 million, a 1.3% decline from 2017. 
Despite this national decline, the number of people in prison in New Mexico increased by 14.7% from 2008 to 2018. 
This may be due in part to the state's high rate of recidivism. A 2018 study by the Legislative Finance Committee found that while recidivism rates across the country are dropping, the recidivism rate in New Mexico increased by 11% between 2011 and 2018. 
The study also found that parole revocations for technical violations made up half of the recidivism rate. About one-third of total prisoners admitted to the state corrections department is due to failed drug tests or missed appointments. 
"Why do people usually go back to jail? If you're a drug user, you can't find a job, you have no hope, you have nothing else to do, you have nothing else to lose, then what are you going to go back to doing?" Burke said. 
"You're going to go back to using drugs because that's the only thing you know and that's the only thing that makes you feel safe."
Under the bill that was vetoed by Lujan Grisham earlier this year, the corrections department would have been required to address basic needs like housing, employment, and mental health services for every individual being released on parole. 
The bill notably received support from legislators on both sides of the aisle. 
"It's a bipartisan issue," Burke said. "People who are Democrats are addicted to drugs and people who are Republicans are addicted to drugs."
Bella Davis is a reporter for the New Mexico News Port. She can be reached on Twitter @bladvs or at nmnewsport@gmail.com. 
Eduardo Naranjo is a reporter for the New Mexico News Port. He can be reached on Twitter @eduardoanaranjo or at nmnewsport@gmail.com.