By Devin Muzzey / NM News Port
As the COVID-19 pandemic continues to unfold, mass testing capabilities continue to be crucial to help slow the spread of the virus. 
New Mexico's notable testing capabilities come at the direction of Gov. Michelle Lujan Grisham and the state government task force responsible for helping fight the outbreak.
"Your state, because of the work that you've done with social distancing, has allowed us to expand testing much earlier than the rest of the country," Lujan Grisham said.
As of April 30, 67,869 tests for COVID-19 have been administered in New Mexico. The number of testing sites in the state has also dramatically increased, growing from seven sites in mid-March to 64 sites in all 33 counties as of April 22.
During a briefing on April 22, State Health Secretary Kathy Kunkel said that the strategy from the New Mexico Department of Health consisted of three components used to expand testing.
"First we attempted to expand our sites," Kunkel said. "Secondly, we began to focus it on communities—moved into a more focused approach. We [also] had to increase our lab capacity." 
"We now can test over 5,000 people a day when we are at our full capacity," Kunkel added. "The Department of Health could not do that without Tricore and our labs." 
Tricore Reference Laboratories is a clinical information company offering expertise in population health management and targeted intervention. They are responsible for nearly 32,000 tests conducted in the state so far. 
New Mexico is earning national praise for its rapid testing and the collaboration of healthcare providers like Lovelace, Presbyterian, UNM Hospital, Optum and others. 
"We shouldn't be backing off; we should be accelerating," said one Optum medical practitioner who asked not to be identified because they were not authorized to speak officially on behalf of the company. 
"With each step forward, we're going to expand the testing because that's how you find out the broad spectrum of asymptomatic people," this person said, "which gives you better statistics on the relationship between contacts and fatality contacts and hospitalizations." 
Mari Anixter, director of communications for NMDOH, said New Mexico was ranked fourth in the nation for the most coronavirus testing per million people, as recently as April 21. With a current testing capacity of 31,105 tests per million people, New Mexico is testing its people at a higher rate than hard-hit states like New Jersey, Michigan, and California.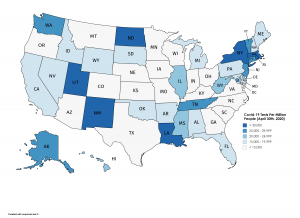 Secretary Kunkel said the state government is shifting its testing focus to vulnerable communities, particularly long-term care facilities and tribal communities. Kunkel said that all 74 nursing homes in New Mexico are now conducting their own surveillance. 
Meanwhile, the state is applying other new tactics.
Kunkel said that as of April 18, the state has been testing asymptomatic essential workers at the instruction of the governor.
"I believe that we were one of the first states to do this," she said.  
Kunkel said these workers include grocery store employees, construction workers, healthcare workers, and others who are in direct contact with the public; people who are most at risk of contracting the disease without having symptoms. 
The more you test, the better that data is gonna be and as time goes on, the tests should be getting better with less false positives and negatives."  

– The Optum medical practitioner who asked to not be named
During the same April 22 briefing, New Mexico Human Services Secretary Dr. David Scrase said the increase from a couple of hundred tests a day to over 5,000 a day is a significant achievement. 
In terms of tests per million people, New Mexico ranks seventh in the country, according to the COVID Tracking Project. 
"When we test someone and we find out that they're positive, we then isolate that person," Scrase said. "And then that person doesn't go on to infect two or 10 people. They're isolated; and that two to 10 people don't go on each to infect another two to 10 people."
"So the testing is what starts that and the availability of that testing, which creates isolation, which reduces spread, which has flattened that curve," Scrase said.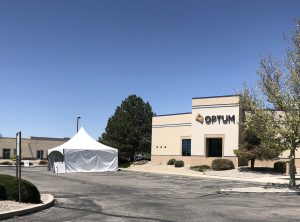 Albuquerque resident Shelby Ramirez is one of the nearly 68,000 New Mexicans to have gotten tested for COVID-19. 
"I think the test was done pretty well," she said.
The 22-year-old had a high temperature and was concerned about her father's underlying health condition. 
 "Given my circumstances with my dad, they were able to let me get tested," Ramirez said. "There was maybe two people in front of me. I was expecting like five or six days, that's what they had told me; it came back in 48 hours. It came back very quickly."
Ramirez tested negative.
46-year-old Rio Rancho resident and financial service coder Pamela Burns was also tested and said she had to wait 45 minutes before the testing process even began for her.
"Because of the long wait, they had to keep their patients inside the clinic who were already there first," Burns said. "That's why we had to wait and then they had to change out of their gowns and put a new set on to see each new patient being tested."
Like Ramirez, Burns was pleased she got her results back quickly. 
"They initially told me five to seven days," Burns said. "I got the test on a Saturday and I received the results on Tuesday, so it was shorter than what I thought." 
Burns also tested negative. 
"They were negative, thank God." 
The governor said the state's new goal is to conduct nearly 100,000 tests per day, which would be one of the highest coronavirus testing capacities in the United States. 
Devin Muzzey is a reporter for the New Mexico News Port. He can be reached on Twitter @MuzzeyDevin or at nmnewsport@gmail.com.