By Bella Davis / NM News Port
On an otherwise quiet Sunday evening in Barelas, piercing screams and experimental punk music rang out from a small building glowing with purple light. Four acts—Spliceling, Jackie Chacón, Velvet Q, and Nuh Uh—were playing at the Tannex, one of several DIY music spaces in Albuquerque.
Under disco balls and string lights, Seattle's Velvet Q gave an energetic performance with the surprise appearance of an accordion. Later, feminist rapper Nuh Uh started her set with an acapella rap.
"The idea is to have women and people of color on every bill, and so, what ends up happening is the music is very diverse and interesting," said Tannex co-founder Marya Jones, who is now the sole curator.
"I think it encourages people to stretch and hear music they haven't heard before or listen to women playing music when that is not the norm across the city."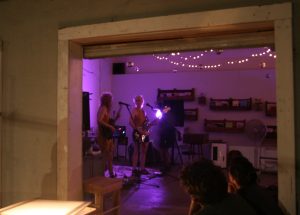 DIY spaces are often run out of people's houses or small, converted buildings, as is the case with the Tannex, which was founded in 2013. DIY shows feature independent artists and are more intimate and accessible than concerts at larger, conventional venues.
"It always feels like a safe, welcoming space and that's certainly not always the case in these other venues," singer and songwriter Jackie Chacón said.
"There's always alcohol involved in those [other] places," Chacón said. "So this is so much more accessible to everybody, which is important because you think about what music and art is, and that should be accessible to whoever wants that."
The exact origins of the DIY scene in Albuquerque are unclear, but the city's unique cultural history has allowed for its emergence over the past few decades.

"Albuquerque has always had a scene of resistance and artistic freedom and things like that, so it's easy to see where movements could settle in and be born and find space," Jones said.
Today, Albuquerque is home to a number of notable venues, all distinct yet still falling under the DIY umbrella. In addition to the Tannex, the local DIY scene includes Fly Honey Warehouse and Corpus Arts.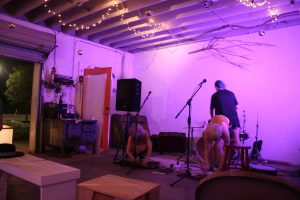 A small storefront downtown, Corpus Arts began in 2016 as a library, art gallery, and queer educational space. The directors gradually began hosting live music events, but their focus on maintaining a safe and accessible space, specifically for queer people, has remained.
"It's a queer space that isn't a bar," said co-founder and director Edward Phillips. "It's focused more on education and community."
The Tannex is similarly flexible. In addition to hosting live music, it has hosted lectures, film screenings, and other projects, and is home to an extensive zine library. It's no coincidence that Tannex's Marya Jones is also the founder and co-producer of ABQ Zine Fest, an annual event in its ninth year.
By their nature, most DIY venues are temporary. Many of them, at least in Albuquerque, are run by students who might move away after graduation. Keeping up with operating costs, primarily rent, is also a challenge. Within the next few months, the Tannex will close because the land it sits on was sold without Jones' knowledge.
"It's hard to keep these spaces afloat if you don't have stable income," said Cameron Mozafari, one of the directors of Corpus Arts. "We don't make any money off this space, and it's a labor of love."
Rather than charging strict entry fees, DIY venues rely on donations and other forms of community support such as memberships. For both the Tannex and Corpus Arts, all of the money goes back to the artists and into venue maintenance.
"The donation-based idea is fantastic, and I think it creates community, too, quite a bit," Chacón said. "There's a much larger sense of community when you come and play at a show like this."
Bella Davis is a reporter for the New Mexico News Port. She can be contacted on Twitter @bladvs or at nmnewsport@gmail.com.