An East African restaurant owner used social media to help add a brick and mortar location to his food truck business.
Lemmy Mamuya, owner of Karibu Café began welcoming diners last July near the intersection of Eubank Boulevard and Candelaria Road — about three years after he started his restaurant in a food truck.
"I just feel blessed. It's not something I really went to school for," Mamuya said. "Cooking and creating — it's just by nature."
Mamuya's menu infuses Indian and Caribbean flavors into East African cuisine, something Mamuya said New Mexico was lacking.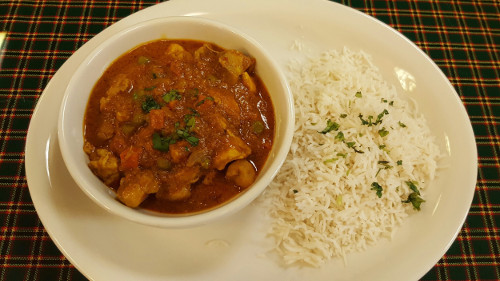 "I present [a] different culture… my food and my decorations… They give you that most feel[ing] that you're in Africa," he said. Karibu means "welcome" in Swahili.
At Karibu Café Mamuya says customers favor dishes such as his Caribbean pork curry stew. He says the food's quality and consistency keep diners coming back.
"They know and they understand that I cook from my passion… I'm not just here to make money. I cook and make sure that the food goes out is something I'm going to be really, really proud of," Mamuya said.
Mamuya was born in Kilimanjaro, Tanzania but grew up in the capital city of Dar es Salaam. He moved to New Mexico in 2008 to work as a construction engineer. But Mamuya says his culinary skills allowed him to realize his dream of owning his own business.
"In construction you have to have a lot of money to even open a company… and it's a process… so I started to think, 'I'm talent[ed]. I know how to cook. Why don't I go into the food industry?'" he said.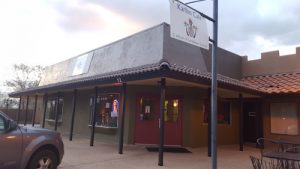 So in 2013, Mamuya said he started small and used his engineering knowledge to build his own food truck.
"That was a good idea because that guaranteed me… wow… people in Albuquerque love my food, so that encouraged me to go another step," Mamuya said. "Now I'm open at both of them because I still need my food truck. It's my free advertisement and I still have a good relation[ship] with the brewer[ies] here."
Mamuya says summer is his busiest season. Diners can find his food truck at Marble Brewery and La Cumbre Brewing Company throughout the week.
Overcoming challenges and being social
But owning a restaurant comes with challenges, specifically effective advertising, Mamuya said.
"I know… I cook one of the best foods in the area and everybody I know who comes here [to] eat loves it, so I just need to reach more people, to know that I am here… that I exist," he said.
Mamuya's entrepreneurial spirit comes in handy as he uses social media and websites like Yelp spreading the word about Karibu Café.
"I would say almost half of my customers, either they say my Facebook page or my review on Yelp. It's really good. That's why they're coming here," he said.
Business at Karibu Café is growing, Mamuya said.
Despite challenges with advertising, owning a restaurant has been exactly what he expected.
"When you start a business you put [in] a lot of hours… it's not a surprise," Mumaya said. "In any business as the owner you have to do almost everything."
Mamuya said he thinks about expanding, but for now his priority is making Karibu Café the best African restaurant in Albuquerque.
Follow Alicia on Twitter.