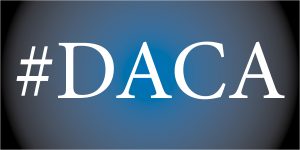 Editor's note: This is the third profile in a series on DACA recipients. This article was first published on the Daily Lobo and has been republished with their permission. Minor style changes were made with permission.
For DACA recipient and University of New Mexico student Sofia Angulo, becoming a citizen has been difficult.
"People say, 'Oh, well, why don't you just become a citizen?' Well, because I can't…I've been here since I was 3-years-old and I'm still not even a resident. I'm 100 percent basically undocumented, besides DACA," said the criminology and anthropology double major.
Because of Angulo's dilemma with her citizenship status, her future has become unclear.
"With me being a criminology major, I'm still stressed out about my future. I can't become a police officer without my citizenship. I couldn't become a probation officer. I wanted to try to become an intern for the CIA undergraduate program, I can't do that without my citizenship," she said.
Angulo said she is frustrated with how much misinformation people have concerning what DACA is and what kind of people DACA recipients are.
"I just felt like (President Trump and) so many other people are just so misinformed on what DACA is," Angulo said. "I feel like a lot of people just hear the word, 'immigrants,' and they're like, 'Alright get them out, go deport them,' not realizing how difficult this process is or how you have to be really an upstanding citizen to get (DACA) — they don't just give it to anyone,"
Along with having to be an exceptional citizen to qualify for DACA, the program itself only provides so much to its recipients.
"People are just so misinformed about it. They think I get college for free, or they think that I'm on food stamps or welfare, and they think I get scholarships and all that, and I'm like, 'I don't qualify for any of that stuff,'" Angulo said.
Applying for DACA can be costly and time-consuming.
According to the U.S Citizenship & Immigration Services website, applicants must collect documents, fill out a series of forms, mail USCIS forms and fees at a total of $465, submit biometrics and check the status of the request online.
Some guidelines that apply to DACA, according to the USCIS website, are: one must have no felonies or be a threat to national security or public safety, be in school at the time of filing or previously/currently in the military, they must provide proof of identity, proof of being in the U.S. before the age of 16, proof of presence in U.S. on June 15, 2012 when DACA was announced and proof to have lived continuously in the U.S. since June 15, 2007, meaning one has never left the county since June 15, 2007.
Most DACA applicants use an immigration lawyer to apply for DACA, which adds to the cost.
The first time Angulo applied for DACA, it cost about $2,000, she said.
One of the most beneficial things DACA provides is a work permit and renewing this part of DACA, no matter if renewed on time, takes time to be approved, she said.
Angulo's first experience with a DACA renewal before it expired happened when she was working at a gelato shop, she said.
"A week before it expired, I noticed I haven't gotten any news about it being approved…so I had to quit my job because of it. It even came a month and a half late with the whole process just because it's so hard to do," Angulo said.
Other challenges she has had to face include the uncertainty of whether people in government care what happens to Dreamers, she said.
Angulo said she hopes the Senate, Congress or president will pass a clean Dream Act or keep DACA.
"I don't think they really care about us too much right now, even though we have been here since we were little," she said. "We're working and in school. We're either in the military or paying taxes. We're doing all that stuff," Angulo said.
Angulo describes herself as an ambitious, caring individual who loves her family. Her best friend Bryanna James, a UNM sophomore studying psychology, said she can attest to that.
"She is honestly the most kind-hearted person I've met, and she'll always go out of her way to help support her friends and family, no matter the situation," James said.
Angulo's parents brought her to the U.S. for a better life. Angulo didn't realize how difficult it was on her parents as immigrants until DACA came out, she said.
Because of DACA, Angulo can help her parents with bills and spend more time with her family.
"She is so caring for her family because I remember a time she was really busy with work and school, and her little brother got sick at school, and no one was able to get him. So she dropped everything she was doing to pick him up and make sure he got home safe," James said.
Angulo's dream in life is to finish school and practice social work with either immigrants or help rehabilitate juvenile delinquents, she said. Later on, she hopes to attend law school to become an immigration lawyer.
Angulo said she describes a Dreamer as "an American, someone who is hardworking, persevering, a fighter. We are Americans, we want to be here, we want to contribute to our society, we want to move ahead, we want to get these great jobs, we want to finish school."
Amy Byres is a culture reporter at the Daily Lobo. She can be contacted at culture@dailylobo.com or on Twitter @amybyres12.