[vc_row][vc_column width="1/1″][text_output]
ANSWERED QUESTION
Breaking Bad is good for New Mexico
As part of our Curious New Mexico project, UNM student Caitlin Carcerano asked, "How big is the impact that Breaking Bad has had on New Mexico's economy?" News Port reporters Kyle Herrera, Travis Gonzales, Joseph Buck, and Christian Naranjo explain the process and approximately how much money was poured into the state.
Drug kingpin Heisenberg's empire may have collapsed on the 2013 finale of the Emmy award-winning series Breaking Bad, but a new economic empire is thriving two years later.
Tread lightly, New Mexico.
The connection between Breaking Bad and the New Mexico economy is rooted in a special incentive program. New Mexico was one of the first states to launch a film incentive program, a major factor in why Albuquerque played host to the international phenomenon.
"Currently, 40 states offer a film incentive but I think ours is the best because it's [paid] only by New Mexico goods and services," said Ann Lerner, City of Albuquerque film liaison.
That means outside companies are strongly encouraged to hire New Mexicans and buy New Mexico products. The state provides a "film production tax credit" to a studio for any qualified spending that occurs in the state. The incentive begins at 25 percent, but can reach 30 percent.
Breaking Bad even has legislation named after it. In 2013, Gov. Susana Martinez signed House Bill 379, nicknamed the "Breaking Bad" bill. The bill is what triggers the incentive to jump from 25 to 30 percent. The bill adds an extra 5 percent incentive for TV series of six or more episodes. However, the bill caps a production's spending at $50 million, which mostly affects big budget movies.
"Qualified spending is money spent on crews, vendors or any spending that happens in the state of New Mexico," said Nick Maniatis, the director of the New Mexico Film Office.
Crew members, especially those from New Mexico, received a large portion of qualified spending from Breaking Bad. The average income for a crew member working on a New Mexico set is an estimated $50,000 according to a three-year study conducted by the New Mexico Film Office.
"The producer of 'Breaking Bad,' Stewart Lyons, took it seriously to hire New Mexicans," Maniatis said. "At the end of their run, their crew was 95 percent New Mexicans."
How the incentive works
Some legislators have criticized the bill because it allows productions to qualify for the tax credit without a long-term stay. Sen. John Arthur Smith, D-Deming, said the House considered that aspect before its 64-0 vote in favor of the bill.
"My concern with this is, with 47 states offering film credits, we're going to be a rest stop on the way to the next credit rather than [gaining] the stability and permanency we'd love to have," Smith said in April 2013, according to The Media Economy Review.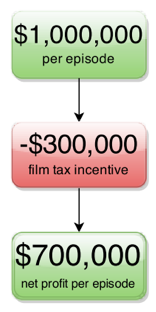 Perhaps another possible drawback of the incentivized rebate would be that it comes from state tax dollars. But according to the New Mexico Film Office, the program is well worth the expense.
According to the City of Albuquerque, Breaking Bad contributed $75 million to the New Mexico economy through production expenses in the state over the course of five seasons before the film tax incentive began, approximately $1 million per episode.
Of the $1 million each episode, Breaking Bad received at most $300,000 in return through the tax incentive. That money would have been generated through the New Mexico tax dollars, which leaves the state economy with a net gain of $700,000 per episode of Breaking Bad.
So while the exact economic impact that Breaking Bad has left on New Mexico is difficult to determine, its numerical impact does not take into account tourism and infrastructure. However, it is safe to say the state collected at least $52.5 million from incentivizing Breaking Bad to film in the Land of Enchantment from 2008-2013.
Other financial impacts
Of the calculated revenue streams, none take into account the boost in tourism the state has seen. Savvy business owners took advantage of the show's popularity by implementing Breaking Bad-themed products and services. Debbie Ball, known as the Candy Lady in Albuquerque, replicates Heisenberg's infamous blue meth with an edible rock candy, while locally owned and family-operated Guerilla Graphics offers dozens of Breaking Bad-themed memorabilia.
One married couple in Albuquerque saw how lucrative a business solely dedicated to die-hard Breaking Bad fans could be.
Frank and Jackie Sandoval, owners of "Breaking Bad RV Tours," provide a traveling experience with an RV replica of the mobile meth lab. The three-hour tour costs $75 per person and visits 20 memorable locations such as Walt's Car Wash, Jesse's house, and lunch at Los Pollos Hermanos.
Frank Sandoval said he has seen tourists from England, Mexico, Ukraine, Israel, and Australia come to Albuquerque specifically for the RV tours.
"It put Albuquerque back on the map because we used to travel and mention Albuquerque and people would say, 'I've seen that on Cops.' Now it's, 'Oh my God. We've seen that on Breaking Bad," Sandoval said. "We've gone from bad to better."
Spinoff comes next
Due to the success of Breaking Bad, the cable channel AMC decided to make a spinoff called, "Better Call Saul," based on the lawyer character, Saul Goodman. The series already is scheduled to run for at least two years. City of Albuquerque Film Liaison Ann Lerner said she estimates the production will spend a similar amount of money as Breaking Bad did in New Mexico, approximately $1 million per episode.
"I think [Better Call Saul] is going to be as just as successful as Breaking Bad. The more episodes the show produces, the better our state will do," Lerner said.[/text_output][share title="Share this post with your friends" facebook="true" twitter="true" google_plus="true" linkedin="true" pinterest="true"][/vc_column][/vc_row]