ANSWERED QUESTION
Boxes of books meant to encourage readers
As part of the Curious New Mexico project, someone asked about the Little Free Libraries around Albuquerque. News Port reporters Lena Guidi, Sophie Wickert, Derrick Toledo and Early-Ray Mixon hit the streets to find out who builds the little boxes of books and why.
By Lena Guidi and Sophie Wickert / NM News Port
Outside of Talin Market on the Southwest corner of Central and Louisiana, there is a structure in the plaza made of colorful, irregularly-shaped boxes. At first glance, it may appear to be some sort of modern sculpture or art installation.
But, this modern-looking contraption is known as a "little free library," and they can be found all over the city. The little free library project has a simple premise: create small, public structures where people can take a book and leave another one in return. Since its inception in 2009, the project has expanded to include hundreds of registered libraries throughout the country, and many more that are unregistered.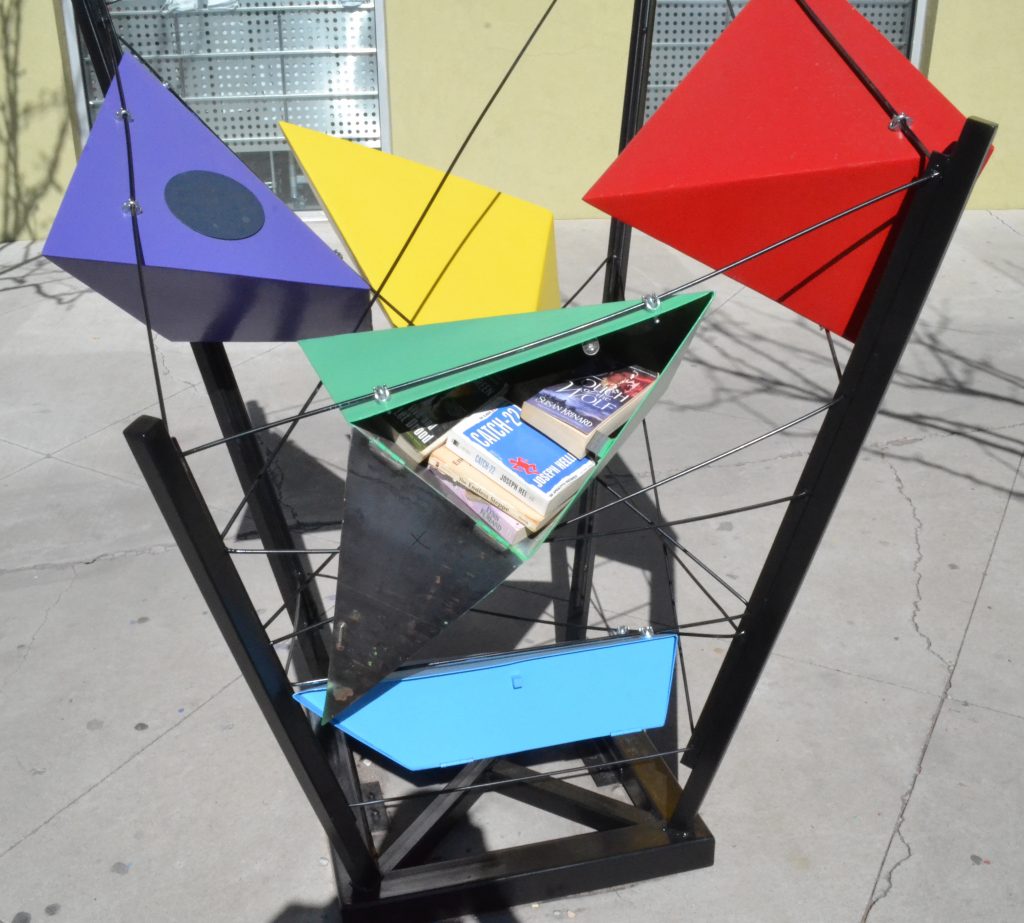 While anyone can purchase an official little free library from the project's website, students from Albuquerque have preferred to create their own less conventional designs. At UNM's School of Architecture and Planning, students in a studio design class competed to draft the best design for Little Free Libraries.
Rob Shipley, a retired ESL teacher and volunteer "for all kinds of things, especially related to literacy," said that he suggested the idea for the competition to the director of the School of Architecture and Planning's Fabrications Lab director.
"When I learned about little free libraries, I thought it would be very beneficial to come up with an iconic design and get them installed in the county," Shipley said. "It occurred to me that the school of architecture could be an ideal source for designing these little libraries."
The top five designs from the competition will eventually be installed in the five districts of Bernalillo County. The 1st-place winner, Erica Aragon, got to see her concept turn to reality when the whimsical library in front of Talin was constructed in July 2014.
"I added a lot of color in mine," Aragon said. "I was aiming toward more of a playful design aimed towards children specifically."
While all age groups are encouraged to use little free libraries, one of the project's major goals is to encourage reading among children.
"It's basically a program to promote literacy for children, and for adults as well," said Samantha Villaseñor, a student who received an honorable mention for the little free library design contest. She said that by placing little free libraries throughout the city, people of all age groups have the opportunity to read new books.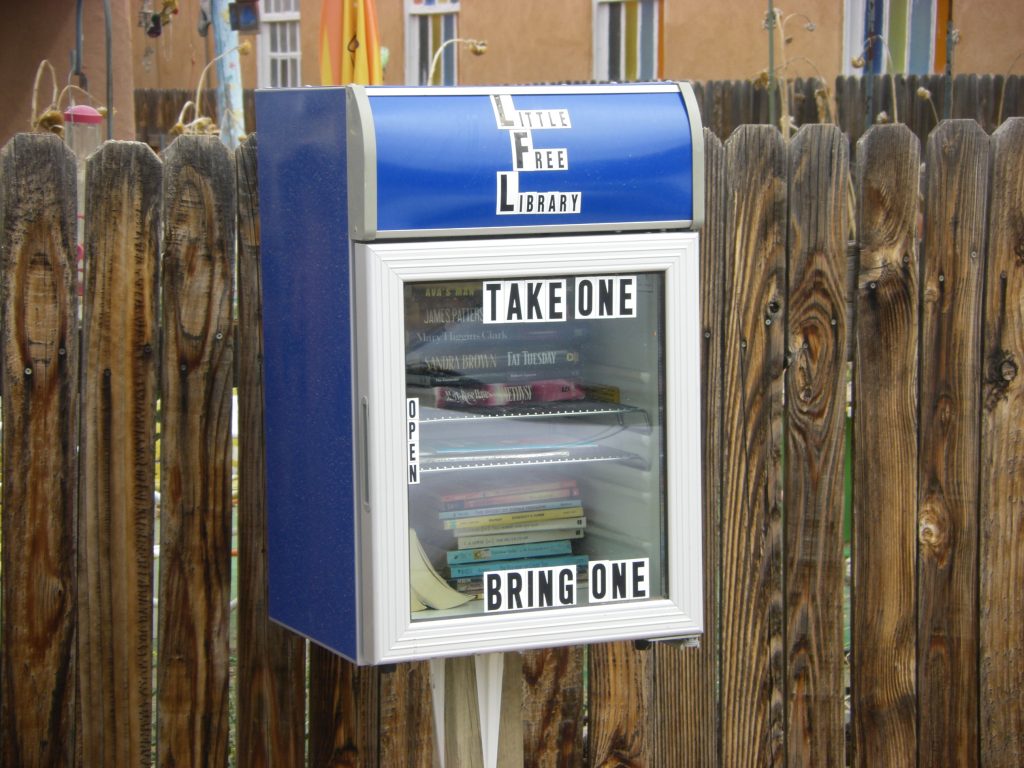 "Increasing literacy is critically important here in New Mexico," Shipley said. "The literacy rate in this state ranks very low among all the other states, so that's one of the reasons that has motivated me to promote little free libraries."
Desmond Dorn, the 4th-place winner of the contest, said he enjoyed the competition because the competitors were encouraged to create designs that deviated from the standard little free library template, which resembles a mailbox or small house.
"One of the bigger things about our designs was the fact that most of these beforehand were established more like mailboxes, so with us using our digital design and everything like that for architecture, we were able to push the limits and boundaries of what people were used to typically seeing," he said.
Not only are children in Albuquerque able to access little free libraries — at Mountain Mahogany Community School, they are building them as well. Last fall, 72 middle school students used raw materials and power tools to create ten little free libraries. Rachel Rodriguez, the wellness director at Mountain Mahogany, said school teachers undertook the project when one of its teachers heard about the project on the news.
"Every year, the middle school has been trying to figure out creative, community-focused efforts that get the students involved and help them build connections with each other and the community," she said. "We wanted to do project that would put positive impact on the greater Albuquerque community."
Mike Tullai, a parent and local contractor, designed the prototype, gathered materials, and provided on-site guidance while the students built the libraries. After they split into groups and worked for three days, the ten libraries were complete. Three of them were kept on Mountain Mahogany's campus and seven were sold to people associated with the school, such as parents or staff.
"It was the sale of the seven little libraries that funded the project to be able to make all of them, and to be able to keep the three on campus without expending any other funds," Rodriguez said. Those other seven can be found throughout Albuquerque, although some of them are on private property. She said the books used to fill the libraries were bought using a donation from parents.
In addition to these little libraries designed and created by students in Albuquerque, there are seven officially chartered locations in the city. Anyone interested in putting a little library in their neighborhood can visit littlefreelibrary.org to learn more information on how to become a steward of their own library.
Or, those interested can take the path of Aragon and the other 15 UNM architecture students and try their hand at their own little free library designs.
"It's an interesting way of how design can influence communities," Aragon said. "It's not just a beautiful piece you can look up, but it's a piece you can engage with and learn from."
Little Free Libraries in Albuquerque
Do you know about other libraries? Let us know.
[/text_output][share title="Share this post" facebook="true" twitter="true" google_plus="true" linkedin="true" pinterest="true"][/vc_column][/vc_row]