ALBUQUERQUE, NM– Sexual assault reports increased by 900% this year, causing a massive backlog at the University of New Mexico; an unintended consequence of the policy recommendations of the U.S. Department of Justice involvement from 2014
University officials at the Office of Equal Opportunity (OEO) say one of the biggest challenges they are now coping with, since the involvement of the DOJ,  is the 900 percent increase in the sexual assault reports by students, staff and faculty. In 2012 there were  4 reported  sex offenses, which included rape, fondling, stalking, domestic & dating violence, whereas in 2015 the number was increased to78 . They say that's created a tremendous work load which is slowing down case investigation times.
The DOJ began its investigation in December of 2014 after "receiving complaints from multiple students alleging that UNM did not respond adequately to their reports of sexual assault,"according to the 2016 agreement. While the DOJ did acknowledge in the agreement that the university was making changes to its policies prior to the investigation, the DOJ stated more changes needed to occur before UNM would be considered compliant.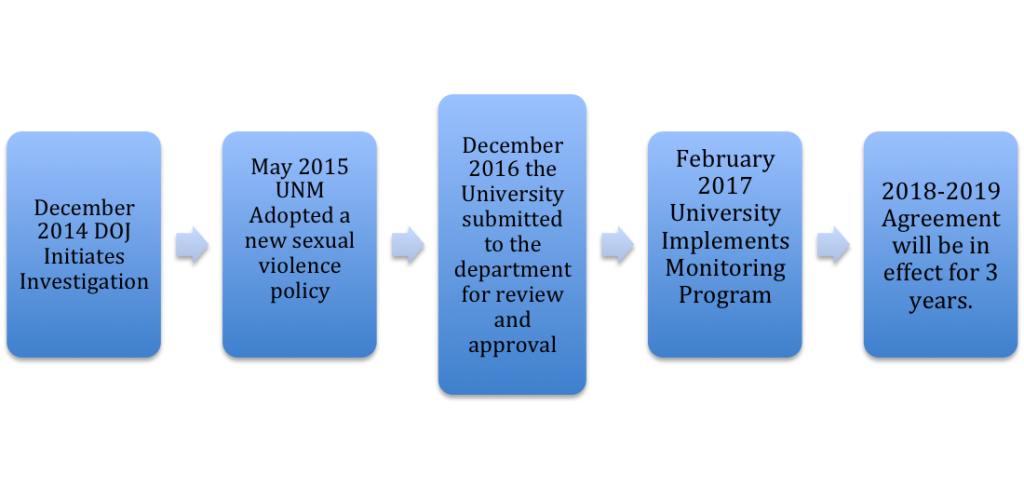 Heather Cowan is the Title IX Coordinator at UNM. She oversees UNM's compliance with federal laws prohibiting any form of sexual discrimination or harassment. Cowan says one major issue possibly affecting UNM in the near future is the high number of claims causing higher response times to their investigations.
"From 2012 to 2015, we had a 900 percent increase in our cases — that's not even hyperbole, that's the actual number — and then it went up even more last year," said Cowan, referring to sexual assault claims filed with UNM's Office of Equal Opportunity (OEO).
As the number of claims increase, so does the time it takes to thoroughly investigate each claim, Cowan said.
The OEO has 60 to 90 days to respond to a claim and begin an investigation — but with the high number of cases and a growing backlog, the wait time for an investigation continues to go up. This could exacerbate problems for the university. One of the main concerns cited by the DOJ was that "UNM did not respond adequately to their reports of sexual assault," so while the amount of reporting is going up, the issue remains — whether the university is responding adequately.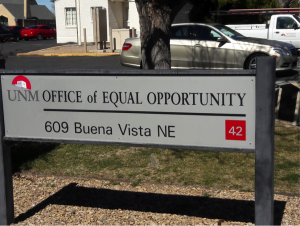 Cowan says, in some ways, the large increase in new sexual assault claims is also a positive indication that more students feel comfortable filing a claim with the university. Cowan could not say whether the actual incidence of sexual assault has increased, but it is more likely there is now better reporting of sexual assault on campus.
Acording to Cowan an increase in cases requires an increase in staff, but lack of funding and staff restricts their ability to meet the 90 day time period to complete an investigation, but "we have a really committed staff and everyone really does their best to get as much done as they possibly can," said Cowan. This cycle of processing a high number of reports causes for the higher wait time that the students receive after their initial report.
Cowan says there is a real risk the campus community may lose confidence in the UNM process.
"It sort of creates this bad cycle of, you know, when we slow down with our investigation because we don't have enough staff to do them then people stop trusting us as much because their investigations take so long and the reports will go down," Cowan said.
Along with this concern comes the issue of getting students engaged in building awareness about what sexual discrimination is… and how to report it.
"I have no idea how to get the word out," Cowan said. "That's part of our challenge too."
"Prior to 2015-16, UNM's only training on sexual harassment, including sexual assault, for the general undergraduate body took place during first year orientation," stated in the agreement. While this is covered during new student orientation not every student who attends UNM has received this training "so a significant number of UNM students have never received any training on sexual harassment or sexual assault," said in the 2016 DOJ  agreement.
"We put together these marketing campaigns, we offer all these trainings, do all these things but no one shows up, and it seems that no one knows about it," Cowan said.
While the OEO is the main office to make a report of sexual harassment, it is not the only option for students. The Women's Resource Center is also a place in which students can receive information in going forward with making a sexual harassment report.  
"We're responsible to the DOJ as well as to our student base and making sure those are in alignment," said Jessica Holland, Women's Resource Center Director at UNM.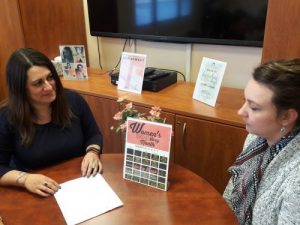 Meanwhile,  in regards to the response time, and the DOJ's involvement at UNM faculty at the Women's Resource Center were asked how this impacted the university's image.
"I think it's both positive and negative and I think its gonna have a little bit of that as we try and learn our way and try to be the best we can and really serve our students and show up for our students in the best way," said Caitlin Henke, a program specialist at UNM's Women's Resource Center.
Policies are still being discussed by the administration  to adhere to the guidelines set by the DOJ at the university and will continue until the academic year of 2018-2019 unless the DOJ decides to remain at UNM.
"We (OEO) definitely recognize that UNM had problems, I came back to the University of New Mexico in 2013 and started really trying to plug some of these holes and fill these gaps and make it better cause…it takes work, and time," Cowan said.
Follow Maelene on Twitter.