Linda Stover appears to have won the race to become the next Bernalillo County Clerk, beating Republican candidate Maryellen Ortega-Saenz 58.2 to 41.7 as of press time. Stover likely will be taking over for Maggie Toulouse Oliver, who has held the office since 2007.
Stover, 69, looks to improve the election process as well as community interaction with the office, something predecessor Democrat Toulouse Oliver emphasized.
Stover wants to modernize the election process, and hopes for online voting in the future.
"I am elated, I am really, really pleased, and I'm looking forward to the next four years," Stover said.
She spent election day visiting all of the polls, and handing out water to all of the workers.
"It was a good day," Stover said in an interview.
Part of the clerk's campaign centered on voter ID laws. New Mexico voters are required to show an ID when voting if they did not send a copy of their ID by mail when registering. If the voter does not have an ID, a utility statement or bank statement will be sufficient.
Stover believes that current New Mexico voter ID laws have decreased voter turnout to a historical low.
"The right to vote is guaranteed by the Constitution and isn't restricted by privilege," a statement on Stover's website says.
Stover also has advocated for better means of recording the election process, and updating the public's access to government records.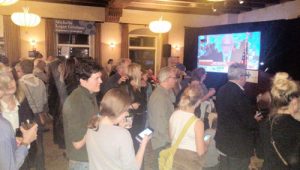 "We hear a lot about transparency in government these days. Nowhere is that more important than with public records," Stover says on her website.
Ultimately, Stover wants the voting process to be obstacle free, and she wants everyone who participates to feel comfortable, and know that the process is efficient along with being professional.
"I hope to have voting convenience centers close to high-rise senior living facilities so they are more readily available to our senior populations who may have transportation problems and for whatever reason do not want to vote absentee," Stover said in recent New Mexico News Port article.
As of Nov. 8, Stover has had $93,935.07 contributed to her campaign, and has spent $86,884.57, according to the New Mexico Secretary of State website. Ortega-Saenz had $5,725.81 in contributions, and spent $5,499.18.
Stover has worked for the New Mexico Rural Rehabilitation Corporation for more than 33 years. Stover has also worked for Mountain Bell and Pacific Bell and was also a steward for the Communication Workers of America.
Stover was born in Carlsbad, New Mexico, and moved to Albuquerque while she was in junior high school. She is a graduate of Sandia High School and attended the University of New Mexico until she was offered full time work, according to her website.
The Bernalillo County Clerk earns $65,501 annually, and is responsible for voter registration, conducting elections, voter outreach, and recording and filing all public records.