New Mexicans on Tuesday appeared to approve a bond for higher education with more than 60 percent in favor of granting higher education funds for capital projects to New Mexico public colleges and universities.
Approval of Bond C means the University of New Mexico (UNM) can anticipate receiving $34.5 million once the state issues all the bonds near the beginning of next year.
UNM will use the funds for various projects, including a new $25 million Physics and Astronomy Interdisciplinary Science (PAIS) building. The Taos, Gallup, Los Alamos, and Valencia branch campuses will also receive money for facility renovations and improvements.
With 1,201 precincts partially reporting, many UNM staff said they are excited for future university projects covered by higher education bonds, particularly the PAIS building. Readers can see information on the PAIS project outline on the UNM website.
"We are excited here at UNM to continue to move forward with the Physics & Astronomy and Interdisciplinary Science project. The impact of having a state-of-the-art facility will significantly contribute to New Mexico's scientific and academic success, and that of our students," UNM President Robert Frank said in a statement.
Dianne Anderson, the UNM media director, said the new labs and classrooms in the PAIS building will benefit both graduate and undergraduate students.
"Because of its size, location and function, PAIS will not only change the face of the UNM campus, it will also make a big impact on the way students and faculty work together to solve problems," Anderson said in a statement.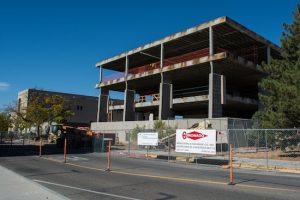 Mark Peceny, college of arts and sciences dean, said he is grateful for the support shown by voters.
"We will be able to provide extraordinary service to our students and to the state in the new Physics & Astronomy and Interdisciplinary Science building, which has been made possible in part by the support of people throughout New Mexico for the general obligation bond," Peceny said in a statement. "We will do everything in our power to provide the maximum possible return on your investment."
"Students, faculty and staff of the Department of Physics and Astronomy are proud that the citizens of New Mexico decided to make an investment into the future. We will work hard to provide excellent training and research opportunities for our students in the new building, which will ultimately help make our state more competitive," Wolfgang Rudolph, chairman of the Department of Physics and Astronomy, said in a statement.
In addition to funds allocated for UNM, bond sale monies will ultimately grant up to $131 million to 31 distinct public higher education institutions in New Mexico.
Other projects that will receive funds from Bond C municipal bonds include renovations to Max Hall at Central New Mexico Community College (CNMCC) and Southwestern Indian Polytechnic Institute (SIPI) Library. For more information about these and other projects, visit nmlegis.gov.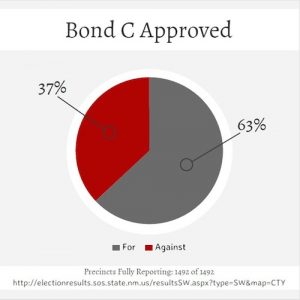 The New Mexico Department of Higher Education (NMHED) has already determined and recommended how the money should be distributed, which can be seen in this capital projects recommendations report.
With 1,201 precincts partially reporting, NMHED Cabinet Secretary Barbara Damron said NMHED officials are excited to see citizens support Bond C.
"There is no question our higher ed institutions needed this bond. There're a lot of capital project needs around the state … and it [Bond C] provides an opportunity for our New Mexico students," Damron said. "It allows them to study, learn, and grow in safe buildings. It creates local jobs and provides communities around the state with an economic boost — and, of course, all of this is done without raising taxes."
This is the second election year in a row Bond C has received approval, according to the UNM Newsroom.
Voters varied in their reasons for supporting or opposing Bond C.
John Smith, an early voter at the Petroglyph Plaza polling station on Albuquerque's West Side, said he supports the measure because he wants to help improve New Mexico education.
"Education is extremely important for the future of our country. I don't believe in higher taxes — which, bonds generally tend to lead to higher taxes — but I do believe we need to have more and better education here in New Mexico," Smith said.
Amanda Wilson, who said she voted against Bond C, said she didn't know enough about it to give her support.
"I don't think they gave enough information going into it to really understand it," Wilson said.
Denise Mitchell, a UNM employee, said Bond C is needed now in a time of numerous budget cuts at higher ed institutions.
"I feel that it's important that we … really look at higher education as something that is valued. So being able to provide funds … to make higher education better is really important," Mitchell said. "Any resources … that can help students in higher education I think is worth us voting for."
She said because some taxes go toward higher education anyway, everyone should invest in a bond that won't increase it.
According to Investopedia.com, GO bonds are sold after receiving voter approval and repaid over a long period of time via revenue from taxes or from the capital projects funded by the bonds.
The approval of Bond C will not lead to a tax increase.
With approval secured, the next steps in the process of granting funds to colleges and universities include the state selling the bonds and institutions giving their final presentations to the capital projects committee.
For more information about the process of GO bonds and how institutions get their money, see
this previous New Mexico News Port article.
Follow @cyntbake @tdlbooks @jacktheskipperr on Twitter.