President Trump's first year in office raised not only nuclear tension with North Korea and trade tension with China, but leaves the Asian community split in their views of the president's leadership, according to polls and local interviews.
Kenta Hayashi, a foreign exchange student from Japan, majoring in Linguistics at the University of New Mexico, said that Trump is an interesting person because the things he chooses to do aren't normally things that most people would do. He said he was referring mostly to Trump's Twitter feed and how during his time in America there has been constant talk about what's been uploaded on a day to day basis.
"I think he might be ok as a business person but he might not be ok as a president because he's been offending some people in public," Hayashi said.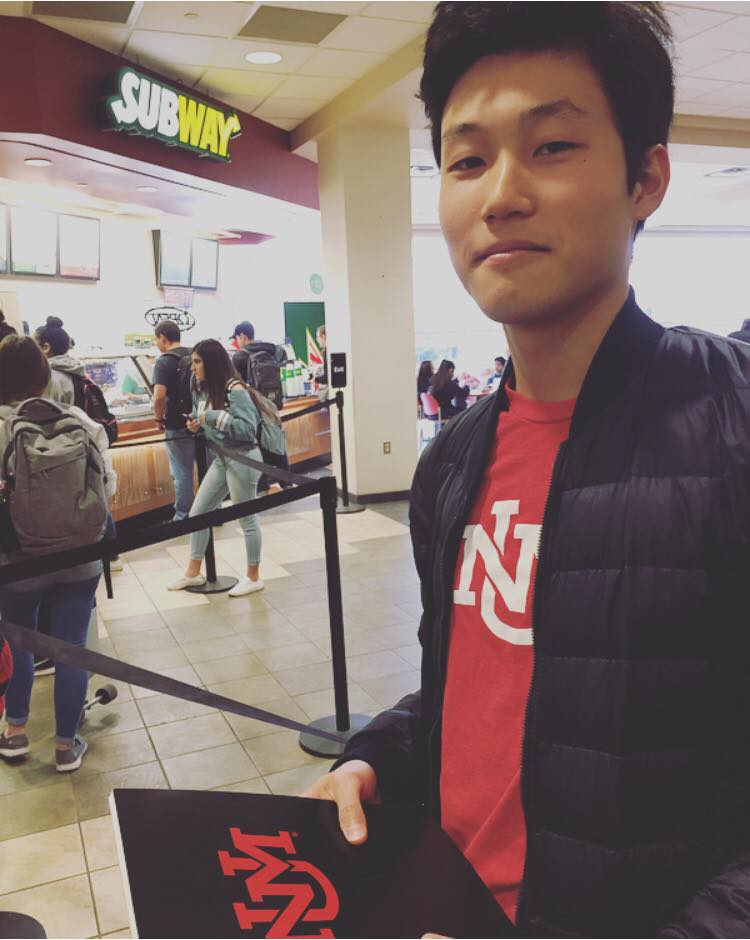 Hayashi is currently learning Spanish. He said that he picked Spanish because he knew it was a language that was spoken throughout the world and if he learned the language, he would have the opportunity to speak with many more people. New Mexico was Hayashi's destination of choice because Spanish along with English are the official languages of the state. He said he'd be able to have the opportunity to practice both of these foreign languages much more often in New Mexico. Hayashi is from the Kansai area of Japan and will be returning at the end of the Spring 2018 semester in May.
Hayashi said he was surprised of the data that came from Japanese people that viewed the U.S. in a favorable light while under by the Trump administration.
"I'm actually kinda surprised at the fact that about 50 percent of Japanese people have approved of Trump, since to me, it seems many people in Japan think Trump shouldn't be the President," Hayashi said.
Within this first week of February 2018, CNN along with Gallup News released a new data set over the approval rating of Trump's year in office. This new rating was a milestone for Trump as it was a five percent increase from a previous poll taken in December 2017. Trump received a 40 percent approval rating in this most recent data publication. However, this is still the lowest approval rating any president has received to date. The second lowest was Reagan who received a 49 percent in 1981, followed by Obama in third, with a 50 percent in 2009.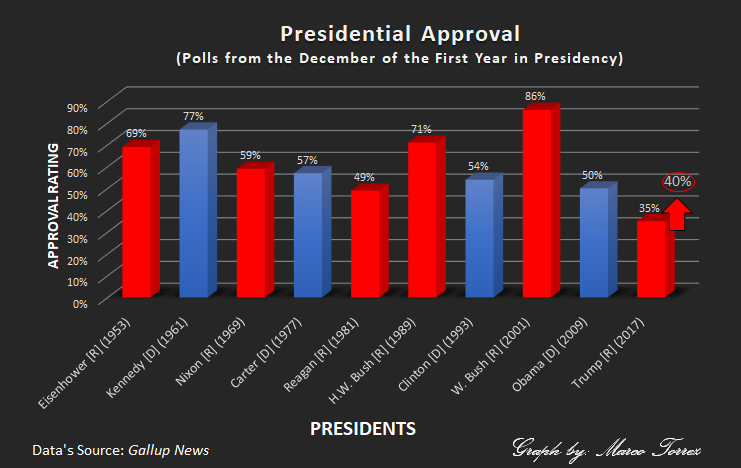 Kim Jin, a nationalized South Korean American, husband and father, currently lives in Vaughn, New Mexico and talked about his support for Trump saying that he isn't shocked about the outcome of the Dec. and Jan. polling data. He said that on either side of the fence people are going to say that they either like Trump or that they don't and this will cause his numbers to fluctuate. He also projects that Trump's approval ratings could go up if Americans give him a chance and opportunity to prove himself.
"I think in the long run his approval rating will increase. It's just the matter of the American people saying, let's give our commander and chief a chance," Jin said. "We need to give our leadership the opportunity to lead, not defeat them."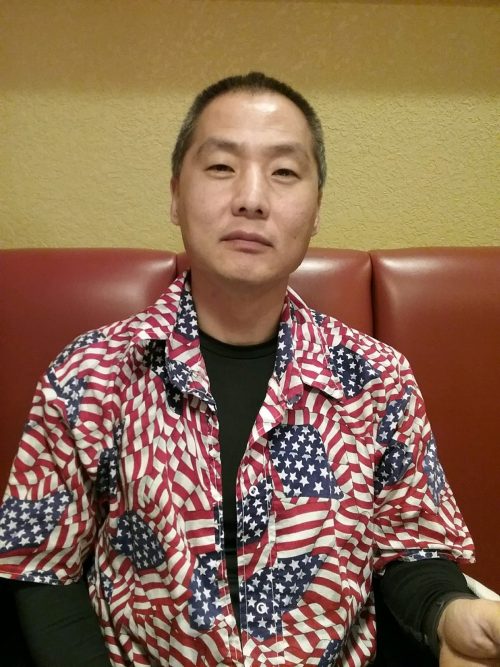 Jin is a former Marine who works in law enforcement. He expresses a strong passion for equality, that every person has the right to get an American citizenship as long as they go through the correct process to become a naturalized American.
"I am proud of who I am, but I am also an American. We need to understand that there is no one race superior to another and there is no person better than another," Jin said. "We need to come together and we need to work as an effective team and give our leadership the opportunity to work equally across the board."
In November 2017, Pew Research Center released the data collected from the Spring 2017 Global Attitudes Survey which identified that Asian confidence in Trump's leadership is divided among Asian nations. The survey asked people among the nations if they had confidence in whether U.S. Trump would do the right thing regarding world affairs. Among the data, Philippines and Vietnam both had over a 55 percent confidence in Trump while Japan and South Korea both had less than 25 percent confidence. Under the Obama administration, Japan held a 78 percent confidence rate while South Korea held a 71 percent confidence rate.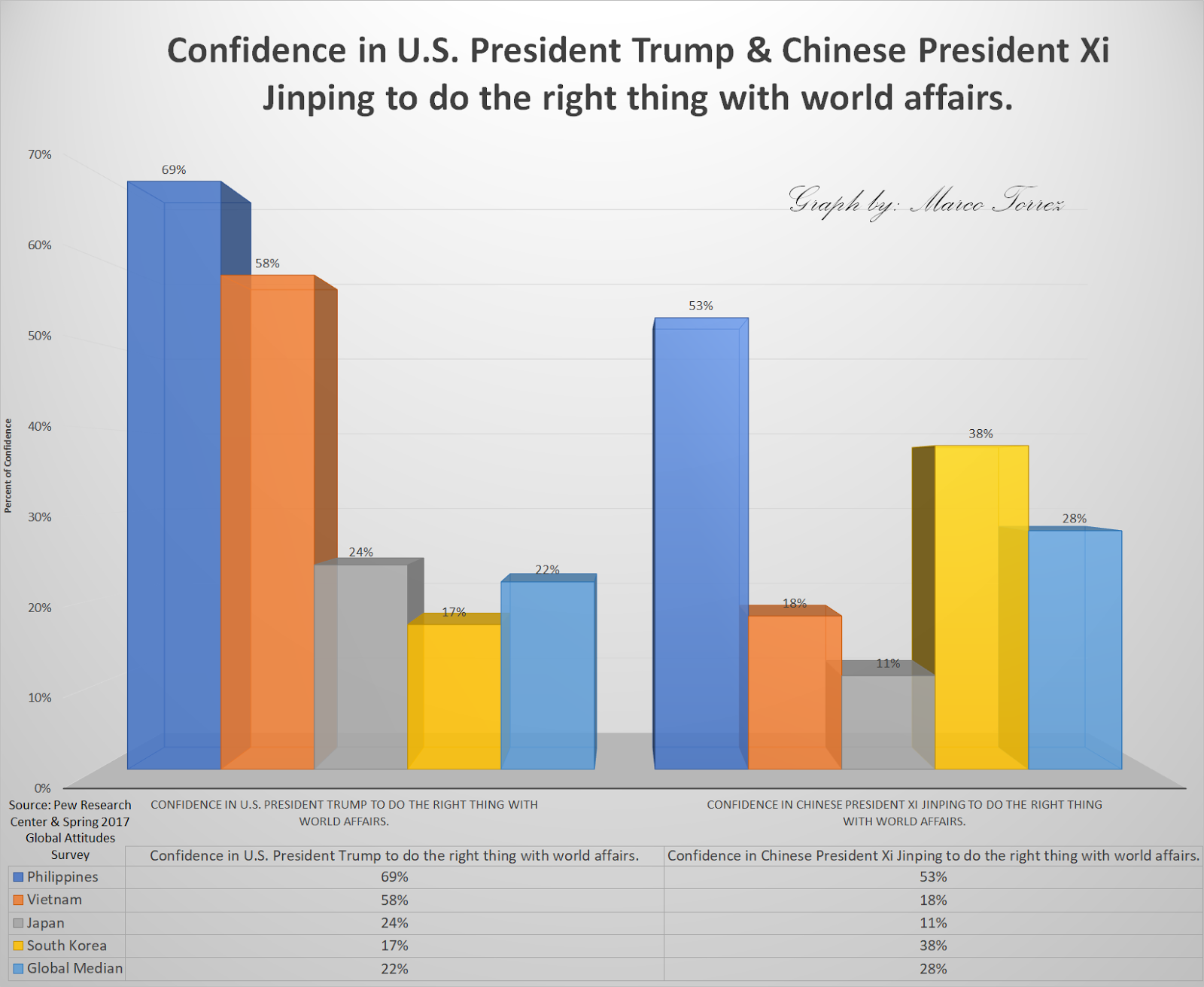 Tomoko Richie, a naturalized Japanese American, wife and mother of three children, said she is disappointed and disapproves of Trump. She said she doesn't think Trump is a good leader.
"He's probably smart with business but not smart with the work a president would face," Richie said. "I feel as if Trump isn't being honest and he's pretty hasty and aggressive, in a bad way."
Richie works as a stay-at-home mom. Two of her kids are in grade school while one is a junior in college. She is a regular consumer of a Japanese news broadcast called, NHK World, Japan's largest news broadcaster. Richie currently lives with her family in Albuquerque, New Mexico.
"The Obama administration did everything to help with health issues and the environmental problems but ever since Trump came in, he's been using executive orders more than Obama has ever done," Richie said.
Richie said she isn't shocked about the negative trend in the poll results from Asia because she thinks that fewer Japanese people trust Trump, because of the kind of person he is compared to Obama or other presidents. She said that she thinks that Japanese people strongly believe Trump isn't suitable to be president.
CNN Politics speculates that Trump's approval ratings could rise because of the popularity and passage of his tax reform law. The next monthly public approval poll about Trump will be published on Gallup News.
Marco Torrez can be contacted on Twitter @marcopolo7721