By Nicolas Maxwell-Parra & Micah Turman/ NM News port
A panel of beer and brewing experts was brought together by Albuquerque Business First magazine at Canteen Brewhouse in NE Albuquerque last month. The assembly of industry professionals examined the recent upswell and future prospects of the local brewing industry, partly for the benefit of prospective brewers. 
"I don't know if it's in our water, or what," said local brewer David Schwanitz, speaking on a recent panel of experts, discussing the growth of New Mexico's beer industry. "It's just the local talent."
In 2011 there were 19 breweries across the state that number has since jumped to 94, according to the New Mexico Brewers Guild. 
The state currently ranks 10th in the nation for number of breweries per capita, according to a study by the Brewers Association. The report found that local brewing in New Mexico accounted for $354 million in economic impact last year. The brewery industry in New Mexico has grown rapidly in the past decade. 
The figure  of impact comes from the total movement of beer brewed by craft brewers, going through a system from the brewery to wholesalers, and retailers. All non-beer products like food and merchandise that brewing establishments sel are also accounted for the Brewers Association Economic Impact Study found.
Local establishments Santa Fe Brewing, Marble Brewery and La Cumbre Brewing Company represent the largest craft brewers in the state, producing  nearly 72,000 barrels of beer in the past year, according to the Brewer's Association.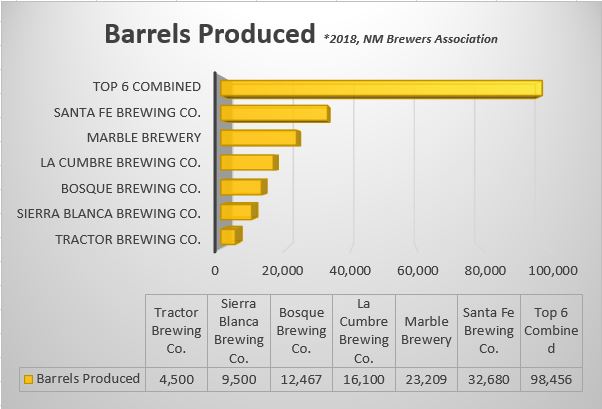 The audience presented the panel with lots of questions, like, what does it take to open a brewery? 
"It's more than just having a passion, it's about assembling a great team," Brewlab 101 owner Scott Salvas said. "It takes a village."
Yet, much of the focus of the panel and its questions was on how New Mexico is making itself known in the national brewing picture. 
Assistant managing editor of ABQ Business First, and mediator of the event, Juliana Vadnais said, "I think winning a lot of awards shows that we are doing something unique, that it's different from the beer you're going to get in Colorado, Texas or Oregon."  
 In 2018, Santa Fe Brewing, 377 Brewing, and Flix Brewhouse all took home awards in the U.S. Open Beer Championship. In early October, five New Mexican breweries came home with awards from Denver's Great American Beer Festival.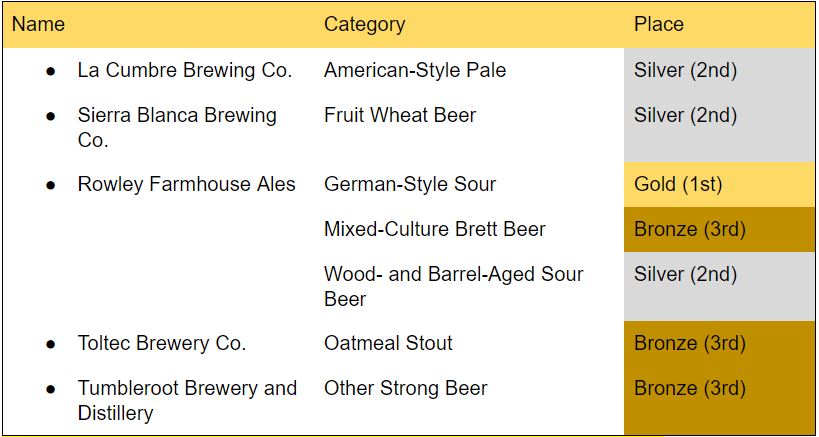 Other positive signs of where the local beer industry is heading can be seen in the investment through the step local secondary education outlets have taken. 
Central New Mexico Community College is now offering a four-year degree in Brewing and Beverage management. CNM's program entered two of their beers in the 2018 College Beer Championship and placed as the second-best brewing school in North America, out of seventeen entries. Meanwhile, the University of New Mexico became the first university in New Mexico to open a tap-room on campus. They also offer a course in beer called the World of Beer. 
Breweries have contributed to New Mexico's tourism industry as Albuquerque appears on Travelocity's collection of top beer cities in the US. The state ranks in at tenth in 2017, competing with cities like Portland and Denver. 
This kind of coverage creates a new category of tourism for the city, "more and more people are coming for the beer," Vadnais said, "and seeing that it's an award-winning beer, they're going to want to come and try it."
Nationally, the Brewer's Association reports that the beer industry accounted for a $79.1 billion in impact on the U.S. economy. 
Vadnais said that even in a growing, competitive market, New Mexico breweries will keep their unique appeal to consumers. 
"New Mexico is one of those places that they want local," she said, "they're going to go support a new brewery as long as it's interesting." 
Micah Turman is a reporter for NM News Port. He can be contacted on Twitter at @MicahTurman or at nmnewsport@gmail.com.
Nicolas Maxwell-Parra is a reporter for the NM News Port. He can be contacted on twitter at @maxwell_parra or at nmnewsport@gmail.com.