New Mexico jewelry maker Elizabeth Kirk is balancing native traditions with new technology.
Kirk, 39, who is Isleta and Navajo, is bringing a new look to traditional crafts and expanding to markets around the world.
A self-proclaimed "Daddy's Girl," Kirk said she became interested in jewelry when she was 8 years old, tinkering in her dad's shop.
"I always wanted to be by him, and see what he was doing." Kirk said.
"I was fascinated at the things he created. It never looked like the traditional native jewelry, and that's what I like about it."
The Kirk Jewelry business has been around for 43 years, starting when her father, Michael Kirk, came home from the Vietnam War. When Kirk was 17, she
Elizabeth Kirk, 39, is the face of Kirk Jewelry where they are new technology for their jewelry. (Caption and photo by Alisha Barber)
started doing paperwork for the business.
Now, Elizabeth Kirk is becoming the face associated with Kirk Jewelry.
Her father is still a part of the jewelry making, but he is mostly in the background. Kirk says that it helps with the Post Traumatic Stress Disorder he suffers from after the Vietnam War. Now, she is in charge.
"I'm very much a people person," she said. "I love to engage with people, talk with them, and see what they are thinking about, whereas my father just wants to be in his own little corner and not be bothered."
The elder Kirk says the company is in good hands with Elizabeth.
"She's opened it up to a lot of more people," Michael Kirk said.
He says he is impressed with her use of social media to help expand the company. It was a lot different from when he started, he said, as he had to go to different trading shows and events just to get people interested in his jewelery.
"I like the way it is now," Michael Kirk said. "We connect globally."
According to Elizabeth Kirk, there is a growing trend where women are starting to do more on the business side as men continue as the primary jewelry makers.
"Most women have a better business sense, and by and large most of the males want to produce, and have someone else take over," she said. "Which is how I started with my father, he just wanted to make something and have someone sell it without having to have that interaction with too many people."
According to a study conducted by American Express OPEN, in 2013 New Mexico saw an increase of Native American women owned businesses. In New Mexico, Native American and Hispanic 38.2 percent of women owned small businesses.
New look for old traditions
Now, after about 22 years in business, not only is she fully taking care of the business, but she is bringing a new look to the company.
Kirk says this is what sets Kirk Jewelry apart from others.
She is using a new form of technology where she places a liquid ceramic on top of the silver and gold. This new form of technology comes from Italy, and according to Kirk there are about 14 systems in the United States. She has been working with it for about two years.
Kirk also has changed the way she displays and packages her pieces. When she sets up her display, she usually has a mannequin dressed in other artist's clothing and would place her own jewelry on the same mannequin.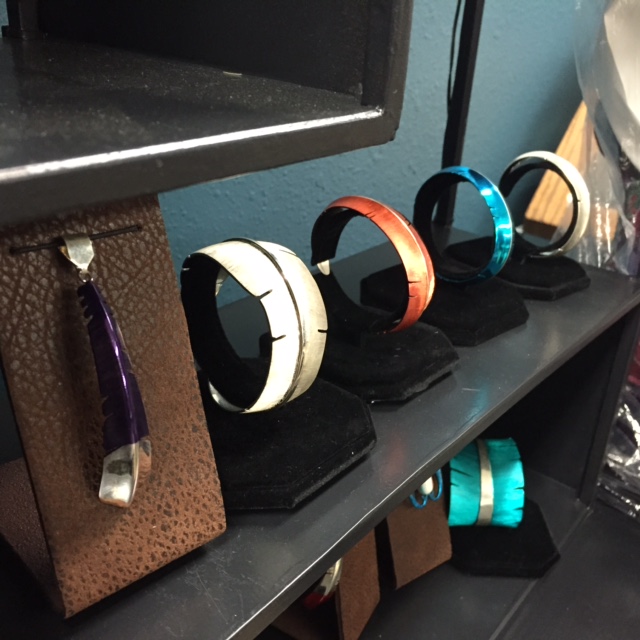 She takes similar care in packaging her works. Usually, artists would spend time and effort to create a piece of jewelry, only to place it in a Zip-Lock bag. Kirk said she wanted to make sure the customer had the necessary tools to best preserve her jewelry. So, she created a box that the jewelry is placed in, and that all goes inside a bag.
"For me, if you are going to spend the money for something like that, for the quality," she said. "I believe it should also be packaged appropriately."
She is also trying to reach new clients beyond New Mexico in different parts of the world including Japan.
Customers from around the country
There are some customers who fly to New Mexico, and come to her store for her handcrafted jewelry.
Jamie Tafoya, who lives in Texas, has purchased her jewelry and feels that their jewelry is the best of both traditional jewelry and modern looks.
"It's the best of both worlds, beautiful Native American jewelry with a young, hip and bold twist." Tafoya said. " I had never seen anything like it and I knew I had to have it."
Another admirer of the Kirk Jewelry is the Shumakolowa Native Arts Gallery inside the Indian Pueblo Cultural Center in Albuquerque. According to Alejandria Rodriguez, the logistics specialist for the gallery, Kirk jewelry has been a hot item among their customers.
"The Kirk jewelry has been a very popular products for us," Rodriguez said. "Customers respect the quality and craftsmanship of the Kirk pieces."
*************************************************************
Name: Elizabeth M. Kirk
Age: 39
Title: Co-owner of Kirk Jewelry
Background: Kirk has been with the company for about 22 years. She makes jewelry along with doing the paperwork.
What do you think is the most interesting part of the innovation economy in ABQ?
"I believe the most interesting aspect in regards to the innovative economy in Albuquerque is the willingness of so many to forgo the traditional eight to five jobs in order to strike out on their own and take a chance on their dream….Sharing what drives you with the world and making a living at what you love is a big risk, we are fortunate to live among so many dreamers for they show us what can happen by simply believing in ourselves."
If you weren't doing this job what would you be doing?
"For me, creating beautiful jewelry is a passion more than it is a job. I wear more than one hat when it comes to the business, so I do not have one set title…I am a caregiver by nature, so perhaps a position within that field. All I know is when you lose your passion for your work, it then becomes a job and I don't want a job, I want to love what I do."
**********************************************************