New Mexico will be spending more money on behavioral health services for youths starting this July as part of an effort to get at root causes of juvenile delinquency while trying to avoid youth incarceration.
The Children, Youth and Families Department received more than $15 million dollars for its Behavioral Health Services program, which includes a $2 million transfer from the juvenile justice system, according to the NM Legislative Finance Committee.
New Mexico has one of the worst rankings of childhood well-being, according to the most recent Kids Count Data Book, which presents data to inform policy maker's decisions. It factors in multiple categories such as early childhood education, various forms of abuse enacted on children, and poverty.
Local organizations say that addressing these negative factors in children's lives can help prevent them from committing crimes, or from becoming repeat offenders.
Gerri Bachicha is the program director for a branch of Bernalillo County's juvenile justice system that works to keep youths out of detention centers. Detention centers in the juvenile system are comparable to jails and prisons in the adult system — except they emphasize rehabilitation over punishment for youths.
While detention centers offer some rehabilitative services in-house, they are costly to operate (it costs over $200 dollars to keep a youth detained per night) and can cause more trauma.
The Juvenile Detention Alternative Institute (JDAI) works to address the factors that cause criminal behavior among youths, Bachicha said.
"Most youth who enter into our system have extreme trauma, complex trauma, childhood trauma that they are acting out on," Bachicha said. Studies have shown that severe trauma can actually change someone's fundamental physical being, she said.
JDAI is funded by the Annie E. Casey Foundation, the same non-profit that produced the Kids Count project.
Youths who commit violent crime should be detained but not only for the sake of punishment, Bachicha said.
"When we treat youth like the youth that they are, with all the adolescent brain development and all the rehabilitative processes that we now know about, then we can start to turn the tide on even the very serious offenders," Bachicha said.
The juvenile probation court runs a risk and needs assessment on each youth before they go before a judge. The assessment determines, among other things, whether a youth should be detained for a period of time, and if the crime they committed was influenced by trauma.
PJ Bruch, a Licensed Marriage and Family Therapist at the Southwest Family Guidance Center and Institute, said that careful assessment is the only way to make a difference in the juveniles' lives.
"Those adverse childhood experiences, those things that have contributed to the kid's worldview, if you don't look for those, if you don't ask for those, if you don't assess for those, then you've missed the mark," Bruch said.
Bruch supervises the Multisystemic Therapy team in Bernalillo County, which works with chronically delinquent youths and their families to eliminate the factors of trauma in the household.
"You can't integrate your trauma experience until you have a parent, a caregiver, that has the ability to manage their own emotions, attend to their kids, and develop those routines and rituals. And then the child is able to identify their own emotional reaction to things," Bruch said.
One of the challenges field therapists face is establishing healthy coping mechanisms with youth who typically turn to substance abuse.
According to a Children, Youth and Family Department's study from 2016, almost 20% of youths who received sentencing that year needed support for substance abuse. Moreover, drug and alcohol abuse was a major factor in losing jobs or getting kicked out of schools.
Ashley Sanchez, 21, went through the juvenile justice system three times for substance abuse.
Sanchez grew up in Bernalillo.
"See, my main problem was alcohol," Sanchez said. "I used to drink a lot in high school, and I felt like that was the only thing I wanted to do. I used to smoke weed and that's all I really cared about, I didn't care about anything else."
Sanchez, who graduated from Bernalillo High School several years ago, said she felt like getting high was her only option to cope with the responsibilities she had.
Meet Ashley Sanchez. Video by Victor Onimole / NM News Port
Sanchez was referred to New Day Youth and Family Services, a local organization that works with JDAI to provide a place for youth to stay and rehabilitate outside of a detention center.
The Detention Diversion Program, (previously known as the Reception and Assessment Center), gave Sanchez the support she needed but couldn't get from her parents, who were separated and lived in different parts of the state, she said.
"My family did care about me and did want to help me, but they just didn't know how," Sanchez said.
Michael Lucero, the program director of the Detention Diversion Program at New Day, worked with Sanchez to keep her from going back to drinking or detention. .
"Anytime we would discuss what's next or what we would do about this scenario, she was in control of that," Lucero said.
After Sanchez successfully completed the diversion  program, she went on to do legislative work with the juvenile justice system, Governor Susana Martinez, and different forms of community outreach.
One form of community outreach Sanchez accomplished was through the formation of the Sandoval County Youth Leadership (SCYL) group with her   friends from Bernalillo High School.
One of the first actions the group engaged in was the "Support Your Peers, Put Down Your Beers" initiative at the school's 2012 prom dance.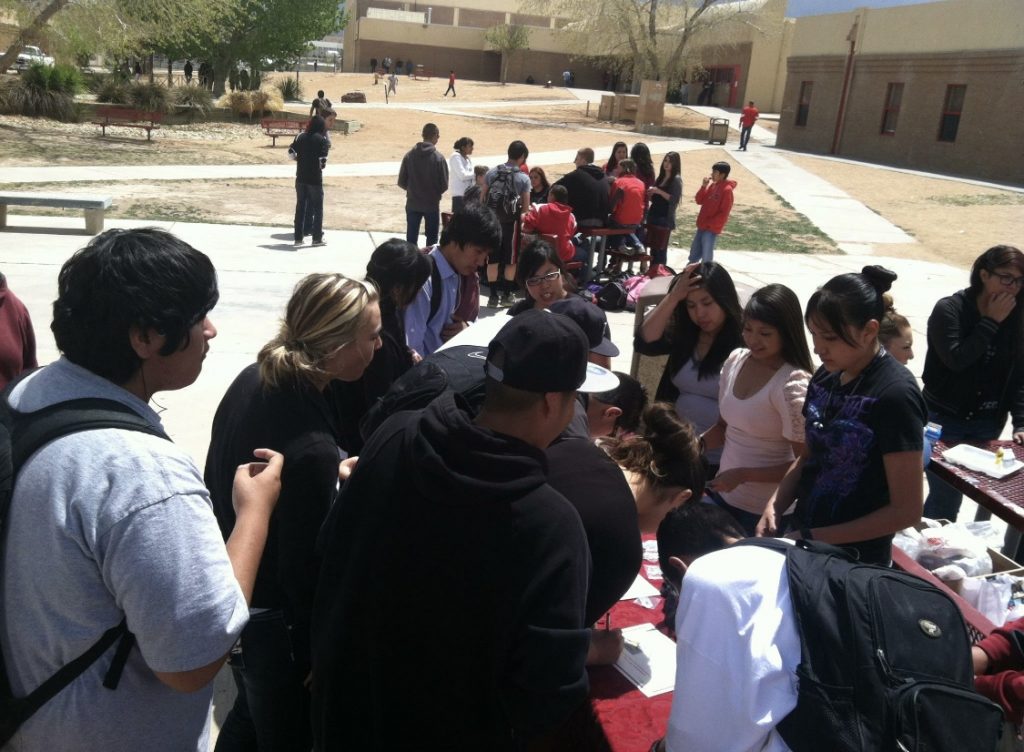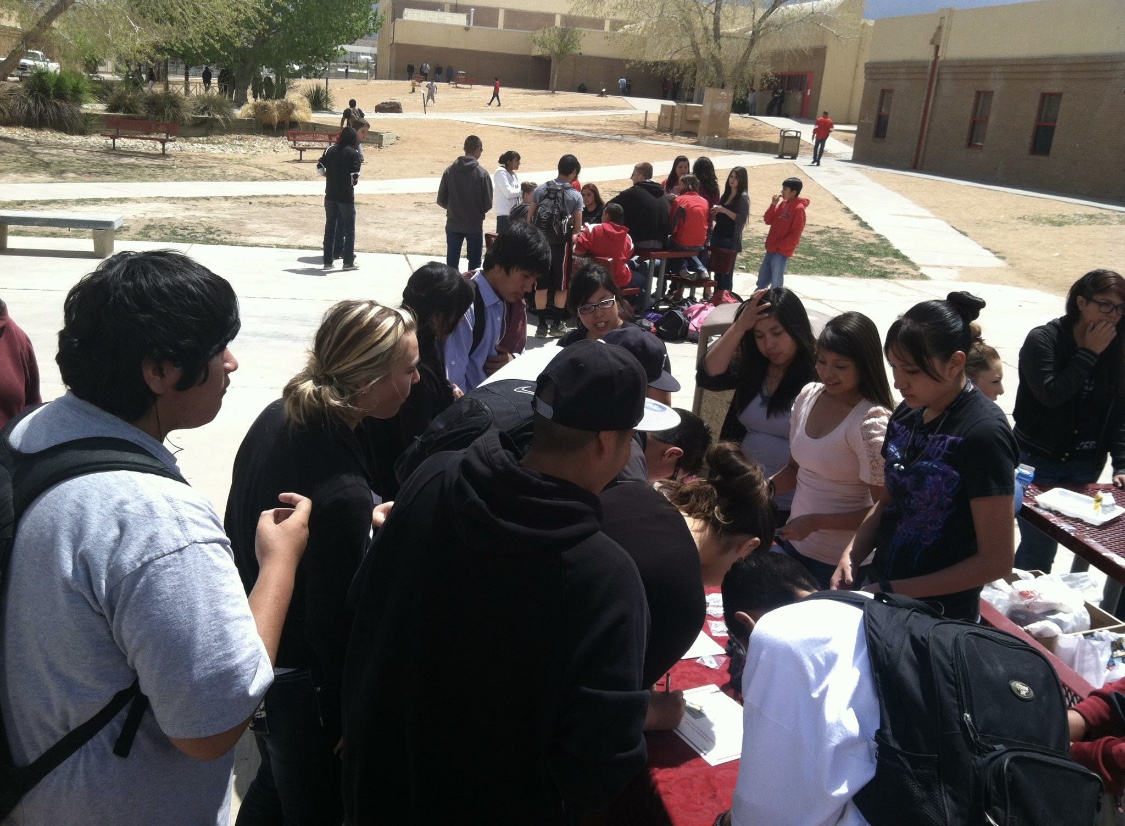 "We had these little contract looking things, to have people sign them and say that they're going to be sober over the weekend, over prom," Sanchez said.
Lucero said four kids typically got in trouble with the law for alcohol related offenses during the month of prom. That month, only one kid got in trouble. .
"Everybody held each other accountable to it, like 'you signed it, so why are you doing this?' So it was just peer on peers, acknowledging that you did sign, that you said you weren't gonna do this, and helping each other," Sanchez said.
The CYFD is expecting more than 80% of kids to have improved school performance after receiving behavioral health services this year.
For more, follow Victor on Twitter.