By Jah'lani Jones and Bodie "Bo" Russell / NM News Port
At the popular art installation in Santa Fe, Meow Wolf employees have been met with push back from both Meow Wolf executives and fellow employees in their pursuit to unionize.  
Bill Rodgers, a Meow Wolf Workers Collective (MWWC) organizer, said that despite the resistance, the group is pressing on.
"We're just sticking to our mission, which is to continue organizing our employees," Rodgers said. 
The creation of the MWWC was announced in early September. They are asking the company to consider its "progressive, radical roots."  
Meow Wolf owners have expressed their displeasure with the unionization efforts. They said they respect their employees' right to organize, but claim that Meow Wolf already has practices and a culture in place that make it a great place to work.
On top of that, another group of some 15 employees calling itself Reunion For Meow Wolf began a public campaign arguing that unionizing is not the right approach. 
As first reported by the Santa Fe Reporter, the Reunion sprang up in late September with a website asking MWWC to hold off on unionizing. The Reunion site claims that key members of Meow Wolf staff, like Creative Directors and the entire HR department, would not be able to join the union.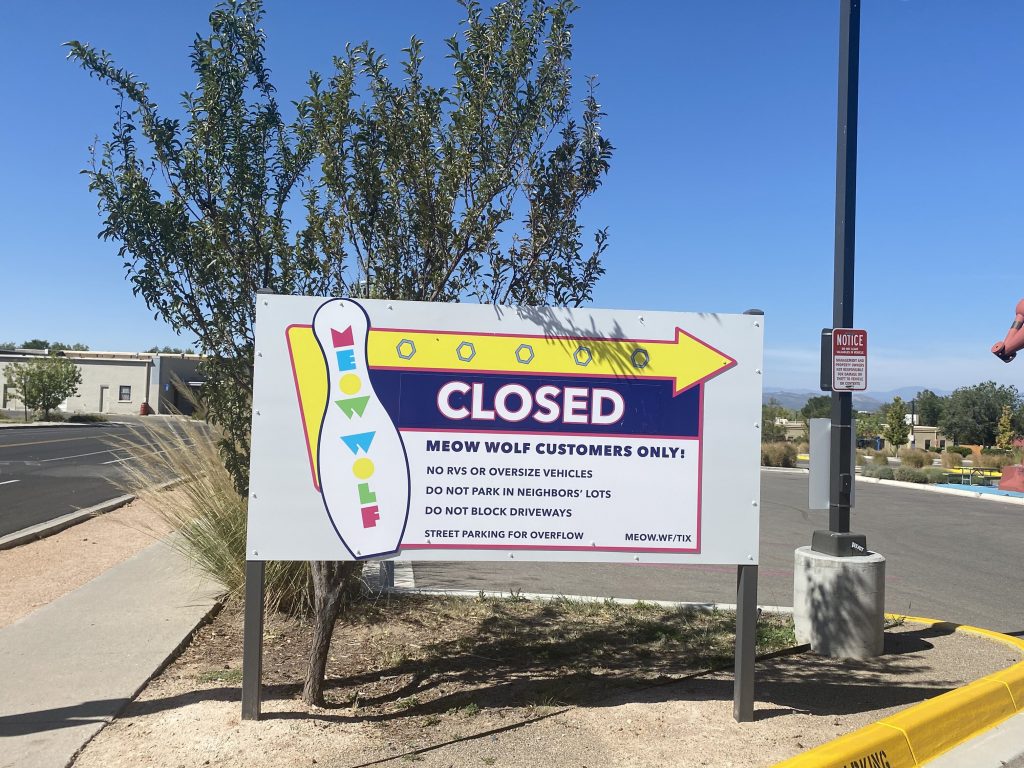 NM News Port sent an email seeking comment from the Reunion, but had not received a response of the publication of this article. Meow Wolf provided a statement acknowledging both MWWC and the Reunion. 
"We have encouraged all of our employees to thoroughly educate themselves on what the future of our company could look like, with and without a union," Maya Sarin, a Meow Wolf representative, wrote in an email. "The most important part of Meow Wolf, above all else, is the people — and we want to continue working together to find new solutions for the future." 
Meow Wolf was formed in 2008 as an art collective and entertainment attraction based in Santa Fe. The collective introduced its first permanent exhibit, The House Of Eternal Return, in 2016.
Building upon the runaway success of the Santa Fe location, Meow Wolf has since transformed into a multimillion dollar company and is now expanding to other cities. 
At 90,000 square feet, Denver will be Meow Wolf's biggest location yet. It has a planned opening of 2021. Meanwhile, in Las Vegas, the permanent exhibit Omega Mart is also slated to open in 2021.
With all of Meow Wolf's expansion plans, Rodgers said that he is not in a position to say what the strategy of unionizing will be like in the future, but added that many conversations are still to be had. 
"I think we want this to be, you know, for Meow Wolf employees. We're trying to have representation in all parts of the company," he said. 
Like most unionization efforts, the decision whether to authorize a union must begin with a majority vote, followed by a negotiation between the union members and the company.
An MWWC vote to unionize will take place on Oct. 19. According to an Oct. 8 press release, MWWC has enough support to win the election. 
Rodgers said that after voting to unionize, the next step is to elect a committee that will negotiate a contract with the company.
"And that basically means we would have to sit down with everybody in our bargaining unit and just hash it out, you know, what do we want to see in a contract," Rodgers said. "Because really, that's the thing that we're all shooting for." 
MWWC is working to establish a local union affiliated with the Communication Workers of America (CWA), the largest media-oriented labor union in the United States. CWA would help negotiate a contract and provide legal representation. 
"We want this to be for Meow Wolf employees. We're trying to have representation in all parts of the company." 
– MWWC organizer Bill Rodgers
Rodgers said his group is not against the company in any way.
"We want to see it succeed and we want to see each other succeed," he said. "We're going forward positively and we just ask that the company recognizes that – that they see that this is something that the majority of their workers want."
Rodgers also asks that Meow Wolf not mount a case against the union. 
Meow Wolf is one of Santa Fe's top private employers. Prior to the COVID-19 pandemic, the company had over 400 employees. Meow Wolf has since laid off over half of its staff. 
In 2019, the company was involved in two separate lawsuits over allegations of unfair pay and discrimination on the basis of gender and sex, as the Santa Fe New Mexican reported. 
About three months after the lawsuits were filed, Meow Wolf raised its minimum starting wage from $11.80 to $17 an hour. 
The lawsuits were settled out of court in January of this year. At the time, Meow Wolf promised to implement systemic changes in the company, including annual anti-discrimination training for management and a hotline for employees to file complaints. 
To promote the company's commitment to inclusivity and diversity, Meow Wolf hired a new "chief people officer," who is meant to help aid in the maintenance of "a productive and healthy workplace environment including diversity, equity, and inclusion initiatives," according to a company news release dated Sept. 14. 
Dozens of community members signed a letter urging Meow Wolf management to hear the collective voices of MWWC. The letter includes signatures from members of other unions in the arts industry. 
Lauren Kelly is a member of the Museum of Contemporary Art (MOCA) union in Los Angeles, California. She heard about MWWC through Instagram and saw the working conditions at Meow Wolf as part of a troubling pattern in the arts world. 
"You would hear stories about other institutions and kind of the terrible practices that were going on," Kelly said. "We all kind of started to realize that this is so much more universal than we originally realized." 
In the following audio clip, MOCA union member Lauren Kelly describes how she heard about the Meow Wolf Workers Collective, and how the MOCA unionization process has made her think about the bigger picture when it comes to art industry unions.
The New Mexico Federation of Labor, an extension of the American Federation of Labor and Congress of Industrial Organizations (AFL-CIO), is also backing MWWC's efforts to unionize, which is somewhat of a rarity in the state. 
The U.S Bureau of Statistics reported that only 8.8% of workers in New Mexico were represented by labor unions in 2019.
MWWC organizer Rodgers said being backed by the community means a lot to the union. 
"It's really great to see who's watching and who's sending their support," he said.
Jah'lani Jones is a reporter for the New Mexico News Port. She can be contacted on Twitter @jahlanijones or at nmnewsport@gmail.com.
Bodie "Bo" Russell is a reporter for the New Mexico News Port. They can be contacted on Twitter @b0dier or at nmnewsport@gmail.com.