Incumbent Republican Justice Judith Nakamura wins the nail-biting New Mexico Supreme Court spot with 52 percent of the vote over Democrat challenger Michael Vigil.
"I'm very appreciative of the voters and citizens that have allowed me to serve," Nakamura said.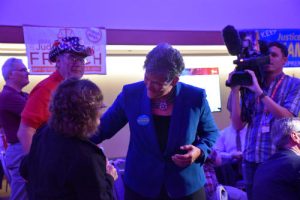 With her win, Nakamura said she plans to continue her approach on the bench. "I'm going to push for programs that have helped make our state to become a safer community," Nakamura said. "…And I'm going to work to streamline and ensure that the judiciary is a more efficient judiciary."
At the Republican celebration, attendees were excited by the results. Cecilia Martinez Salazar of Rio Arriba County said, "As an Hispanic woman, I'm really proud to see her win. She is fair and really wants to help New Mexico."
For the first time in New Mexico history, a majority of women sit on the New Mexico Supreme Court. Nakamura will be the fifth woman in New Mexico history to serve on the high court. She will serve an eight-year term.
Jurist History
Nakamura has served as a jurist in New Mexico for 17 years. Prior to her Supreme Court service, Nakamura sat on the Second Judicial District Court of Albuquerque in 2013. Before that, she served 14 years on the Bernalillo County Metropolitan court beginning in 1998. During her time on the metropolitan court Nakamura was appointed the chief judge from 2002 to 2013.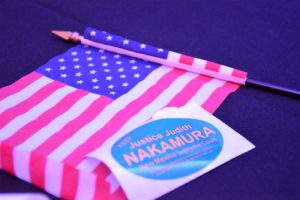 Judith Nakamura has been known as a tough sentencing judge who rejects plea bargains she sees as being too lenient. "My philosophy is to get it right…To read the law, to read the constitution, and to ensure the law doesn't violate the decision," Nakamura said.
Follow Allison on Twitter