Democrat Maggie Toulouse Oliver was elected as New Mexico's next secretary of state Tuesday night, winning the vote with nearly a 14 point margin.
Toulouse Oliver said the win means she can start to put into practice what she has been practicing for years.
"I'm excited about this," Toulouse Oliver said. "But more importantly I'm just ready to get to work."
Toulouse Oliver said as soon as she takes over in January, her first priority will be implementing reforms to campaign finance systems, and systems holding elected officials accountable.
"We're going to get to work almost immediately," Toulouse Oliver said. "I'm ready for that and we need it done ASAP here in New Mexico."
Toulouse Oliver led throughout the night, though as votes continued to roll in, her lead tightened from 25 points to just fewer than 15.
The candidates had strong showings in their home counties. In Toulouse Oliver's home county of Bernalillo, she took more 63 percent of the vote, compared to Espinoza's 36. Toulouse Oliver also had a strong showing in Santa Fe county, where she took nearly 79 percent of the vote.
In Chaves county, Espinoza's home district, she took 65 percent of the vote, compared to Toulouse Oliver's 35.
Communications director for the the Republican Party of New Mexico Tucker Keene said Espinoza worked hard.
"That was obviously going to be an uphill battle for us statewide. We came up short but we worked very, very hard. We would have loved for her to win, but it is what it is. The voters decided a different way," Keene said.
Despite Espinoza's loss, Keene was optimistic about the state's other races.
"We did feel good about a couple other statewide races," Keene said. "We'll see what happens the rest of the night."
Chris Berkheimer, a local Democrat who ran for office in the past, said he is an avid supporter of Toulouse Oliver. Berkheimer says he thinks this election is just a stepping stone to a bigger stage in politics for her.
"I frankly think she should run for governor," Berkheimer said. "Maggie is a once in a lifetime politician."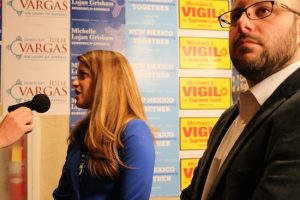 Toulouse Oliver has served as the Bernalillo county clerk since 2007 and said she will miss the position once she leaves it.
"I'm a very nostalgic. Almost 10 years of my life, an entire decade, relationships I've built, incredible work we've done in the county clerk's office, I'm very proud of it," Toulouse Oliver said. "But I'm ready to move on to the next thing. There won't be a lot of time for nostalgia."
When Toulouse Oliver takes over, she will oversee the election process for all of New Mexico. She will enforce laws enacted by the legislature and the governor to maintain transparent elections.
Toulouse Oliver will also be responsible for enforcing campaign finance laws, and ensuring financing is properly reported.
Toulouse Oliver will also be second in line to run the state in the governor's absence, meaning if both the governor and the lieutenant governor are out of the state for any reason, she will administer New Mexico's government.
Toulouse Oliver's victory came during a special election which was only held after Dianna Duran resigned from the office in December 2015 in the wake of a scandal.
In August 2015, Duran was charged with 64 separate criminal counts, including fraud, embezzlement, money laundering, campaign law violations, tampering with public records, conspiracy, and violating the Governmental Conduct Act. According to court records, Duran illegally appropriated campaign funds for her own personal use — including trips to the casino.
After resigning in October, Duran plead guilty to six of the 64 charges against her, including two felonies, according to court documents.
In December, she was sentenced to 30 days in jail, 2,000 hours of community service and ordered to pay $28,000 in fines and restitution.
Additionally, the judge ordered Duran make more than 100 speeches to school and civic groups about her crimes and attend meetings aimed at curbing gambling addiction.
This was Toulouse Oliver's second attempt at running for office on the Democratic ticket, the first coming in 2014 when she lost to Duran.
Toulouse Oliver, who has served as the Bernalillo county clerk since 2007, said once she is voted into office, she will focus on repairing the public trust Duran broke.
Tuesday night's decision came after a race in which both candidates said they disagree on nearly every subject with their opponent, and both focused on pointing out potential flaws in their opponent's record or platform.
Toulouse Oliver's campaign consisted mainly of two parts, persuading voters against Espinoza's positions, and promises of "restoring the public's faith" in the office following the Duran scandal, she said.
Toulouse Oliver said she would restore faith by increasing transparency in the election process, particularly in regards to campaign finance reporting.
Toulouse Oliver said she plans on using new technologies to achieve that goal. These technologies will also make voter registration easier for people and help inform them about their options at the polls, she said.
Espinoza's campaign was also a two pronged approach in which she focused on persuading voters against Toulouse Oliver's platform, and, secondly, championed implementation of voter identification laws in New Mexico.
Espinoza said making sure voters present ID is the only way ensuring the integrity of elections.
During the campaign, Toulouse Oliver repeatedly compared Espinoza's politics to those of Donald Trump.
For example, during a rally for Hillary Clinton on UNM campus on Oct. 18, Toulouse Oliver said Espinoza's stance is similar to Trump suggesting banning Muslims from entering the United States. She says Espinoza's stance on Voter ID laws makes her "New Mexico's own version of Donald Trump."
Toulouse Oliver said Espinoza's claims about voter ID were false and voter fraud is relatively rare This claim is backed up by a study from The Washington Post.
For her part, Espinoza repeatedly said Toulouse Oliver was simply not qualified for the secretary of state position. Espinoza admonished Toulouse Oliver's record as county clerk, citing examples of voter fraud which had occurred in Bernalillo during Toulouse Oliver's administration.
During a Twitter Town Hall Debate on Oct. 5 Espinoza said Toulouse Oliver's administration tactics allowed a man to illegally register his dog to vote in an area under Toulouse Oliver's jurisdiction.
Toulouse Oliver said she followed proper protocol after the incident, notifying the Bernalillo County Sheriff's Department of the man's actions.