By Dannelle Kirven and Solana Cummings / NM News Port
The future of higher education in New Mexico could be changing after Gov. Michelle Lujan Grisham announced a new scholarship to provide free tuition to New Mexico residents. 
The intention of the scholarship is to pay the remaining cost of tuition and fees for students in New Mexico public colleges and universities after they've used any federal grants or the state's Lottery Scholarship. Grisham announced the "Opportunity Scholarship" at the 2019 New Mexico Higher Education Summit held at Central New Mexico Community College in September. 
Vice President of Enrollment Management at UNM, Dan Garcia was present at the summit when Gov. Lujan Grisham announced her plan. 
"The governor has a large great vision for providing higher education opportunities to the residents of the state, but how we get there is going to be another question," Garcia said. 
According to a press release by the governor's office , the program would be sustained by the Higher Education Department and Public Education Department.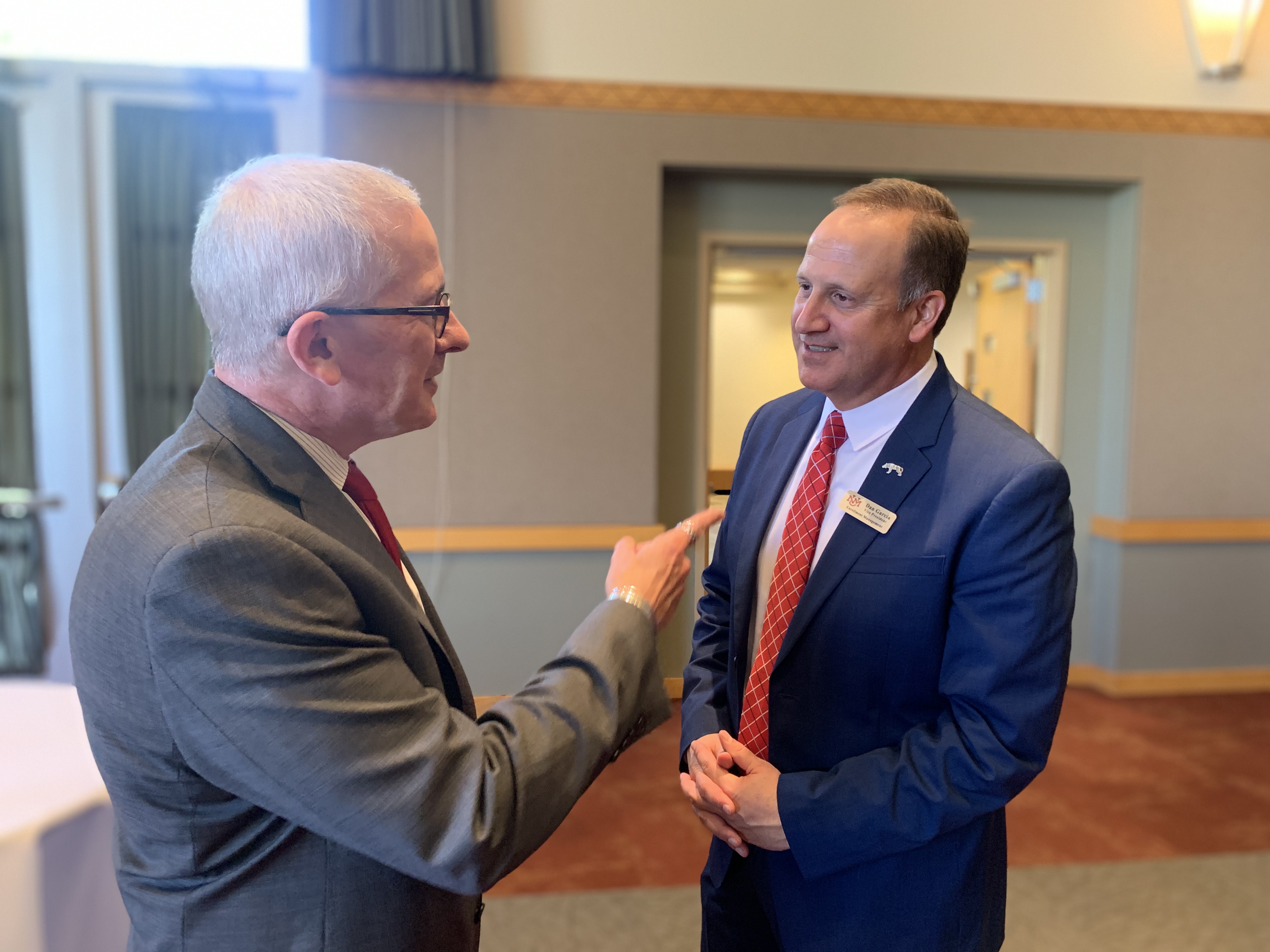 The announcement of the scholarship calls to question if this program is also an opportunity to boost the enrollment at New Mexico's flagship university. 
"From students starting out to students finishing graduation it's going to increase enrollment across the state," Garcia said. The UNM Fall 2019 Official Enrollment Report showed a 6.56% decline in enrollment over a year and a 16.67% decline in enrollment over the past five years.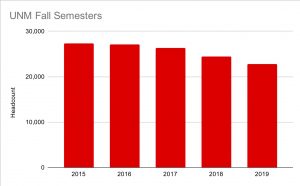 "I think it's going to have a positive impact across the state," Garcia said. "There are students leaving the stateto go elsewhere because of opportunities and this gives our residents another reason to stay in the state."
"I think number one it will increase the number of students going on to higher education within the state and I think that if we can effectively implement the governor's plan in the right way it will make the transition to college easier and take away the stress of how costs are going to be covered," he said.
Garcia did not know the exact requirements, regulations, or the exact implementation of the "Opportunity Scholarship" stating "It's sort of like John F. Kennedy saying we're going to send a person to the moon, didn't know exactly how we would do it, it was a big undertaking and a great accomplishment and the details got worked out later." 
New Mexico State Representative David Gallegos, a Republican from Lea County, said he believes there is an alternative way to helping New Mexico students afford college. 
Gallegos, who's been a member of the Eunice Public School Board for 20 years, said he favors a tuition reimbursement model. 
"My biggest fear is that tuition will go up and we will lose an investment," Gallegos said. "I wish we'd take $35 million and pay off students who decided to stay in state and help them after 3-5 years, paying off their tuition after they have invested back into our state." 
Gallegos said the exact details of the Opportunity Scholarship are still vague and the governor could have introduced it to lawmakers before she went public with it.
"It's a little bit sad that as a legislator, I got information from the Albuquerque Journal…" he said. "I didn't get information from the governor's staff." 
The Opportunity Scholarship Program would affect 55,000 students in the fall 2020 semester and will affect future students. UNM Associate Vice President of Student Affairs Tim Gutierrez expressed concerns about the programs sustainability. 
"How can the state use this extra cash to build an institutional process where it isn't totally reliable on the gas and oil money," he said. "So, we have the program for five years and then it's gone, is the plan to keep it at a certain amount? Will taxes be raised for people?"
"My big push on this would be that this scholarship focuses on your low income first generation students…" Gutierrez said. "Those are the kids who don't have any choice or any opportunity."
The governor did not propose that the program be need based. According to the press release by her office: New Mexico residents with a high school diploma or high school equivalency will be eligible with a maintained minimum GPA.
Gallegos does not believe this program is feasible for the state and it's universities.
"We are spending our money before we get if from oil and gas," he said. "If they have their great green new deal they will ultimately shut down oil and gas fuels and when they do that I don't know when we'll recover the finances for that." 
"If you put a program out there that is going to  be dependent on other markets then we make our kids more vulnerable," Gallegos said. "I just think it's too much too fast."
The proposal will be taken up by the 2020 state legislature in January. 
Dannelle Kirven is a reporter for the New Mexico News Port. She can be reached on Twitter  at KirvenDannelle and nmnewsport@gmail.com
Solana Cummings is a reporter for the New Mexico News Port. She can be reached on Twitter  at CummingsSolana and nmnewsport@gmail.com