Steven Fischer is no stranger to hearing, "No."
When he started job hunting after his 2015 high school graduation, he applied to be a cashier and was told he "wasn't physically capable of doing the job," he said. Some six months later, Fischer found work with Christmas on the Pecos, doing tasks like handing out life jackets, starting propane heaters and tying down boats.
"I felt defeated, " he said. "I was looking all over this town and finding all sorts of different places, and nobody was giving me a chance."
Today, Fischer is a psychology major at the University of New Mexico, working as an advanced level student employee at the library in the UNM Center for Development and Disability.
Fischer is one of roughly 153,667 disabled New Mexicans — of whom roughly 32 percent are employed, according to 2016 data from National Disability Institute, Inc. This is a striking difference when compared to the roughly 72 percent of all individuals without disabilities who are employed.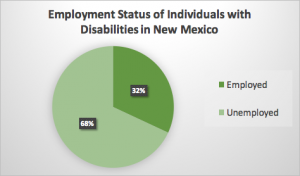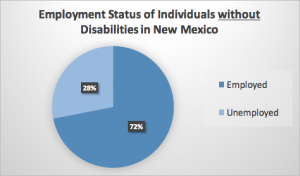 Fischer said his experience at the library allowed him to hone skills, like planning, creating spreadsheets and attending meetings. He also gave a presentation on mobility equipment at an Americans with Disabilities Act anniversary event.
"I get a better sense of fulfillment than I ever had before," Fischer said. "I feel like what I do there is helpful to people."
He said there are not enough jobs for able-bodied people in New Mexico, much less people with disabilities. Others, like Calvin E. Campbell have a different viewpoint.
A client at the New Mexico Division of Vocational Rehabilitation since 2013, Campbell has held positions including: unloading trucks at Safeway, filing at the Social Security Department in Richmond, CA and working as a residential technician at New Moon Lodge. He said he never had trouble finding work, and employers seem to see the value in hiring people with disabilities.  
Today, he works at the Santa Fe Recovery Center as a house coach, the result of being a certified peer support worker. He said he is extremely grateful for this job opportunity.
Campbell said the issue is not necessarily a lack of jobs for people with disabilities — it is a lack of information.
"I think that the jobs are there," he said. "But I don't think the information that provides the inspiration for those of us that have disabilities to do our part in pursuing the employment (is)."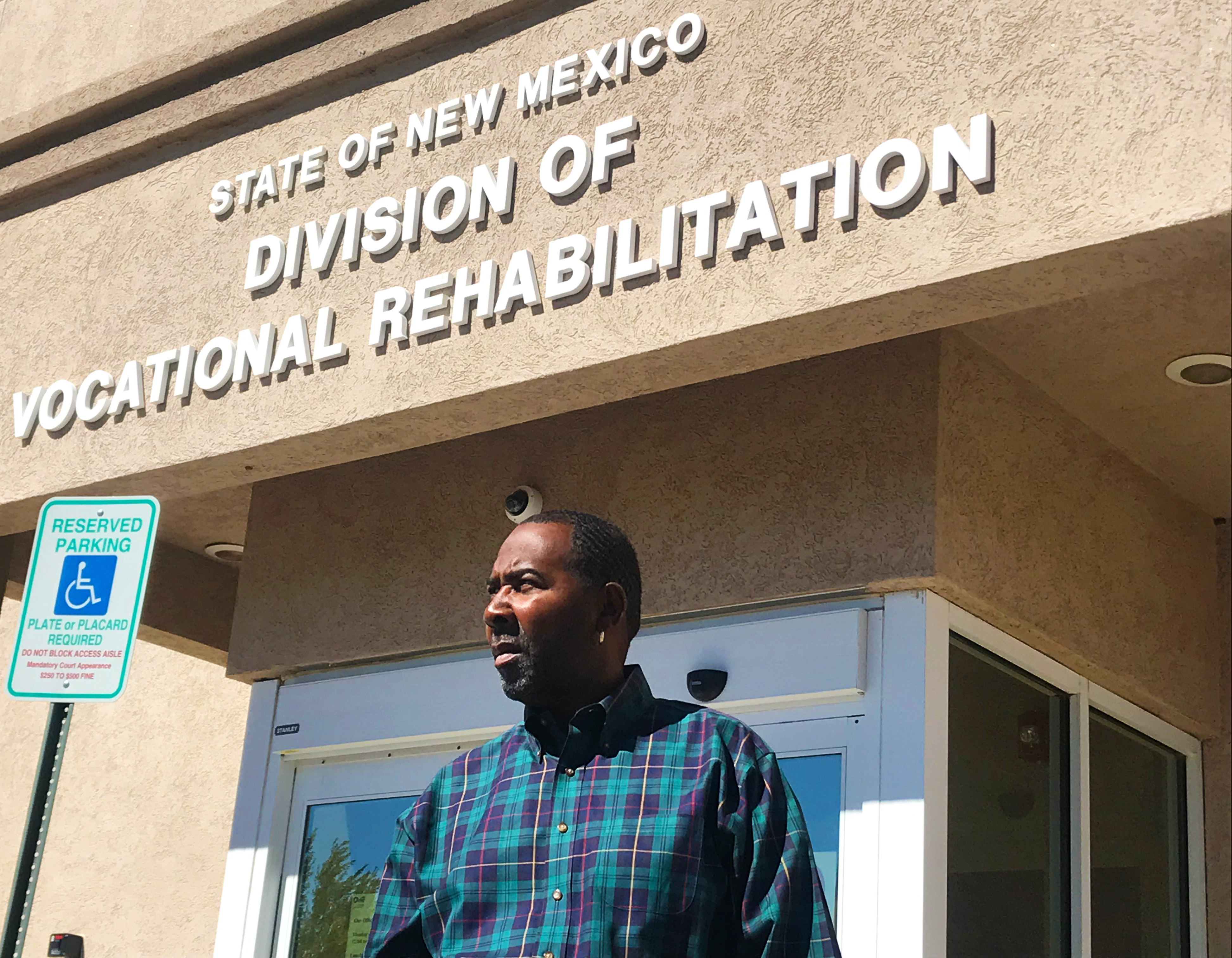 Tanya Baker-McCue is the director of operations for the Family and Community Partnerships Division at the Center for Development and Disability.
Job options are not always the best for people with disabilities, she said.
People with disabilities are "often steered into what they call, Flowers, Food or Filth — the three Fs," meaning tasks like gardening, washing dishes or janitorial work, she said.
The division is trying hard to help "people to see that persons with disabilities can do much more," Baker-McCue said.
Mario Lucero is the program manager for Santa Fe and Española at the New Mexico Division of Vocational Rehabilitation, which helps New Mexicans with disabilities to find suitable employment through training and assessment.
Lucero, who uses a power wheelchair himself, said discrimination still exists. He said he was unable to find a job for almost a year after he graduated from college, which he largely attributes to discrimination.
However, people can still spread awareness and help individuals with disabilities become qualified and compete with others in the job market, Lucero said.
"Any job offered to someone without a disability is also offered to someone with a disability," he said. "That's what the division is there for, to help individuals with disabilities to obtain the skills and the experience and the tools…to compete in the job market with everyone else."
But how can employers see the value in hiring someone with disabilities?
"Give them a shot," Fischer said. "Give them a day to show them what they're capable of doing. For example, I can't climb up and down ladders, but I can definitely work with people."
He suggested asking someone with disabilities how they go about their day, adding that employers should not assume a job relies on physical abilities alone.
People with disabilities are not expected to have jobs, and employers are scared, Baker-McCue said.
Both she and Lucero said employers can understand the benefits of hiring someone with a disability once they see an individual with disabilities on the job.
"Most of us haven't been exposed to seeing people actively working in professional roles or around us in our workplace, so we don't have a picture in our heads," she said.
When asked what changes could be made, interviewees mentioned ideas, including media and advertising to help spread information about resources for people with disabilities, and more accessible higher education for people with disabilities.
Baker-McCue said when employers hire someone from their program, they receive a reliable, loyal and excited employee with a job coach, support and training. She said she hopes to see "more complex jobs" offered to people with disabilities. She gave an example of one intern who lined up surgical instruments for a left-handed surgeon "in a way that no one else on that team did with the same reliability."
Giving someone with disabilities a job can be mutually beneficial for the employee and the employer.
When an employer hires someone with a disability, the employee might offer new perspectives on how to increase ADA accessibility, Fischer said.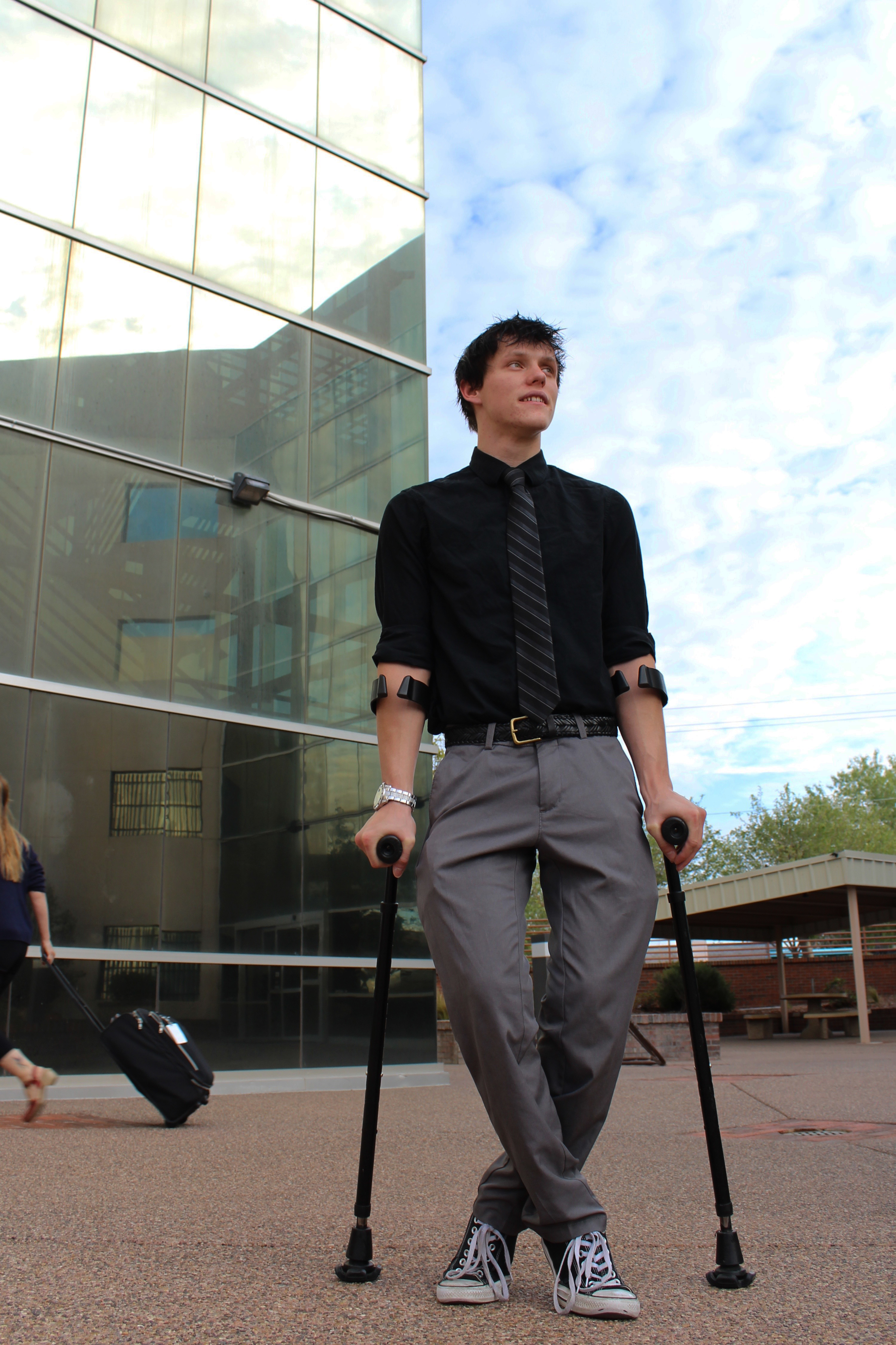 Campbell said for someone with disabilities, being employed can instill a sense of financial security, purpose and self-esteem, while an employer can gain a reputation of being "open and fair and honest," which can cause "an inspiring ripple effect."
Baker-McCue said, when employed, someone with disabilities can develop part of their identity and feel like they are making a difference. She and Lucero both said these individuals also earn a paycheck and find social fulfillment.
Lucero said this may also help these individuals increase their confidence and self-worth, all while debunking myths about people with disabilities in the workplace. He added that individuals with disabilities tend to come to work on time, work hard and are willing to stay late.
Fischer said, working gives someone with disabilities "a sense of independence. They're able to make their own choices and care for themselves. Definitely…It's just a way of being able to prove to yourself, yes, I can contribute to the world despite my limitations, that I'm not the burden that history has made us out to be. I also think it's kind of inspiring for other people who are disabled, because then they start to think, 'Well, maybe I can rely on myself more too.' And it makes it to where they don't want to give up."
You can follow Elizabeth Sanchez on Twitter @Beth_A_Sanchez.