By Carson Schneider / NM News Port
If New Mexico is going to attract more tech-friendly start-ups, some say it partly will be due to the influences of people  like John Chavez.
Chavez, a former state Taxation and Revenue secretary, is president of a non-profit investment organization called New Mexico Angels, which helps startup companies get their feet.
"We are out looking every day for new technology or good company ideas that we could market and get on their feet," Chavez said.
"I would consider myself a serial entrepreneur."
Chavez works with 75 investor colleagues in the state of New Mexico, guiding the direction of the group
"I am the final decision maker on all the projects the group decides to invest in," Chavez said.
The chosen companies tend to be newly-formed  technology- based businesses that are ready to take their  products to market.
The New Mexico Angels have invested $10 million since 1999.
Since becoming president of the Angels in 2003, Chavez has created twelve "portfolio" companies, companies backed by angel investors.
During his time as president, Chavez has been chairman of Zocere, Inc. a New Mexico-based biotech company that develops novel therapeutics for neurological diseases, Chairman of the Board on Ecopesticides International Inc, and Managing Director for Phase One Ventures.
A few of the successful profile companies include Comet Solutions, Holochip and Protein Genomics.
One of Chavez's stand outs is the New Mexico Startup Factory. The Factory searches Sandia Labs, Los Alamos Labs, NMSC and NM, to find SBIR, Small business Innovation Research, funded University and National Laboratory research technologies to market by licensing and developing the intellectual property, while finding the right people to commercialize and lead the company.
"He likes to be where they are," said fellow angel investor Valerie Almanzar. "He likes to be connected with the business community so that he knows how New Mexico businesses are growing."
Almanzar said she met Chavez at a networking event and started asking him questions about the organization.  "I decided that I wanted to join," Almanzar said. "I have been part of the organization for five years."
Chavez also brings in sponsors for the Angels who pay money to the angels to help them with their  investment into these start up companies. Alan Austin is the head of the Santa Fe branch of New Mexico Bank and Trust. 
"Being a sponsor brings you the benefit of knowing about the market in New Mexico," Austin said "But in the long run, it can bring you other benefits too.  Even though none of the businesses belong to our bank yet, they would love to see it. We want to see it."
Chavez worked under former New Mexico Gov. Gary Johnson. His political background is now coming in handy as he works to move an Angels' Tax Credit Expansion Bill through the New Mexico Legislature.  This bill will extend the Angels' tax credit until 2025, increasing the total yearly amount of credit available to all investors to $2 million — up from $750,000, and individual credit to $62,500 per year.
Chavez says the Angels not only seek companies but talented individuals who have intellectual property ready to be patented.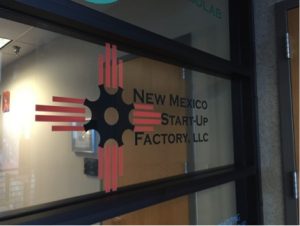 "We take the research technology to market by licensing and developing the intellectual properties, while finding the right people to commercialize and lead the company," he said.
Follow Carson on Twitter at @C_shnebly.
*************************************
Name: John Chavez
Age: 55
Title: President of the Mexico Angels
Background: President of the Angels for 6 years. Managing director of New Mexico Startup Factory. Former New Mexico Secretary of Taxation & Revenue
What do you think is the most interesting part of the innovation economy in ABQ?
It is super active and growing as it has been for the last five years, more tools for entrepreneurs to use, and many people to embraces what is being created.
***************************************