[vc_row][vc_column][vc_column_text]
A local juice bar that sends its compost to a worm farm and uses social media advertising to get the word out has expanded to its third location.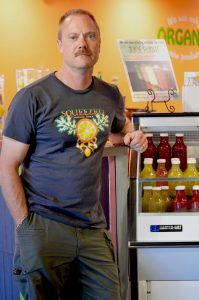 Squeezed Juice Bar, owned by Ryan and Vickie Fellows, has grown from one location in 2012 to three locations, a juice wagon and currently employs 25 people.
"I funded the opening myself," Ryan Fellows said. "Start-up costs were $75,000 and I paid for that out of pocket." While the company has found success, it's hasn't always been easy making a buck.
According to long-time employee Erin Porter, the typical Squeezed customer spends around $9 on each transaction. "Our most popular product is definitely our cold pressed juices, which is also our priciest product,"  Porter said.
Ryan Fellows said making a profit isn't always easy. "When you break it down I'm almost already $2 in from just the packaging and labor, without even buying any produce." Ryan Fellows says the fruit and vegetable produce costs an additional $3 per serving.

Illustration by Emily Ediger / NM News Port
Ryan Fellows said he can make a $1.50 profit per bottle, but makes nothing on bottles that don't sell.
Regardless of earnings, Ryan Fellows said it only took Squeezed six months to turn a profit. He credits that to their creative business plan.  Squeezed started going 100 percent organic with its produce last May. That and an aggressive marketing effort have paid off.
"The majority of our customers come from our online sources, advertising and social media," Ryan Fellows said.  He estimates that more than 65 percent of his customer traffic comes via advertising.  "I always tell people I'm like a teenage girl on social media because I am always posting pictures, videos and tweeting."
Porter says Squeezed has a target demographic of people between 25 and 50 years old, with a 60 to 40 ratio of women to men. "Half the people who come into Squeezed are extremely health conscious like yogis, cyclists, and runners," Porter said, "and the other half are just curious about the juice trend."
As part of its environmentally conscious approach, Squeezed workers send their leftover pulp to a worm composting program, and then donate the soil they produce to farms around New Mexico.  Ryan Fellows also emphasizes his effort to reduce his stores' carbon footprint by recycling, reducing print media and using local organic produce.
Follow Kelsey on Twitter @KelseyKayyyy[/vc_column_text][/vc_column][/vc_row]