By Devin Muzzey / NM News Port
As the coronavirus pandemic continues to threaten communities and devastate economies worldwide, New Mexico now suffers an unemployment rate above the national average, the highest it's been since measurements began back in 1976.
The U.S. Bureau of Labor & Statistics — in conjunction with the New Mexico Department of Workforce Solutions — announced in their most recent statistics that the land of enchantment reached an unemployment rate of 12.7 percent in July. 
Not only is this one of the highest unemployment rates ever recorded in New Mexico, but the mark also places the state as one of just three states total to see its unemployment rate hit a peak in July since the start of the coronavirus pandemic; rising from just 8.4 percent the previous month. Early COVID-19 hotspots New York and Connecticut are the other two states.  
By contrast, the national unemployment rate fell from 11.1 percent in June to 10.2 percent in July. The newly released data places New Mexico with the eighth-highest unemployment rate  in the United States.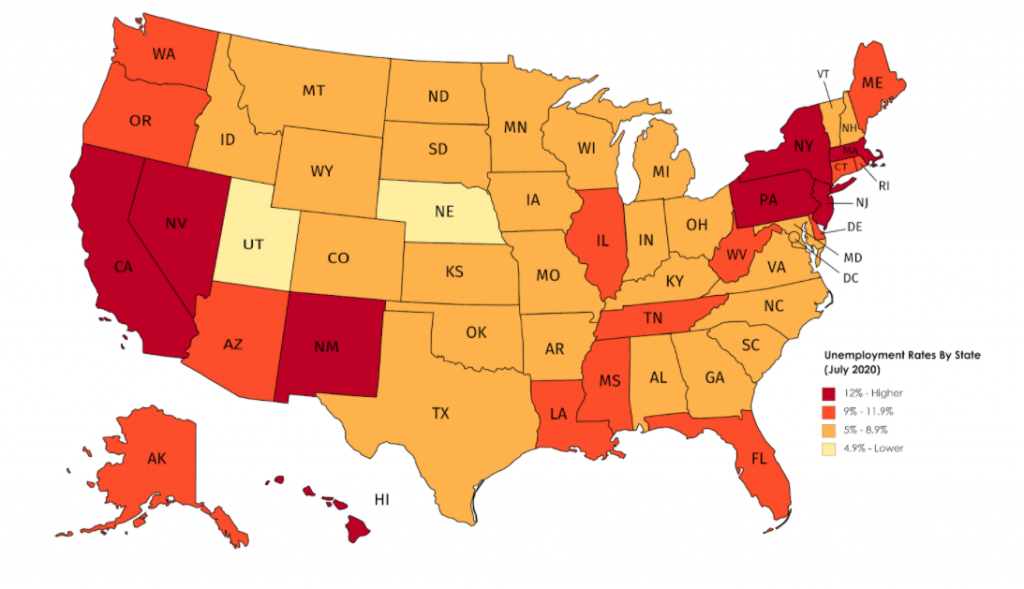 "Well the pandemic obviously is the cause of the unemployment rate," said Suzan Reagan, Senior Program Manager at the UNM-based Bureau of Business and Economics Research. 
Reagan says there are several factors as to why New Mexico's unemployment numbers saw a nearly 66 percent increase from June to July, reaching further than businesses shuttering statewide.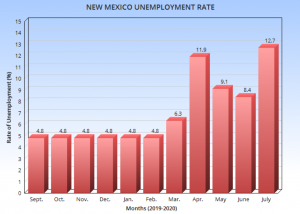 "That jump from 8.4 to 12.7 in part has to do with schools closing," Reagan said." There's a lot of seasonal businesses that start up in the summer, there is the payment protection plan that ended at the end of July, and the next thing is that a lot of self employed people were also allowed to go in and file claims because they're self employed."
Gov. Michelle Lujan Grisham's re-enacting of New Mexico's public health order on July 13 also played a role in the unemployment spike, resulting in the closure of high-contact indoor environments, like restaurants.
"I would also say that the second closure of restaurants hurt them more…You have a lot of food that's sitting in your pantry that you accrued an expense; we're seeing a lot of restaurants close because they can't afford to buy that food and then throw it away," Reagan said.
Many of New Mexico's restaurant workers have been hit especially hard by the public health orders. James Bays, a 53-year-old Rio Rancho resident, lost his job as a server at IHOP back in March and has been struggling to find new job opportunities ever since.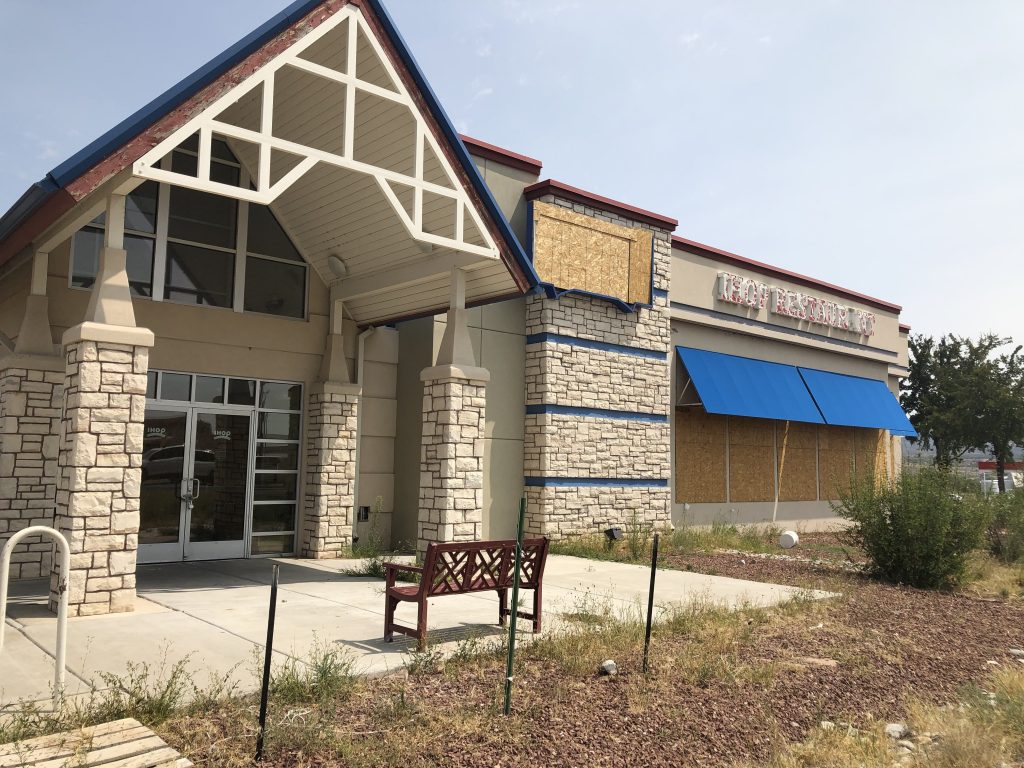 "It's hard to find anyone that is hiring," Bays said. "And then when you do, there's so many other people trying to get those jobs. I've had zero luck trying to get anything else."
Before the pandemic, the restaurant industry employed over 82,000 people in the state, according to the New Mexico Restaurant Association.
As COVID-19 case growth continues to decline in New Mexico, Grisham recently allowed indoor dining at restaurants statewide to reopen on August 29 for the second time since the beginning of the pandemic; only this time at 25 percent capacity, while outdoor dining has been increased to 75 percent.
Reagan says that this will have a positive impact on unemployment going forward, but also warns that far more than just the restaurant industry has been kneecapped by the pandemic
The New Mexico Department of Workforce Solutions highlighted in their labor market review for July that New Mexico has lost over 70,100 jobs over the past year. 
"Seventy-thousand jobs total is a very large number of jobs that we've lost," Reagan said. "But it's not in any one sector, and I'd also say that the loss of jobs in the mining industry due to what's going on worldwide with oil and gas is a huge impact too. Will that help? Yes; but it's across all sectors at the moment."
For Bays, the way forward is through the film industry, where he says he has more control. 
"So that's kind of where I'm shooting, that's what I'm trying to do," Bays said. 
Devin Muzzey is a reporter for the New Mexico News Port. He can be reached on Twitter @MuzzeyDevin or at nmnewsport@gmail.com.