By Elias Manriquez/ New Mexico News Port/
The statewide high school graduation rates for the class of 2017 were released by the New Mexico Public Education Department (NMPED), showing improvement at nine of 13 traditional high schools in the Albuquerque Public Schools (APS).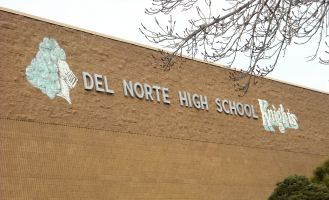 However, overall, the state of New Mexico ranks among the worst when it comes to the national high school graduation rates.
At the end of the 2017 school year, New Mexico high school students graduated 71.1 percent of students who started as cohort their freshman year in 2013. (The term "cohort" is used in graduation rate data to track the percentage of students who received their diplomas among a group that began high school simultaneously.)
The data showed there were improvements within some New Mexico high schools.  Valley High School improved its graduation rate by 7.9 percent, achieving a graduation rate of 75.2 percent.
Del Norte High School was one of the nine APS schools that saw an increase, improving from 55.4 percent in 2016 to 58.6 percent in 2017.  Still, of the 13 traditional high schools in Albuquerque, Del Norte High remains one of the lowest in graduation rates.
Jo Sloan, principal of  Del Norte High School, was glad for the improvement but said there is still more that can be done.
"Although it is a slight increase, I think there's definitely room to improve," Sloan said.  "It's something that I want to see get better and I'm confident in our students."
Out of the total 26,587 students enrolled in New Mexico high schools, 60.3 percent are Hispanic and  63.8 percent are deemed "economically disadvantaged."
At Del Norte High School, 52.4 percent are categorized as economically disadvantaged.
In a news release by the NMPED, Gov. Susana Martinez acknowledged the Hispanic student graduation rate, claiming it as significant progress.
"New Mexico's students continue to show that when we hold them to high standards, they rise to the occasion," Martinez said.
During the 2017-2018 school year, a program named Truancy and Dropout Prevention Coaches strived to retain more students in school by hiring almost sixty coaches and instructors in schools across the state.  Also, in the last four years the NMPED conducted training for 50 schools to observe students' academic performances.
Career and College Counselor Celena Cordova of Del Norte High says that there's nothing more important than students receiving their high school diploma.
"It really is a priority to make sure that our students graduate," Cordova said.  "We'll have students who are struggling or don't have the resources to perform at a higher rate, so its very important that we help them as much as we can."
Cordova's position at Del Norte High is to engage with students to ensure they are on track to graduate.  With that comes the conversation about applying to colleges.
"Being accepted into college is not only important to the students, but also important to myself," Cordova said.  "Graduating from high school is a really big deal in today's day and age and its even better when students decide to continue their education afterwards."
Featured Photo: Courtesy of NMPED
You can follow Elias Manriquez on Twitter