New Mexico's Spaceport welcomes a curious public
On Saturday, April 2, visitors got up close with Virgin Galactic's newest spaceship at Spaceport America.
"I came for a peek of what most of America doesn't get to see," said Ann Keppler, a nurse from Las Cruces. "I feel very small here because everything is so very big."
One of the Spaceport's massive hangars was open to the public, and inside, looking suspiciously like an airplane, was a spaceship. Visitors gathered around TV screens for more information on the ship. Next to Virgin Galactic's machine, Bill Gutman, the Spaceport's director of aerospace, demonstrated how air pressure works in space using marshmallows and balloons.
"It's fun to have families come with the kids to experience this, and see what it's all about," said Christine Anderson, the spaceport's CEO.

The Spaceport allowed 800 personal vehicles onto its property throughout the course of the day.
There were food trucks set up outside the hangar, as well as smaller airplanes flying into the Spaceport's landing area. According to its website, Spaceport plans to allow aspiring astronauts to fly into take off sites using small, private planes.
Outside the hangar, children painted a large paper banner commemorating Spaceport America's second biannual open house.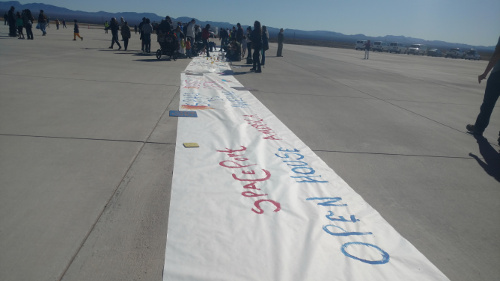 Taxpayers and the Spaceport
According to Anderson, Spaceport America wants to be accessible to the public, as the project belongs to the New Mexicans who chipped in taxpayer dollars.
Spaceport America is owned by the state of New Mexico, and funding for the construction and maintenance of the site is provided by New Mexico's taxpayers. Companies that build and fly spaceships, like Virgin Galactic, will pay the state for the right to use the Spaceport.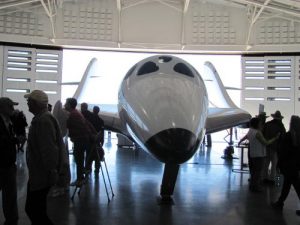 Essentially, the state is providing infrastructure, and it is hoping that commercial spaceflight will bring in enough money to make the investment worth it.
Spaceport America was created in 2007, with an initial state investment of over $200 million. According to the project's business plan, Spaceport received about $450,000 in state money annually for the past few years. The Albuquerque Journal reported the Spaceport asked for an extra $2 million in the 2016 legislative session to help cover an unanticipated budget shortfall.
Virgin Galactic, the anchor tenant at the Spaceport, projected it would begin offering space flights by 2010, and the cost of these flights were supposed to help fund the Spaceport.
Along the way, Virgin Galactic has had a few setbacks. That means, while Virgin Galactic and other tenants at the Spaceport are currently paying rent, the Spaceport still needs state money to continue functioning.
The delays can be attributed to a number of events, but the most notorious is Virgin Galactic's fatal crash in 2014.
Some New Mexican's are unsure about continuing to fund the Spaceport with state money. They say the Spaceport is not living up to its promises. In 2015, Rep. George Munoz (D-Gallup) proposed legislation to sell the Spaceport, but the bill did not make it through the Legislature.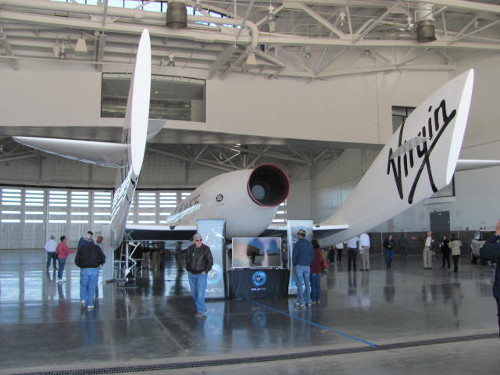 "They had the same thing in the airline industry," Anderson said. "Orville and Wilbur Wright crashed many times and almost got killed, in fact, early on, and they kept going. Otherwise we wouldn't be flying airplanes today."
The Spaceport expects to start making money once commercial space travel gets off the ground, which could be a sorely needed stimulant for New Mexico's slow, oil-dependent economy.
"What happened to Virgin Galactic kind of hurt things, but I think it (Spaceport) was a good idea," said Ernie Clark, a visitor to the open house. "As many spaceports as they're building around the world, I think they need to get on the stick and utilize this facility."
Anderson says setbacks are no reason to give up on commercial space flight.
"It is rocket science," Anderson said. "A lot of times things will not go quite as planned, but you're learning along the way. That's part of the journey."
(Check out New Mexico News Port's video report for more on Christine Anderson's plans for Spaceport America.)
'I wish there was more to see'
While visitors to the Spaceport enjoyed the open house, many said they were a bit disappointed with the event.
"I wish there was more to see," Keppler said.
Reinee Peacher, a construction manager in Las Cruces, said there was little information for visitors and, aside from a singular spaceship, not much to look at.
Still, Laura Keck, an Albuquerque-based film producer, says she visited the Spaceport a few years ago, and is excited about how far the program has come since the last time she saw it.
"It was still under construction," said Keck of her earlier visit. "It was unbelievably beautiful and there was nobody out here. "
Now, after being allowed inside the finished hanger, Keck says the open house was a completely different experience.
"It feels like a real public institution today instead of a private project," Keck said. "That's really encouraging."
Follow Marissa on Twitter.