SUNLAND PARK, N.M. — After waiting behind caution tape and waving through a fence for more than an hour, families from the U.S. and Mexico finally got what they were waiting for — three minutes with their families through the steel rods of the Anapra Border Wall.
[metaslider id=11309]
All morning, shouts could be heard from both sides of the wall as families searched for each other. A young girl sat atop her father's shoulders in Mexico, pressing her face through the bars, screaming for her aunt.
Miriam Dominguez and her 6-year-old son Adrian travelled more than 700 miles from Houston, TX to spend their three minutes at the wall with her husband, Rogelio Dominguez, who was deported in February.
"It was overwhelming," Miriam said. "I wanted to actually hug him and everything… but this still means a lot. It's been several months since I'd last seen him."
As the family clung to each other through the fence, Adrian made faces while his parents kissed. He pushed a toy between their lips, making them all laugh amid a moment that for most families was full of tears.
The Keep Our Dream Alive event on Dec. 10 was organized by the Border Network for Human Rights (BNHR), and drew more than 25 families on the U.S. side of the border. Over the course of two years, the organization's four such events have helped bring together more than 900 families across the border, according to BNHR executive director Fernando Garcia.
Garcia said each family is an example of the crisis Latino families are going through — the crisis of family separation.
"We had actually seen many Latino immigrants, many Mexicans also being deported in the last few years. We're talking about millions of them, but the consequences of that is there are children left behind, spouses being separated, parents without their children," he said.
Alejandro Bonilla was on the U.S. side of the border and had not seen his mother in Mexico in eight years.
After a tearful exchange with her, Bonilla said he felt "good inside," but worried about his family on the other side of the wall.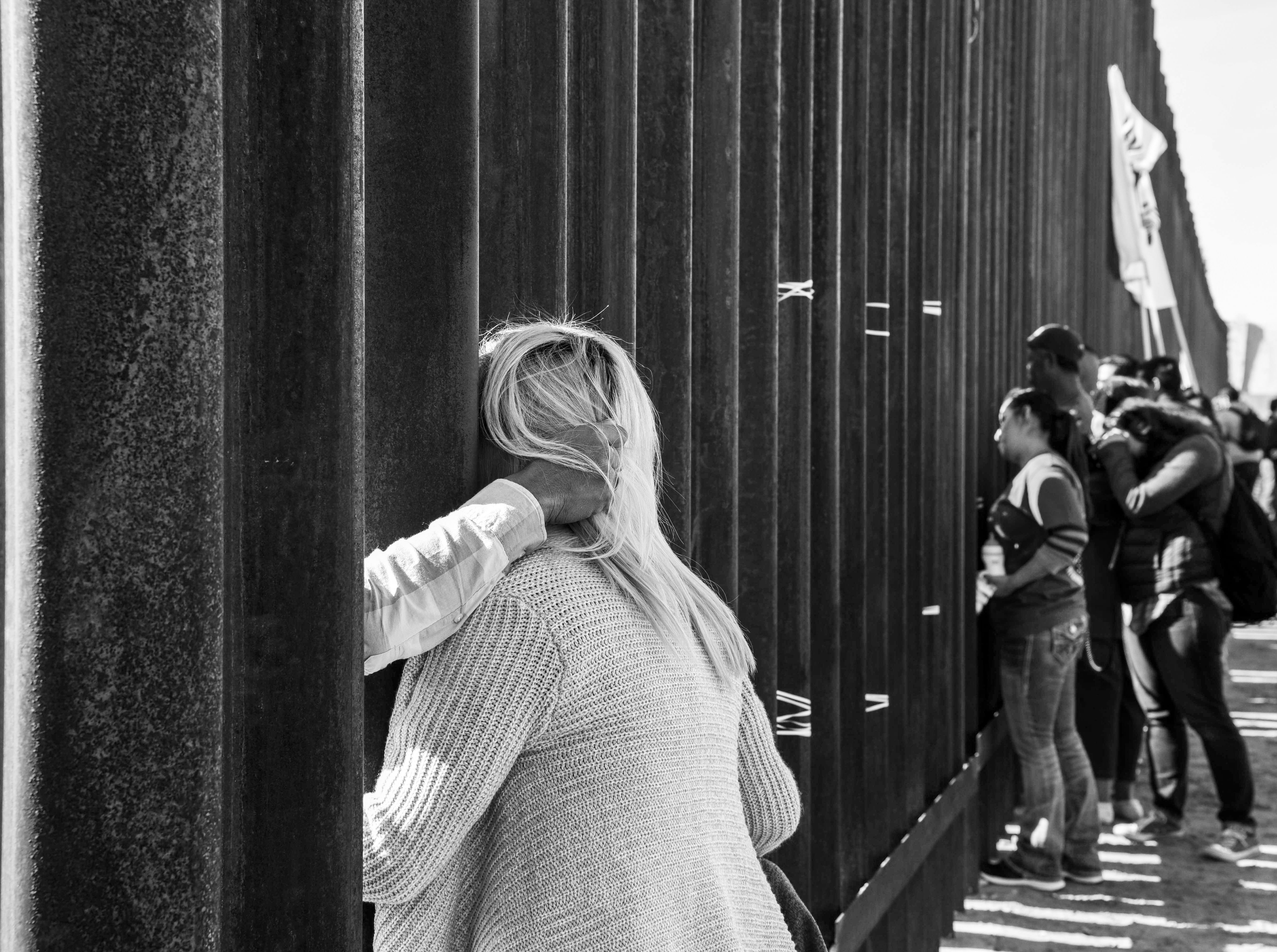 In order to pull off the event, the BNHR worked in conjunction with institutions in the area, including the Policía Federal in Mexico, the Texas Department of Transportation, local police and Border Patrol to get permits to occupy space at the border.
This is the only event of its kind, and no other sector of the border witnesses a gathering like this one. Garcia said it is because of "continuous dialogue and sometimes pressure" between the BNHR and the local patrol.
"(Border Patrol) doesn't go away, they just actually allow the families to come together they are always vigilant and I think what they have done is honored the agreement with Border Network which in this case allows those families to come together," Garcia said.
As long as there is no apparent threat and the event's participants do not pass things through the fence or try to cross the border, patrol agents will not interfere.
Many other groups collaborate with the BNHR in order to participate in events like this, including the Border Dreamers Alliance.
Mayeli Saenz, Regional Coordinator for the BDA, said the issues DACA beneficiaries face are not different based on where they live.
"We don't want separation of families," Saenz said. "We're here to you know let the community know that we might live in different countries, but when we come together it's the same issue."
DACA beneficiaries from the BDA released blue balloons at the end of the event "for the Dreamers who have been deported." On the Mexican side of the border, white balloons were released at the same time. The colors of the balloons corresponded to the blue shirts worn by families on the U.S. side of the border and the white shirts worn by families on the Mexican side.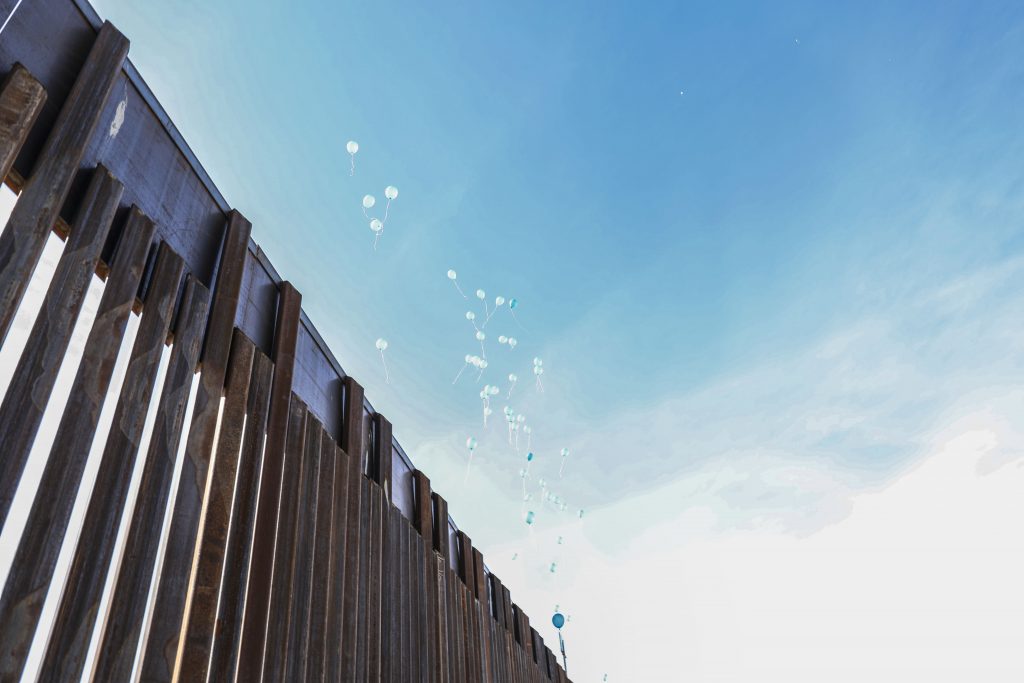 Guendi Castro, 19, is a DACA recipient studying family social work at Doña Ana Community College and began advocating for immigrant rights at BNHA when she was 10 years old. She is now coordinating for BDA.
"Everybody has to fight for their self, but sometimes, people can't fight for themselves, so we have to stand up and fight for them," Castro said
The BDA is advocating for a "clean Dream act," which according to the National Immigration Law Center would "create a pathway to U.S. citizenship without using young immigrants as bargaining chips to harm immigrant communities."
Senaida Navar, 25, spoke on behalf of dreamers on the U.S. side, taking time on her day off as an Introductory Rhetoric and Writing instructor at University of Texas, El Paso.
"This is our A-plan, fighting for a clean Dream act," Navar said. "At least I have until next October until my permit expires, but I know a lot of people who don't have that kind of leeway."
If the Dream Act fails to pass in congress, Navar is looking to escape abroad to further her literary studies.
"I'm considering Canadian universities right now, to get my Ph.D.," she said. "That's my plan B."
Spiritual guidance was available for families as well.
Andres Mora, CEO of the U.S. Christian Chaplain Association flew in from Charlottesville, NC, to help restore people's spirits.
"This, this is too hard," Mora said. "People have not seen their family in ten years, and to only see them for three minutes, only to separate, this is too hard."
Mora and about 40 of his colleagues came from around the country to support the sundered families.
Although this event was just a "splinter of the main event," Garcia said it is still an "event of love, an act of love and humanity, but also its a protest against these anti-family immigration policies."