In time for the 2016 general election, New Mexicans can now register to vote through a new online portal.
The following is needed:
● New Mexico Motor Vehicle Division Record
● Social Security number
● Date of Birth
USE THE NEW MEXICO ONLINE VOTER REGISTRATION SITE HERE
The New Mexico Secretary of State's office enacted online registration last December, but it officially went live on Jan. 2016. Since then, Kari Fresquez, the Interim Elections Director of the Secretary of State's Office, said there are more than 50,000 newly registered voters or people updating their voter information via the online site.
"It makes voter registration more accessible by having it online," Fresquez said. "If they move counties or change parties, it's a quick update."
Fresquez said online processing also reduces human error, which is more common when county clerks rely on handwritten paper forms.
"The online process increases accuracy — with it typed out," Fresquez said.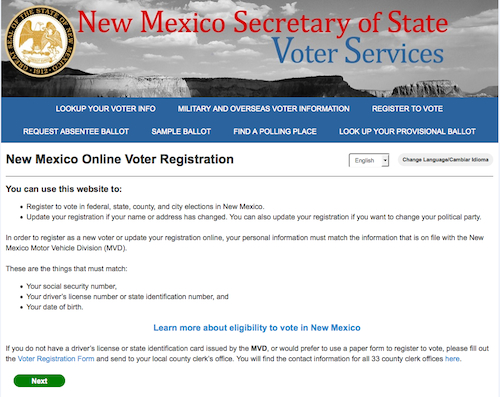 University of New Mexico (UNM) student Greg Lopez said he used the site to update his voter information.
"Being able to change my party affiliation was made easier by being able to register to vote online because I didn't have to go to the county clerk's office to complete the task," Lopez said.
Getting people to the fill out the paper forms or come downtown has been a big struggle in New Mexico, when it comes to registering for the primary and general elections.
Executive Director of the county clerks association Daniel Ivey-Soto (who is also the incumbent state senator for District 15), sayes he agrees that it's hard to get people to come willingly downtown to the clerk's office.
"Now you can go through a secure website and input that information and you never have to disclose it to a third-party," Ivey-Soto said.
According to the National Conference of State Legislatures, online voter registration is gaining traction, as 31 states currently offer an automatic voter sign-up process. Meanwhile, seven states, including Florida and Idaho have not yet implemented online registration but have passed legislation to create such portals.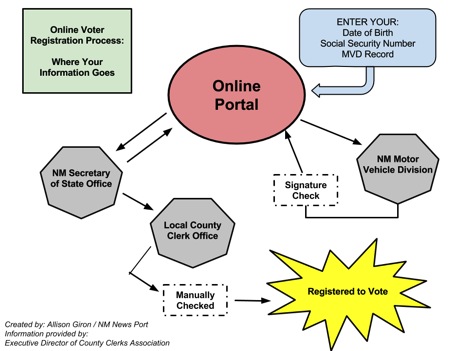 Though New Mexicans can now register to vote online, the system is still not 100 percent electronic, Ivey-Soto said. It is semi-automatic meaning after the person's information is recorded online, the staff at various county clerk offices process that information updating the voter registry database.
Ivey-Soto said this extra step can take a few days, but as long as you are registered to vote online by Oct. 11, with a time stamp of 11:59 p.m., the information will be added to the database before the general election.
Follow Allison on Twitter