Editor's note: New Mexico Governor Susana Martinez called for a special session of the state legislature to convene on Friday Sept. 30 to discuss the state's budget.
According to state officials, the New Mexico state budget is some $430 million in the red. New Mexico Governor Susana Martinez is calling for cuts in most state agencies. And all this comes as every seat in the state legislature is up for election.
Senator John Arthur Smith (D-Deming), chair of the Legislative Finance Committee, said fall election campaigns have taken priority over the budget issue.
"You've got [state] house members that don't want to show any cuts to education or to anyone else, and you've got house members who don't want to be voting on a tax increase because they don't want to be faced with that while they're up for their re-election," Sen. Smith said.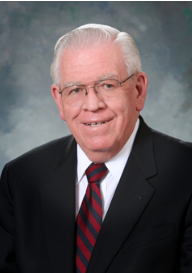 Adding tension and drama to this election season are the fights for party control of the NM House of Representatives and the NM State Senate. Both are up for grabs.
In 2014, Republicans took control of the house after more than 60 years of democratic control and now hold a five seat majority. Democrats currently hold a six seat majority in the state senate.
Sen. Smith said the issue of the budget is being stalled in order to prevent negative backlash towards any campaigns.
The senator also said the Martinez administration suggested the special session take place after the election, just one month away from the regular session. Sen. Smith says the administration has waited too long.
Since August, Martinez has been indicating the likelihood of a special session taking place some time in September. As of Sept. 21, no date had been set.
"The damage has already been done," Sen. Smith said.  "Then you only have six months to adjust your budget rather than twelve months."
Sen. Smith says representatives are putting their election ahead of responsible government.
"We have to have a balanced budget," Sen. Smith said.
Representative Jimmie C. Hall (R-Albuquerque), Deputy Chair of the House Appropriations and Finance Committee, said that much is unknown about how the budget will be balanced, and will not be learned until a special session takes place.
"The important question is how we handle the situation when we go into special session, and I don't know when that is going to be,"  Rep. Hall said.
"If legislators on either side want to raise taxes, that's not good no matter which party you're in," said Rep. Hall when asked about politicizing the issue due to the primary elections taking place in New Mexico.
Follow John on Twitter