The state of New Mexico is in financial crisis and students and faculty members of the University of New Mexico (UNM) are worried this could have a significant impact on them.
On Sept. 19, UNM President Bob Frank announced that due to the severe state budget deficit, he is calling for a hiring freeze and a 5 percent cut in university spending.
"We're just trying to prepare ourselves for the current recession we'll face," Frank said in a public statement. "And we know whatever they (the state legislature) do in the January session to go forward will be very difficult because we know how grave the budget is this year."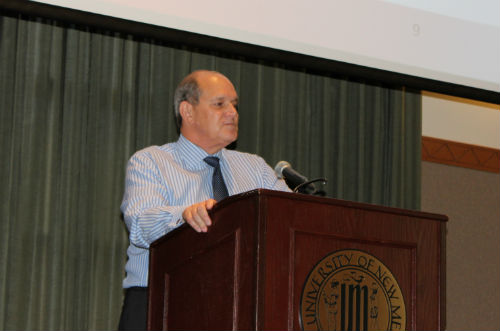 Dianne Anderson, UNM Media Relations and Public Information Officer, said New Mexico Governor Susana Martinez plans to call a special session this month (September) to address the state deficit.
"The Governor is calling the special session to deal with projected shortfalls in revenue for the current budget year and the previous budget year," Anderson said. "This could mean cuts for most or all state agencies, including higher education institutions such as UNM."
Anderson said the state's deficit is taking a toll, because when there is less money in state coffers, there is less money for all state agencies, including universities.
On Aug. 31, Chaouki Abdallah, the UNM Provost and Executive Vice President for Academic Affairs, summarized the problem in a university-wide communique.
Abdallah said New Mexico is currently in the red about $475 million, partly from the previous fiscal year.
"For the current budget year, FY17 (July 1, 2016 through June 30, 2017), the state is short about $325 million, assuming that the legislature uses all available reserves," Abdallah said. "Since the legislature would like to keep a 2.5 percent reserve to preserve the state bond rating and borrowing ability, they will need to cut an additional $150 million."
Anderson says the university has already taken numerous steps to reduce expenses, including shifting more of the burden of health insurance costs to employees, increasing campus energy conservation, reducing departmental spending by millions of dollars and eliminating about 1,000 vacant positions through attrition — employees retiring or leaving for positions elsewhere.
Anderson says she believes that even though New Mexico's deficit is very large, she does not think tuition will increase dramatically.
Follow Katherine Whiting on Twitter