[vc_row][vc_column width="2/3″][text_output]
'Spirited debate' between Udall and Weh
The two U.S. Senate candidates, incumbent Democrat Tom Udall and Republican challenger Allen Weh, appeared in their first debate Thursday night — televised on New Mexico PBS stations — going head-to-head on topics such as sending American troops to fight ISIS, the Albuquerque Police shootings and the effects of climate change.
In a spirited interaction, Udall and Weh quarrelled over the leadership of President Obama. Moderator Sam Donaldson, the veteran TV journalist, asked Weh, "Can you tell me anything of a major sense that you think President Obama has done right?" Weh responded, "He has done a pretty good job of the seeding of the NCAA basketball tournament."
While the comment was light hearted, Weh then pushed Udall on voting with Obama 94% of the time.
To combat Weh's strategy, Udall emphasized his focus was always on his home state. "People in New Mexico face real challenges. I work every day to try to do what's right for them," he said.
Regarding the economy, both Udall and Weh promised to keep federal support for New Mexico military bases and defense laboratories.
"Were not in the place we should be," said Udall. "From last September to this September, we grew in 64 hundred jobs, our unemployment rate is higher than the nation. We are going to do better."
In response, Weh said, "On the Senator's best day, and on my worst day, Ill do a better job of protecting the the military and the national labs, simply because of our respective backgrounds." Weh said he was referring to his military career.
Weh's aggressiveness toward Udall was apparent throughout the debate.
On the question of sending U.S. troops to fight against ISIS in the Middle East, Udall, advocated for a supporting role, whereas Weh vehemently called ISIS a direct threat to U.S. security and called for determined action informed by a coherent strategy.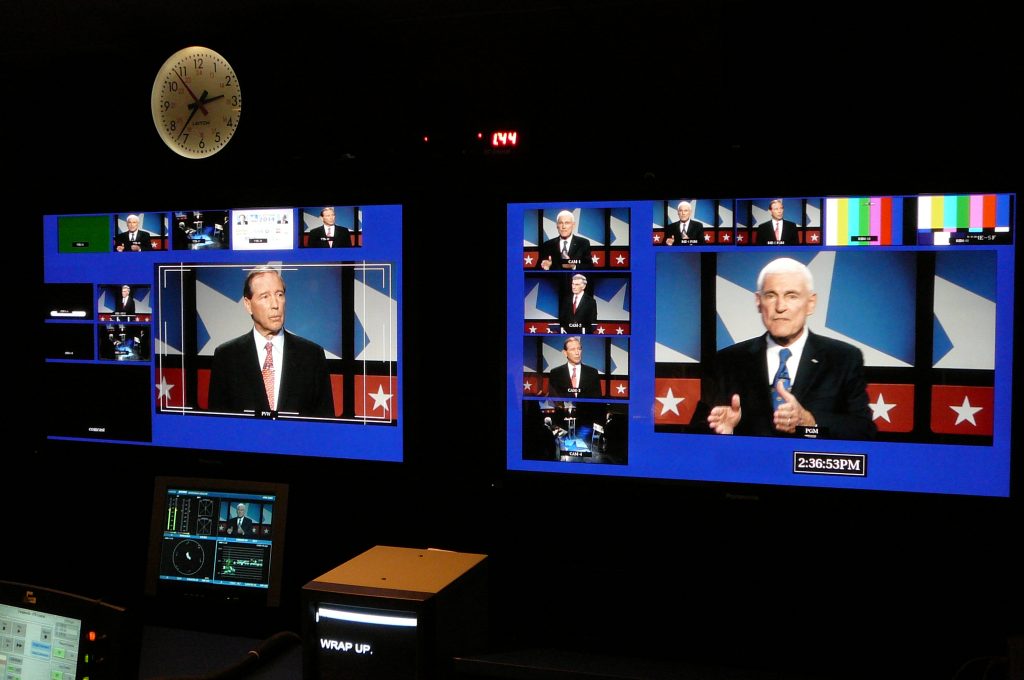 Several times, Udall accused Weh of being a Tea Party Republican and implied that he was partly to blame for the jobs lost at Sandia National Laboratories. Weh rebutted with, "In case the Senator didn't pay attention to the primary, the Tea Party opposed me." Pressed on the matter, Weh admitted he sided with the Tea Parties four years ago, but said he no longer sees eye to eye with their narrow political opinions.
In a question about the minimum wage debate, Donaldson referred to an ad in Udall's campaign. The ad included comments by Weh saying he wanted to eliminate the minimum wage for people under the age of 26. The ad quotes Weh saying "so what if they're making four bucks an hour, so what!" In response, Weh said those comments should not have been used in the ad, arguing that he was taken out of context. He accused Udall of "gotcha politics." Udall accused Weh of backing a harsh policy.
In regards to the U.S. Department of Justice's findings that the Albuquerque Police Department has a pattern of using excessive force, Weh said the mayor and the police chief are handing the issue responsibly. Udall disagreed, "I like the mayor and he is a friend… but he was caught sleeping on this one. If you were really reforming the police department we wouldn't have to call in a monitor to oversee the police department."
There were areas in which the candidates largely agreed. They both support federal funding for the Ute Pipeline Project to bring water to Eastern New Mexico, and both would "fix" rather than repeal the Affordable Care Act.
On climate change, Weh said scientists are split about its causes. Udall mocked Weh as a "climate denier," and argued for a balanced approach to energy policy, relying on fossil fuels while developing renewable alternatives. Weh, an aviation executive, said he is also an organic farmer and more concerned about the immediate dangers of pollution.
Donaldson concluded the debate with a farewell and a thank you to both candidates for a "very spirited debate."
A second debate for the candidates was scheduled for today, Friday, at noon on KOB-TV.[/text_output][share title="Share this Post" facebook="true" twitter="true" google_plus="true" linkedin="true" pinterest="true"][/vc_column][vc_column width="1/3″][image type="none" float="none" info="none" info_place="top" info_trigger="hover" src="3841″][text_output]
[/text_output][/vc_column][/vc_row]