Many voters in Bernalillo County and the state of New Mexico are getting their votes in early.
In fact, the early voting numbers have skyrocketed. The NM Secretary of State's office said that 62,000 New Mexicans have voted in pre-election balloting in the first nine days of early voting. By party registration, the in-person turnout includes 27,728 Democrats and 14,649 Republicans.
As for the Bernalillo County, the Clerk's office spokesman, Joey Keefe, said early election voting numbers are also way up.
"Early voting has been going extremely well so far," Keefe said. "Presidential elections tend to see high turnouts, but the turnout this year has been particularly high."
Since the early voting opened on Oct. 11., Keefe said 69,063 voters have cast a ballot early this year. That compares to 53,392 voters during the equivalent time period in the 2012 election.
"Of the 69,063 voters who have voted early…  39,136 are Democrats, 20,765 are Republicans, and 9,162 are Declined to State, Independent, or minor party voters," Keefe said.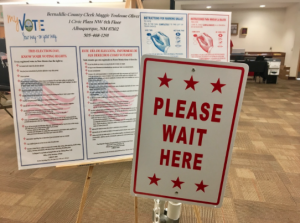 One of the early polling sites is located on the third floor of the Student Union Building (SUB) on the UNM campus.
Kelly Harris, 27, cast her vote there. Harris, who works in the paramedical field, said her early voting experience was a breeze. "Super pleasant, super easy," Harris said with delight. "I was happy that I could early vote here."  
When asked what prompted her to vote early, Harris explained that with her busy schedule there was no way she could vote on election day, November 8th. "The UNM poll is super convenient for me, I'm really glad it's here."
Harris said she casted a straight Democratic ticket because that most of the Democratic policies are what she would like to see in the world. However, it was a local issue that really stood out to her on the ballot.
"I thought the question about are you in favor of residents being able to vote about Albuquerque Rapid Transit was interesting." Harris said the question caught her attention because either way, she doesn't think her vote will make a difference on the ultimate decision, and thinks the question is just used as "political fuel."
In fact, construction for ART has already begun.
Andres Daza, 27, also casted an early vote at the UNM polling station. Daza, who is working on his second Master's degree of science and information, agreed that the polling site on campus was of huge convenience to him as well.
"Every time I've voted early here I have had a very good experience," Daza said. "I've done it at the SUB every election."
When asked about his involvement in the 2016 Presidential election as compared to in 2012, Daza said he feels much more involved this time around. "I'm much more informed this round," Daza said. "I think it is mostly because I'm older, so I'm more interested."
Daza opted not to reveal how he voted.
Morgan Smith, an athletic 20-year-old, said this was the first time she ever got to vote for a presidential election.
"I wasn't old enough to vote in 2012, so it was awesome that I got to go on campus and cast my vote early," Smith said. "I thought the process might be intimidating since it was my first time voting, but I was really surprised by how easy the entire process was."
The exercise science major said she viewed voting as a right and something to take advantage of now that she is of age.
Follow Katherine Whiting on Twitter